AbbVie at the Cowen Healthcare Conference: 4 Things You'll Want to Know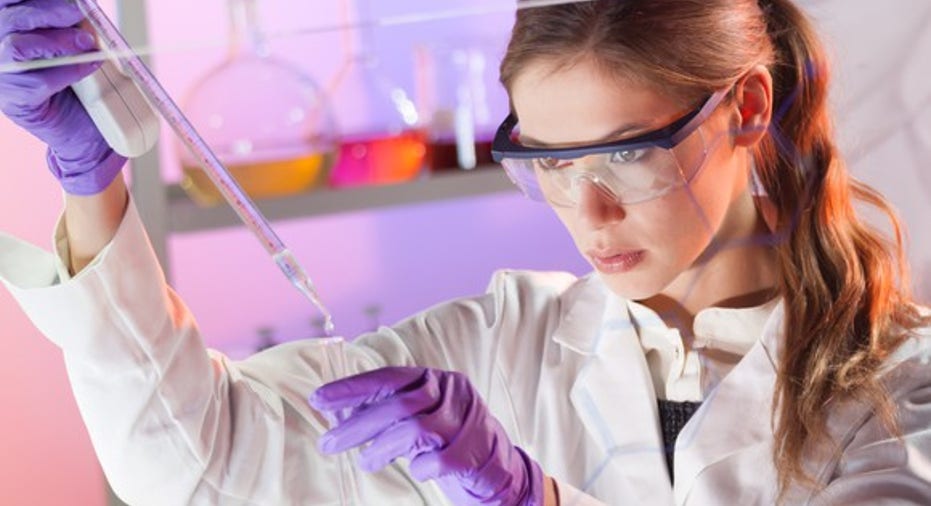 AbbVie (NYSE: ABBV) is arguably one of the strongest biotech stocks around. But investors have plenty of questions about the company's future.
Some of those questions were answered by AbbVie's executives this week at the Cowen healthcare conference in Boston. Here are three things you'll want to know about what they said.
Image source: Getty Images.
1. How will Trump administration changes impact AbbVie?
AbbVie CFO Bill Chase said that there's a lot of guessing going on right now about what changes the Trump administration will make. However, he noted that two specific potential changes could impact the company.
Chase said that the possible repeal and replacement of Obamacare shouldn't have a huge impact for AbbVie. He noted that around 80% of the company's dollar volume in the U.S. comes from non-government channels.
However, Chase stated that AbbVie is very excited about the prospects for tax reforms. He said that AbbVie "would love to see" lower corporate tax rates, but the company isn't incorporate lower rates into any of its models yet.
He also said that AbbVie is "very enthusiastic" about the potential for tax reform that would allow the company to bring money parked overseas back into the U.S. at lower tax rates. Chase stated that this could be the "best shot we've seen for meaningful tax reform in that area for a very long time."
2. What happens if Humira's patents aren't upheld?
Perhaps the most worrisome issue for AbbVie investors is that a key patent for the company's top-selling drug Humira expired in 2016. What might happen if AbbVie doesn't prevail in protecting its intellectual property rights for the drug?
Chase pointed to the ongoing battle with Amgen (NASDAQ: AMGN). AbbVie plans to assert its rights to 61 different patents to hold back Amgen from entering the U.S. market with its biosimilar to Humira. AbbVie has over 100 patents for the drug that cover multiple areas.
Although AbbVie hopes to prevail up front in patent challenges, Chase admitted that challengers to intellectual property rights win more often than not. However, heunderscored the company's strategy to drag things out in the court system if AbbVie doesn't immediately fend off rivals. The Amgen case, for example, won't go to trial until November 2019.
AbbVie's management team knows that more companies will follow in Amgen's footsteps in trying to dethrone Humira. Chase doesn't think his company's defense will hinge on just one patent and said that the scenario unfolding with Amgen is likely to be the model for other challenges.
3. Is Imbruvica still on track for $5 billion in sales by 2020?
AbbVie has stated in the past that cancer drug Imbruvica will generate $5 billion in sales by 2020 and even more beyond then. The company still stands behind that prediction.
Maximizing currently approved indications should account for roughly 65% of Imbruvica's growth. Clinical studies are underway for the drug as a first-line treatment of mantle cell lymphoma (MCL) and as a combination first-line treatment for chronic lymphocytic leukemia (CLL). Chase said that AbbVie's strategy on this front is on track.
Around 20% of projected growth should come from other blood cancers. While it's still early, Chase stated that AbbVie feels confident this growth will be achieved. He pointed to the recent approval of Imbruvica as a second-line treatment for marginal zone lymphoma (MZL) as an example of progress.
The remaining growth should stem from solid tumor and other indications. One particularly promising opportunity for Imbruvica is in treating graft-versus-host disease (GVHD).
4. What's the outlook for key pipeline candidates?
Chase, along with AbbVie's vice president of corporate strategy, Scott Brun, had a lot to say about the company's pipeline. Clinical studies of Venclexta in combination with other drugs in treating several types of cancer are promising. Rova-T is another cancer drug in AbbVie's pipeline with significant potential.
Outside of oncology, the AbbVie executives highlighted autoimmune drug risankizumab. The company thinks that the candidate has tremendous potential in treating psoriasis. Whilerisankizumab and other pipeline assets such as ABT-494 won't take Humira's place quickly, AbbVie believes that it will have a strong autoimmune franchise for a long time to come.
The company also has high expectations for elagolix in treating endometriosis and uterine fibroids. Although AbbVie already markets Lupron for these indications, the drug has some adverse side effects. AbbVie is submitting elagolix for approval for treating endometriosis this year and expects to have data from a late-stage study targeting uterine fibroids in 2018.
10 stocks we like better than AbbVieWhen investing geniuses David and Tom Gardner have a stock tip, it can pay to listen. After all, the newsletter they have run for over a decade, Motley Fool Stock Advisor, has tripled the market.*
David and Tom just revealed what they believe are the 10 best stocks for investors to buy right now... and AbbVie wasn't one of them! That's right -- they think these 10 stocks are even better buys.
Click here to learn about these picks!
*Stock Advisor returns as of February 6, 2017
Keith Speights owns shares of AbbVie. The Motley Fool has no position in any of the stocks mentioned. The Motley Fool has a disclosure policy.