A Solar Boom is Taking Place in Corporate America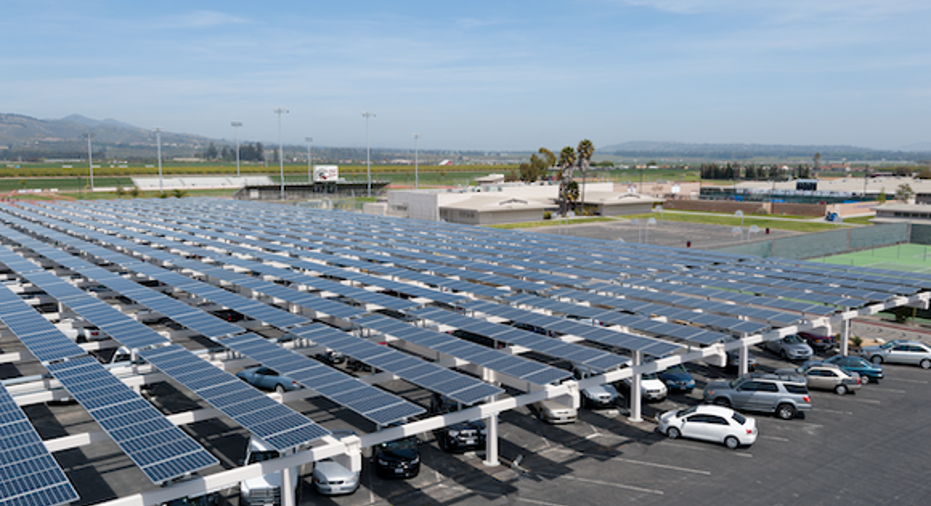 Carports provide shade for cars and energy for buildings in the area. Image: SunPower.
2015 was another great year for U.S. companies installing solar energy, and according to the Solar Means Business 2015 report by the Solar Energy Industries Association there are now over 907 MW of solar in 1,686 corporate installations around the country. That's up 59% from a year ago, and growth should accelerate in 2016 as the investment tax credit winds down from 30% to 10% for installers.
Here are the corporate players that love solar energy.
The leaders in corporate solarWalmart has long been ahead of the curve on solar energy, partnering with SolarCity to expand its presence even further in 2015 to 348 locations. That's impressive, but there's still a lot of upside with 4,835 locationsin the U.S. and about 11,000 worldwide.
Target experienced the most growth this year, driven by a partnership with SunPower to install systems. The company hopes to have rooftop solar at 500 locations by 2020.
Source: Solar Means Business 2015 and 2014, SEIA.
Appleis the other very high profile solar installer, although it's not putting it on rooftops like most retailers are. Instead, Apple is building small installations of around 20 MW near data centers in North Carolina and Nevada with SunPower. And it's taking that love of solar international as well.
SolarCity is hoping the ZS Peak design improves its position in commercial solar. Image: SolarCity.
U.S. companies are taking solar international The Solar Means Business 2015 report tracks U.S. commercial solar users, but it doesn't track international installations -- and those are starting to grow for these same companies. Apple, for example, already has 40 MW of SunPowerprojects producing enough power to cover its offices and retail space in China. And it recently announced a deal to build 170 MW of solarin Inner Mongolia, with SunPower and Apple each owning an equity stake in the project.
In total, Apple is hoping to get its supply chain partners involved in building solar, meaning 2 GW of solar will eventually be built to offset the company's energy footprint in China.
Solar is a corporate no-brainer Solar energy isn't just clean energy companies can use to project a green image; it can save businesses 20% or more on energy bills. Over the life of a solar system the savings can add up to hundreds of thousands of dollarsfor a single building. The one-two punch makes solar a no-brainer for companies in the U.S., and you can see that some of the biggest, most profitable companies in the country are installing solar at a very rapid rate.
As costs fall and new technologies like energy management and energy storage become more competitive, I think we'll see energy consumption shift rapidly in Corporate America, with solar playing a central roll. The momentum taking solar this far isn't going to stop anytime soon, and that's good for both solar companies and their corporate customers alike.
The article A Solar Boom is Taking Place in Corporate America originally appeared on Fool.com.
Travis Hoium owns shares of Apple and SunPower. The Motley Fool owns shares of and recommends Apple, Costco Wholesale, and SolarCity. Try any of our Foolish newsletter services free for 30 days. We Fools may not all hold the same opinions, but we all believe that considering a diverse range of insights makes us better investors. The Motley Fool has a disclosure policy.
Copyright 1995 - 2015 The Motley Fool, LLC. All rights reserved. The Motley Fool has a disclosure policy.