A New (Maritime) Mission for Old A-10 Warthogs?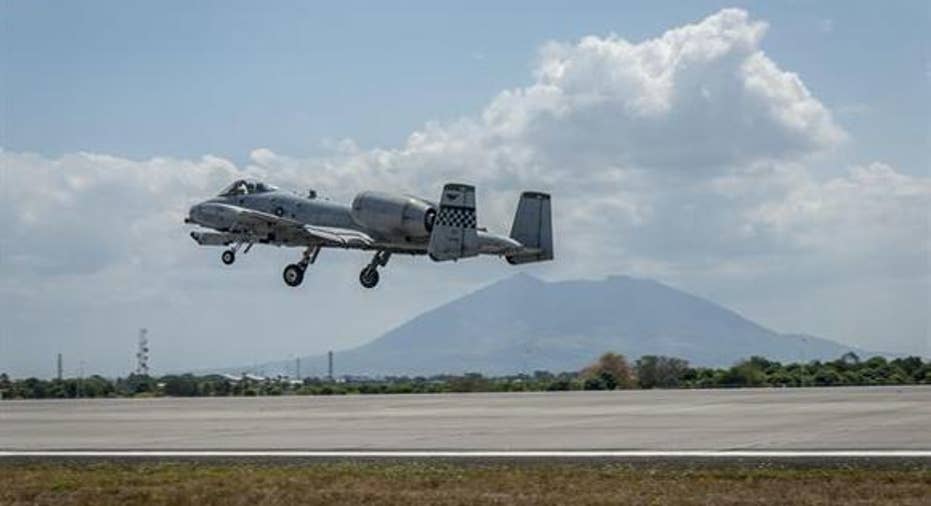 A-10 Warthog ground attack aircraft have begun flying out of Clark Air Base, Philippines. Image source: U.S. Air Forcephoto byStaff Sgt. Benjamin W. Stratton.
Just to the south of China, there's a body of water conveniently named the "South China Sea." According to international law, it's open and free to passageby anyone who wants to use it. From China's perspective, though, if it's got China's name on it, it belongs to China.
The U.S. Air Force and four A-10 Thunderbolt II "Warthog" attack planes beg to differ.
Red storm rising The past few years have been full of stories of Chinese military activities in the South China Sea -- tales of small-scale naval actions against Vietnamese fishing boats, of artificial islands suddenly rising from the seas to sprout military airfields, and the like. China's submarine fleet, too, has been unusually active in the region and, in at least one recent instance, was spotted "stalking" the aircraft carrier USS Ronald Reagan(CVN 76) in international waters.
None of this is particularly surprising given China's claims to the area, made famous in its declaration of a "nine-dash line" encompassing about 80% of the South China Sea. But it is worrisome. Some analysts theorize that China's creation of artificial island fortresses among the Paracel and Spratlyisland chains is intended to turn the entire South China Sea into one big submarine pen -- one in which China's growing fleet of submarines (which may number as many as 70, and some nuclear-armed) can hide in safety and threaten foreign shipping at will.
That's a big concern for the other countries that share borders with the sea, or use it to carry their shipping. In addition to China, Japan, Malaysia, the Philippines, Taiwan, and Vietnam all border the South China Sea. Many other nations send vessels through these waters, which contain some of the world's most important shipping routes, traveled by vessels flagged within the region and without.
After traversing the Malacca Strait south of Malaysia, a steady stream of ships takes a hard left and heads directly into the South China Sea. Image source: FleetMonCom via YouTube.
So, in an effort to allay these countries' concerns, and push back against Chinese military expansion, the U.S. has dispatched the A-10 Warthogs to Clark Air Base in the Philippines. There, says the Air Force, the A-10s will operate in "international airspace in the vicinity of Scarborough Shoal west of the Philippines providing air and maritime situational awareness."
Their mission: to "promote transparency and safety of movement in international waters and airspace."
U.S. Pacific Command (PACOM) notes that the A-10s are just the "first iteration of the air contingent mission" that has been ongoing since the aircraft carrier USS John C. Stennis (CVN 74) began cruising the South China Sea a few weeks ago. In cooperation with the Filipino military, Stennis has entered the area to conduct "freedom of navigation" patrols -- exercising its right to peacefully sail through international waters in demonstration that the U.S. really does believe the waters are international.
But what happens when this mission is over?
USSJohn C. Stennis(CVN 74) is visiting the South China Sea -- and it's been a lovely trip, but it really must be going soon. Image source:U.S. Navy.
The future of the A-10... abroad?Some analystsbelieve it's possible A-10s could remain in the Philippines permanently. Last year, with the future of the A-10 Warthog in the U.S. uncertain, the Philippines began feeling out the U.S. about the possibility of selling, or gifting, as many as 24 A-10s to the Filipino military. Around the same time, officials from Boeing -- currently working a $1.3 billion contract to upgrade the wings on dozens of older A-10s for the Air Force -- suggestedthat if the U.S. ultimately decides to retire the planes, other countries might want to buy our surplus aircraft. (In that case, Boeing would happily continue upgrading them -- a message more implied than stated outright.)
Northrop Grumman , which acquired all A-10 assets from Fairchild Republic in 1987 and a partner with Boeing on maintaining the plane, would probably like this idea as well. And Lockheed Martin , believed to be a prime mover behind the Air Force's effort to shift A-10 funds toward buying new F-35 stealth fighter jets, might also find the move appealing.
Will it happen? Will the U.S. Air Force find a compromise solution to its A-10 problem, and a new home for the A-10 Warthog among folks who will finally appreciate it? No one can say for certain.
But as solutions go, this sounds like a good one for making everybody happy... except, perhaps, the Chinese.
The A-10 has been nicknamed "the Devil's Cross" (by those on the ground and in its crosshairs). Here's a picture that shows why -- A-10s now patrolling out of Clark Air Base, Philippines. Image source: U.S. Air Force.
The article A New (Maritime) Mission for Old A-10 Warthogs? originally appeared on Fool.com.
Rich Smithdoes not own shares of, nor is he short, any company named above. You can find him onMotley Fool CAPS, publicly pontificating under the handleTMFDitty, where he's currently ranked No. 297 out of more than 75,000 rated members.The Motley Fool has no position in any of the stocks mentioned. Try any of our Foolish newsletter services free for 30 days. We Fools may not all hold the same opinions, but we all believe that considering a diverse range of insights makes us better investors. The Motley Fool has a disclosure policy.
Copyright 1995 - 2016 The Motley Fool, LLC. All rights reserved. The Motley Fool has a disclosure policy.