A look at New Jersey's casino expansion ballot question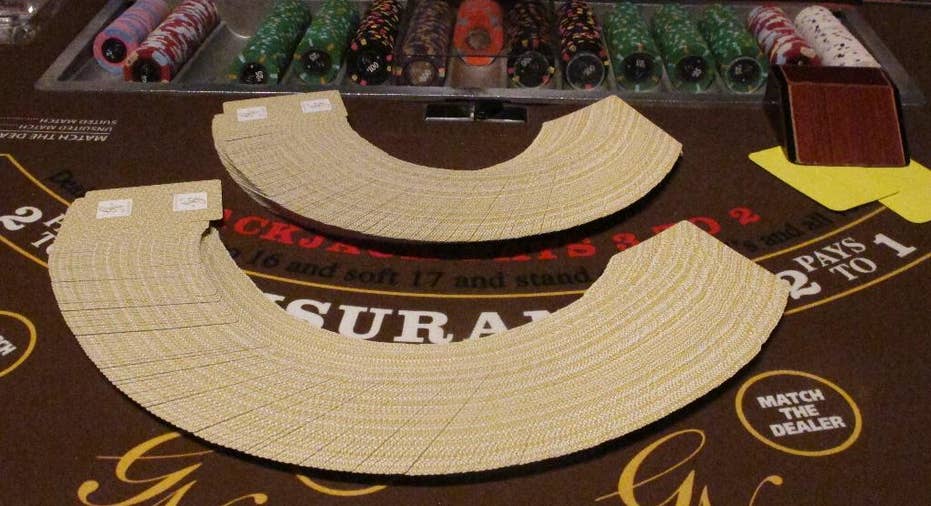 New Jersey voters will decide Tuesday whether to allow casinos outside Atlantic City for the first time in the state's 38-year history of legalized gambling.
The aim is to build two new casinos in the northern part of the state, near New York City, in an effort to recapture gambling revenue lost to casinos in Pennsylvania and New York; prop up struggling Atlantic City and the horse racing industry; and fund programs for seniors and the disabled.
Even supporters, though, concede the question is unlikely to pass. Opponents say adding new casinos to an already oversaturated market could cause at least three of Atlantic City's remaining seven casinos to close.
What's more, the projected benefits of the new casinos are not backed up by anything concrete because key questions, including the rate at which the casinos would be taxed and how the resulting revenue would be divvied up, remain unanswered.
A look at what's being proposed:
___
WHERE?
The referendum does not specify where the casinos would go, only that they be in separate counties at least 72 miles from Atlantic City. The most frequently mentioned locations are the Meadowlands sports complex in East Rutherford, where racetrack operator Jeff Gural and Hard Rock International have proposed a casino, and in Jersey City, across the Hudson River from Manhattan, where footwear magnate Paul Fireman has proposed a casino costing as much as $4 billion or $5 billion.
Vast other areas of the state remain eligible, though. Late last month, the Berger Organization, which owns land and buildings in Newark, proposed a casino in New Jersey's largest city.
___
HOW MUCH?
The biggest question is how much the new casinos are likely to earn — and pay. Industry and Wall Street analysts have told The Associated Press the new casinos could be among the most successful in the country, as long as New York City doesn't allow a casino nearby shortly afterward.
Gural estimates a Meadowlands casino would take in $800 million to $900 million a year from gamblers, ranking it among the most successful in the nation. Some analysts think a Meadowlands casino could exceed $1 billion in annual revenue, at least before it has a nearby competitor in northern New Jersey. But a Wall Street study predicts the haul would be closer to $500 million a year.
____
THE TAX MAN
New Jersey lawmakers have resolutely refused to set a tax rate for the new casinos, partly because they can't agree on what it should be. Gural has offered to pay 55 percent, but state Senate President Steve Sweeney has said that since the casinos would have to cost at least $1 billion apiece, the tax rate would have to be much lower than that in order to keep them from failing.
The tax rate directly determines how much money will be sent to help compensate Atlantic City for the inevitable loss of business to new in-state competition. Money from taxes on the new casinos also would go to tax relief and programs for senior citizens and the disabled; to the state's horse racing industry; and to municipalities and counties that host the casinos.
Without reliable revenue estimates and a firm tax rate, no one can begin to accurately estimate how much any of those payments might be. Atlantic City's casinos currently pay an 8 percent tax and a 1.25 percent mandatory redevelopment payment on their revenues.
____
WHO?
The measure gives owners of existing Atlantic City casinos first crack at the two new licenses. If they fail to apply within 60 days, the licenses would be thrown open to anyone.
____
THE ODDS
Public opinion polls have shown the question is not likely to pass, and Gural and Fireman have ended a costly lobbying effort on its behalf called OurTurnNJ, even though they still want to build their respective projects. The tens of millions of dollars lobbying groups have spent for and against the proposal set a record, and spending could top $40 million by Election Day.
The main opposition group, Trenton's Bad Bet, successfully tied the casino expansion proposal to New Jersey's deeply unpopular state government. Its backers include the Genting Group, which owns the Resorts World Casino at New York City's Aqueduct Raceway, which would be hurt by a casino in nearby northern New Jersey. Other foes include southern New Jersey business and casino interests.
____
WHAT NEXT?
If the measure passes, lawmakers would have to pass "enabling legislation" spelling out the details it declined to decide before the referendum, including the location of the casinos, the tax rate, and how the revenue would be allocated.
If it fails, the question cannot be put back before voters for at least two years.
But one New Jersey lawmaker, Democratic Assemblyman Ralph Caputo, is already planning another way to expand gambling to northern and central New Jersey by allowing the state Lottery Commission to authorize "video lottery terminals" — essentially slot machines — at racetracks. But it's been tried unsuccessfully before in New Jersey, and it would rely on a 34-year-old legal opinion advising that doing so would not require the same sort of statewide vote that's on next week's ballot, something sure to be challenged by several of those with a stake in the outcome.
___
Follow Wayne Parry at http://twitter.com/WayneParryAC