A Huge Month Helps Ford's F-Series to Another Sales Crown in 2015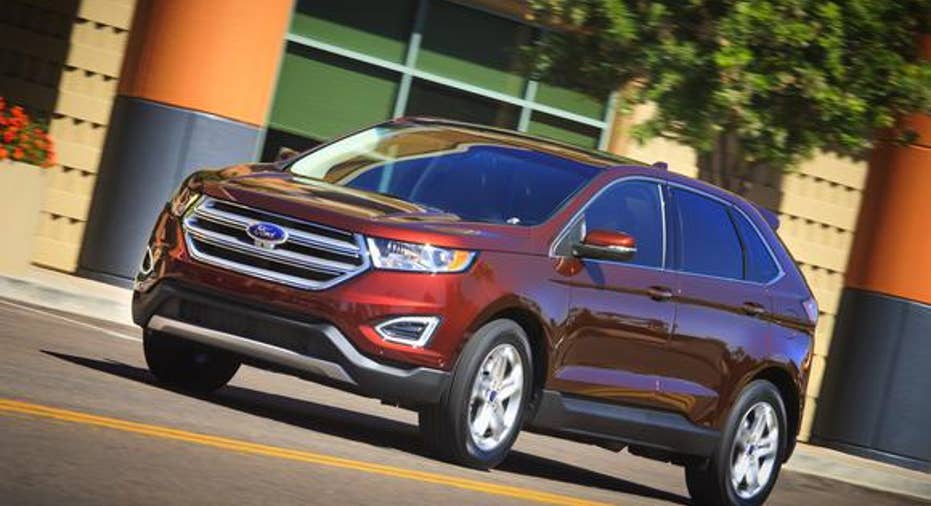 Winner and still champion: Ford's F-Series was once again America's best-selling vehicle line in 2015, thanks in part to a huge sales in December. Image source: Ford Motor Company
Ford said on Tuesday that its U.S. sales in December rose 8%, capping a year in which it posted a 5% year-over-year sales gain for its best U.S. sales performance since 2006.
That fell a bit short of analysts' estimates, and Ford's stock was down in early trading on Tuesday. But Ford said demand was strong enough that it didn't have to raise its incentives as much as some analysts had predicted.
Better yet for Ford shareholders, sales of the Blue Oval's highly profitable pickup trucks absolutely exploded in the last month of 2015.
A huge month for Ford pickups and SUVs Here's the big headline: For the first time in a decade, Ford sold over 85,000 F-Series pickups in a month, up 15% from a very good year-ago result.
Ford officials had hinted during December that truck sales were looking very strong, and that the F-Series would retain its U.S. sales crown. That it did: Ford's stalwart pickup line has now been America's best-selling vehicle for 34 years in a row, a huge bragging point for the Blue Oval.
It is, however, worth noting that one of Ford's rivals also sold a whole lot of pickups in 2015 -- and in December. In fact, the combined sales of General Motors' two full-size pickup models, the Chevrolet Silverado and GMC Sierra, beat the F-Series' sales total by just over 44,000 trucks for the full year. And the two together sold just over 90,000 units in December, outpacing the F-Series for the month as well.
Ford managed to pull off the record month without resorting to huge incentives, which is good news for investors worried about profitability. Ford's U.S. sales chief, Mark LaNeve, said on Tuesday that the company's U.S. incentives were lower in December than they had been in the third quarter, and were roughly flat on a year-over-year basis.
The latest version of Ford's midsize Edge SUV, introduced last winter, continues to sell very well. Image source: Ford Motor Company
Sales of Ford's profitable sport-utility vehicles were very strong for much of 2015, and that trend continued in December. The refreshed-for-2016 Explorer (up 14%), new-for-2015 Edge (up 29%), and compact Escape (up 9.2%) all continued to find lots of eager buyers.
But Ford's car models continue to struggle Not all of the news was good, though. Sales of Ford-brand cars were down 4.7% in December, and were down slightly (0.3%) for the full year. That's largely a reflection of buyer trends: Cheap gas, low interest rates, and better designs are turning more buyers toward modern car-based "crossover" SUVs (like the Explorer, Edge, and Escape) and away from traditional sedan models.
Smaller cars have been hit especially hard by the trend. Sales of Ford's stalwart Focus compact, generally a very well-regarded model, were down 26% in December and fell almost 8% for the full year. The midsize Fusion was also down slightly for the full year, though it managed a 10% increase in December.
What it means for investors The story is still a good one: Ford's most profitable vehicle lines are selling well and selling at good prices. The F-150 pickup, Explorer, and Edge are all new or recently refreshed models, which helps them sell briskly and helps them sell without heavy discounts.
That all should translate into another very strong quarterly profit in North America for Ford when it reports its fourth-quarter earnings results later this month.
The article A Huge Month Helps Ford's F-Series to Another Sales Crown in 2015 originally appeared on Fool.com.
John Rosevear owns shares of Ford and General Motors. The Motley Fool recommends Ford and General Motors. Try any of our Foolish newsletter services free for 30 days. We Fools may not all hold the same opinions, but we all believe that considering a diverse range of insights makes us better investors. The Motley Fool has a disclosure policy.
Copyright 1995 - 2016 The Motley Fool, LLC. All rights reserved. The Motley Fool has a disclosure policy.