A Double Upgrade for Skyworks Solutions: What You Need to Know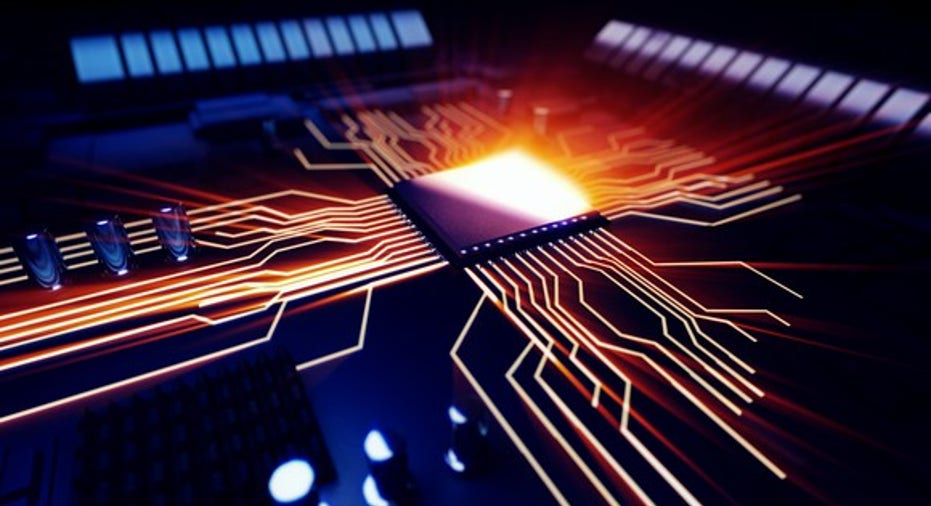 Every day, Wall Street analysts upgrade some stocks, downgrade others, and "initiate coverage" on a few more. But do these analysts even know what they're talking about? Today, we're taking one high-profile Wall Street pick and putting it under the microscope...
Wednesday dawned bright for investors in mobile semiconductor specialist Skyworks Solutions (NASDAQ: SWKS), as not one, but two separate analysts blessed the stock with new buy ratings.
Earlier this morning, we learned first that Mizuho Securities had upgraded Skyworks stock from neutral to outperform. Later, it turned out that Wells Fargo had also smiled favorably upon Skyworks, initiating the stock at outperform. And that's not all. Just a day earlier, three other analysts raised their price targets on the stock.
Here are three things you need to know about that.
Image source: Getty Images.
1. "content and revenue share gains"
But let's back up a half-step, and begin with Mizuho. As reported this morning on StreetInsider.com, Mizuho Securities believes Skyworks is benefiting from both "content and revenue share gains," meaning more of its chips are making their way into more of the world's leading smartphones, and as a result, more of the purchase price of each phone sold is getting funneled back to Mizuho through supplier arrangements.
Mizuho believes that a "stronger iPhone 8 cycle, a renewed push from Samsung, and overall healthy China handset market" all bode well for Skyworks' continued success. Accordingly, the analyst is upgrading Skyworks stock, and adding $30 to its price target -- now at $110 a share.
2. New earnings estimates
Wells Fargois even more optimistic. In an initiation note released this morning, the analyst suggested that $110 a share might be conservative, and the stock could in fact go as high as $118 within a year. Why?
Wells Fargo works the math thusly: Because of "a continuing content increase ... in wireless handsets [and] diversification into new, higher growth/higher margin products," Wells sees Skyworks earning $5.30 per share this year, and growing that 11.5% to $5.91 per share by 2018. Wells believes this growth rate deserves "a multiple of 17-20x" applied to the latter figure, resulting in an estimated value somewhere between $100 and $118 per share.
3. And new price targets, too
All of the above, of course, comes on top of a series of new and improved price targetsannounced for Skyworks yesterday by the likes of Barclays Capital ($100 with an overweight rating), Canaccord Genuity ($105 and a "buy"), and even Goldman Sachs (only $87 and only a neutral rating).
All three target-hiking analysts (and presumably the two that upgraded this morning as well) did so after attending the Mobile World Congressin Barcelona earlier this month, at which Skyworks apparently made a big push to lay out the case for why investors should like its stock. It seems the analysts, at least, bought the company line... but should you?
The most important thing: Valuation
That all really depends on the growth rate.
Skyworks has been on something of a roll of late, beating analyst estimates for four straight quarters. That said, last quarter was a bit of a mixed bag, with Skyworks beating analyst estimates, but nonetheless reporting a 27% declinein earnings. So the news was less bad than feared, but still pretty bad.
Now, Wells Fargo and its compatriots apparently think Skyworks will get back to growing rather quickly. Wells' 2017-2018 estimates suggest 12% growth in earnings from this year to next, and posits that this growth rate is worth paying 20 times earnings for.
On its face, that's a dubious claim. Value investors would ordinarily prefer to see something closer to 20% growth before paying 20 times earnings, to arrive at a PEG ratio of 1.0, before considering an investment. On the other hand, though, while earnings may have lagged last quarter, Skyworks is still churning out cash profits at an impressive rate.
Over the past 12 months, free cash flow at the company approached $1.1 billion, which was more than 20% above reported GAAP income. Compared to the company's $16.2 billion debt-adjusted market capitalization, that works out to an enterprise value-to-free-cash-flow ratio of just 14.7 -- which isn't too terribly high a price to pay for a company growing at 12%, and paying a 1.2% dividend.
Long story short, while Skyworks stock hasn't quite reached "cheap" levels just yet, it wouldn't take a whole lot more growth than Wall Street is already expecting to get it there. With so many analysts now convinced that growth is about to boom, it just might be worth taking a gamble on the stock -- just in case they're right.
10 stocks we like better than Skyworks SolutionsWhen investing geniuses David and Tom Gardner have a stock tip, it can pay to listen. After all, the newsletter they have run for over a decade, Motley Fool Stock Advisor, has tripled the market.*
David and Tom just revealed what they believe are the 10 best stocks for investors to buy right now... and Skyworks Solutions wasn't one of them! That's right -- they think these 10 stocks are even better buys.
Click here to learn about these picks!
*Stock Advisor returns as of February 6, 2017
Rich Smith has no position in any stocks mentioned. The Motley Fool owns shares of and recommends Skyworks Solutions. The Motley Fool has the following options: short August 2017 $87 calls on Skyworks Solutions and short August 2017 $85 puts on Skyworks Solutions. The Motley Fool has a disclosure policy.