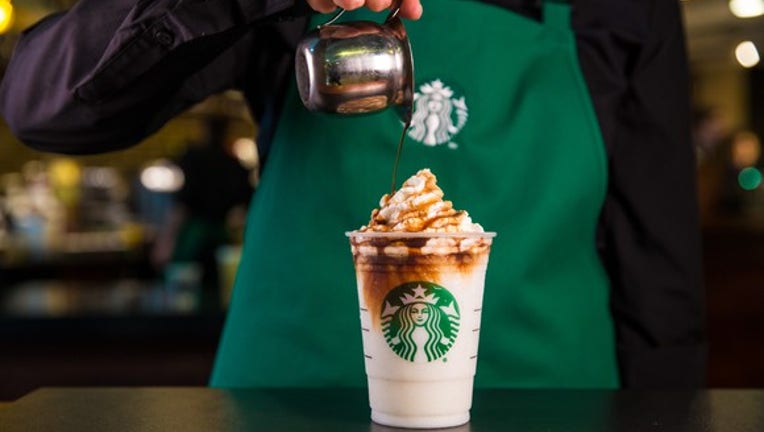 It is becoming more and more normal for consumers to pay for their coffee on their morning commute by whipping out their smartphone and pressing a button on an app several minutes before arriving at their favorite coffee house. If all goes according to plan, upon arrival, all they have to do is exit their car, run in, grab their cup of coffee on the counter, and run back out. These types of transactions are blurring the line between traditional in-store purchases and e-commerce.
At the recent Goldman Sachs Technology and Internet Conference, PayPal Chief Executive Dan Schulman noted this very phenomenon:
However these purchases are ultimately classified, at the end of the day commerce is still commerce and merchants must figure out how to drive sales. One company leading the way in this type of innovation is none other than Starbucks Corporation (NASDAQ: SBUX), the global powerhouse coffee shop chain.
Image source: Starbucks Corporation
Caffeinated sales
Few business executives have been more on top of this evolution in customer purchasing behavior than Starbucks CEO Howard Schultz. In the company's last conference call, he stated:
Schultz's foresight has virtually ensured that Starbucks would not fail to meet this challenge. Starbucks' Mobile Order and Pay showed "rapidly accelerating customer adoption" in the past quarter, causing problems based on "too much demand." While there are kinks that need to be worked out, most restaurants would love to have the problem of struggling to keep up with demand for their offerings! Mobile ordering accounted for 7% of all domestic transactions the past quarter, up from just 3% the year before.
While Starbucks' share price has not been immune to the malaise affecting the entire restaurant sector this past year, its business fundamentals are healthy. Same-store sales only increased 3% year over year, but net revenue climbed 7% to $5.7 billion. Earnings per share (non-GAAP) increased an even better 13% year over year.
Starbucks' digital flywheel
Image source: Starbucks Corporation.
Last December, at the company's Biennial Investor Day, Global Chief Strategy Officer Matt Ryan gave a presentation on Starbucks' digital strategy moving forward. He stated, "Importantly, we look at digital not as a marketing channel but as a foundational part of the customer experience at Starbucks." This holistic view of digital strategy is what allows the company to integrate its customers' digital experience into their overall experience with the company so easily.
The company refers to this as its digital flywheel. Starbucks' digital flywheel consists of four key components: ordering, payment, rewards, and personalization. The payment and ordering parts are perhaps the easiest to understand and where most companies would stop their efforts. Ordering and paying via the company's mobile app are fast and convenient options for customers, allowing them to save time by ordering ahead and not having to pay in the store.
There are also cost-saving factors at play with the ordering and payment components of the company's digital flywheel. The quicker transaction times mean less time that Starbucks' employees spend ringing up sales at the cash register. The company estimates this has saved approximately 100 million minutes across its locations since the platform's launch, freeing up labor for more value-added activities.
Personalization drives customer spending
Once a customer is enrolled in Starbucks' rewards program, the company sees an almost immediate uptick in the customer's spending at the company's stores. The greatest uptick is observed in the lowest third of its spending customers, who average an incredible 70% spending increase at Starbucks after being enrolled in the program.
What leads to this incredible increase in spending by customers? Starbucks believes it's the fourth, and final, component of its flywheel: personalization. At the beginning of 2016, Starbucks marketed to its enrollees with hand-crafted emails. It could send up to 30 variants of an email to its customer base and used two-week-old data to decide what to send to each customer. By the middle of 2016, it could send up to more than 400,000 different emails to customers using real-time data. By the end of 2016, it was sending a unique email to each customer. It could also send real-time offers to customers as they were ordering and paying, based on that customer's favorite products and stores.
Starbucks believes the opportunity before it is still immense. At the end of 2016, approximately 2.5 million of its 75 million customers were using its mobile ordering and paying features. About 40% of its customer base was still unaware of Starbucks' reward program and mobile capabilities. As the company converts more of its customers to its reward and mobile platforms, this will only continue to drive higher customer spending and lead to lower costs. Not a bad combination for potential investors looking for their next opportunity.
10 stocks we like better than StarbucksWhen investing geniuses David and Tom Gardner have a stock tip, it can pay to listen. After all, the newsletter they have run for over a decade, Motley Fool Stock Advisor, has tripled the market.*
David and Tom just revealed what they believe are the 10 best stocks for investors to buy right now... and Starbucks wasn't one of them! That's right -- they think these 10 stocks are even better buys.
Click here to learn about these picks!
*Stock Advisor returns as of February 6, 2017
Matthew Cochrane owns shares of PYPL. The Motley Fool owns shares of and recommends PYPL and Starbucks. The Motley Fool has a disclosure policy.