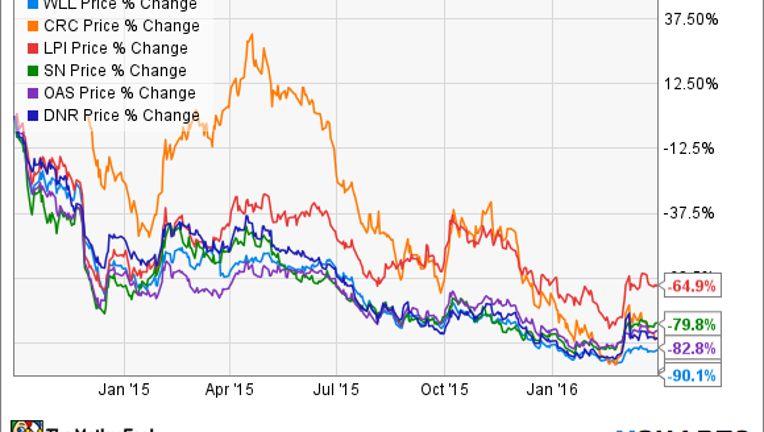 Image source: California Resources Corporation corporate website.
What: For the -- let's face it, I've lost count -- time, today's spike in oil prices has given many oil producers' shares a strong boost today. As of 3:30 p.m. EDT, the price of West Texas Intermediate crude, the U.S. benchmark price, is up 4.82% to $37 a barrel, while the international priced brent is teetering very close to the $40 a barrel mark. These bullish moves by oil have sent shares of Whiting Petroleum , Laredo Petroleum , Oasis Petroleum , Sanchez Energy , Denbury Resources , and California Resources Corporation all up by more than 10%.
So what: Today's oil price rally is brought to you by data from the U.S. Energy Information Administration, which issued data on total inventories on both crude oil and refined products. According to the agency, total crude stockpiles declined by 4.9 million barrels. At the same time, though, gasoline inventories increased. The likely culprit for this shift in inventories is that refiners are starting to ramp up production as maintenance season is completed and they ramp up for the summer driving season.
Bringing it back to the producers that saw shares jump today, it should be surprising to no one that these stocks are going to be extremely sensitive to oil prices. First, all of the companies here are very heavily weighted toward oil, so any price spike on the oil side of things is going to impact them more than those that may tend toward the natural gas side of things.
| | |
| --- | --- |
| Company | Oil/Liquids (as % of production) |
| Whiting Petroleum | 88% |
| Laredo Petroleum | 74% |
| Oasis Petroleum | 86% |
| Sanchez Energy | 64% |
| Denbury Resources | 95% |
| California Resources Corporation | 77% |
Source: Company earnings reports.
Another reason these companies are going to be so sensitive to oil's daily movements is that their stock prices have dropped so much over the past couple of years that it doesn't take much to move 10%.
Now what: If the past 20 or so times that these stocks have moved 10% in a day haven't taught anyone that these stocks can move this much on any given day, then today was simply another reminder. Even at the near-$40 a barrel threshold, none of these companies are going to make much money because either their breakeven price is a bit high, or their debt burden is eating away at any potential profits.
It will be even harder for many of these companies in the coming months because, unlike in 2015, when most of them had considerable amounts of their production hedged at higher oil prices, they are going to be more exposed to spot prices for oil. All of the companies here have made drastic moves to cut their capital budgets to keep the lights on as long as possible, but we're still a ways away from any of these companies making a significant comeback.
Unless you have an extremely large appetite for risk and want to make a strong bet that oil prices are going to rise soon, then it's probably best to shy away from these stocks. In my opinion, there isn't enough evidence that we're headed for higher oil prices in the near future, and it may be better to see how well these companies handle continued low oil prices for a little while longer before making a commitment.
The article A 5% Oil Rally Is Sending Producers' Shares Skyrocketing Today (WLL, LPI, OAS, SN, DNR, CRC) originally appeared on Fool.com.
Tyler Crowe has no position in any stocks mentioned.You can follow him at Fool.comor on Twitter@TylerCroweFool.The Motley Fool owns shares of Denbury Resources. Try any of our Foolish newsletter services free for 30 days. We Fools may not all hold the same opinions, but we all believe that considering a diverse range of insights makes us better investors. The Motley Fool has a disclosure policy.
Copyright 1995 - 2016 The Motley Fool, LLC. All rights reserved. The Motley Fool has a disclosure policy.