A $3 Trillion Market in 2020: 3 Sectors You Need to Watch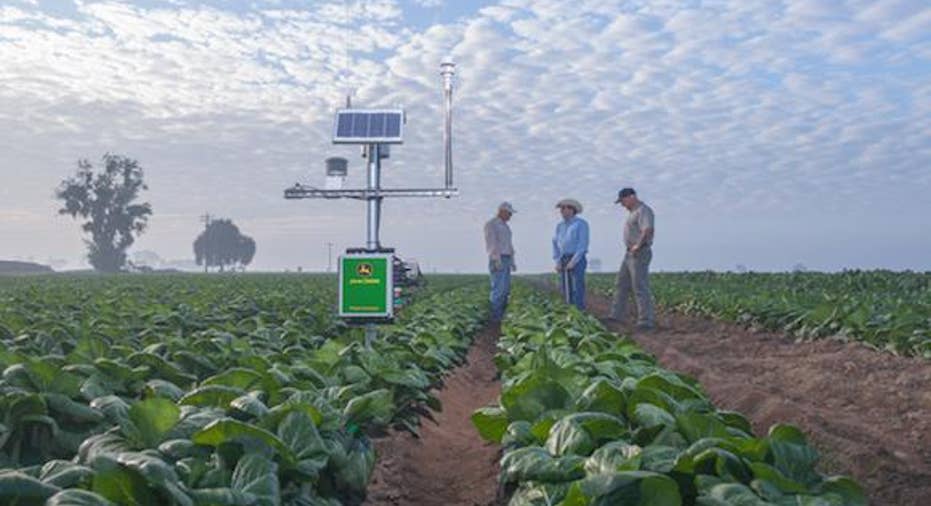 Image source: John Deere.
Less than four years from now, there will be tens of billions of things connected to the Internet. I'm not just talking about computers, tablets, or smartphones, either. I'm talking about manhole covers, jet engines, conveyor belts in factories, plants, and even cows.
It's called the Internet of Things (IoT), or the Internet of Everything, and it's more than just a passing technology fad. In fact, all of those things I just listed above are already being connected to the Internet. Some farmers are tracking their cows via the Internet, through chips implanted in their ears. And manufacturers are keeping an eye on conveyor belts via sensors connected to the Internet to make sure equipment doesn't overheat.
The fact is, by 2020, there will be more than 20 billion things online.And we're quickly approaching that number. Research companyGartner says there are over 6 billion things online now,and that the IoT market will be worth $3 trillionjust four years from now.Companies are seeing the dollar signs in the IoT movement -- and it's time investors do, too.
Here are three ways the IoT is transforming key industries, and some of the companies that are benefiting in big ways.
How IoT is changing transportationGeneral Electric uses sensors inside some of its plane engines to track how they perform and analyze their efficiency. The company's Flight Efficiency Services software has helped AirAsia save $50 million in fuel costs over five years.
GE also uses a software and sensor system to track railway cars and their routes. The company'sTrip Optimizer Systemhelps deliver over 2 million containers across 2,000 routes every year, and it's bringing huge efficiency gains for railways. GEsays Trip Optimizer saves an average of 32,000 gallons of fuel per locomotive, every year.
In 2015, GE brought in $5 billion in revenue from its digital services, which is largely made up of its "Digital Industrial" (IoT) sector, and the company says those revenues are growing 20% annually.
But it's not just planes and trains that are benefiting from the IoT. By 2020, nearly 250 million cars will be connected to the Internet. More than 10 million AT&T-connected cars will be on the road by next year, and revenue opportunities are huge. PriceWaterhouseCooper estimates that the connected car market will be worth $149 billion by 2020.
How IoT is changing the public sector Cisco Systems says IoT will change five key elements of the public sector, including employee productivity, citizen experience, and the military.
Cisco estimates hundreds of billions of dollars will be saved because of new efficiencies, and up to $125 billion in new public sector revenues will be generated.
This is already starting to happen with some very practical technology. Cisco says the U.K. has seen a 7% decrease in crime credited to the country's smart city lighting connections, and waste-collection costs have dropped by 30% after sensors and software were added to the system.
Verizon Communications is betting onsmart city opportunities in the U.S. and has already begun implementing smart city solutions in Savannah, Georgia. The company uses sensors and its cellular network to help the city remotely control electricity connections in homes, which helps to reduce manpower requirements.
And the company is considering new cellular plans just for IoT devices. The unlimited, flat-rate plans will make it easy and affordable for more cities to expand their IoT solutions, and it's a clever move on Verizon's part. Smart cities are expected to bring cost savings and revenue of $1 trillion by 2019.
Verizon is already bringing in significant IoT revenue. In 2015, the company's IoT revenue increased by 18% year over year to $690 million, and the company added another $200 million in Q4 2014 alone.
How IoT is changing agricultureOne of the lesser-known ways IoT is influencing everything around us is through farming. Right now, farmers can use FieldScript software fromMonsanto, which allows farmers to know exactly how much seed they should be planting in their fields, and where. Detailed maps display real-time feedback on seed locations and help farmers use less seed.
John Deere offers a Field Connect system that allows farmers to monitor air and soil moisture levels, wind speed, solar radiation, humidity, rainfall, and even leaf wetness. By analyzing this information, farmers can make better-informed irrigation decisions, saving time and money on watering costs.
John Deere and others are wise to focus on this precision agricultural market. Digital-based agriculture is projected to grow at a compound annual growth rate of about 12% over the next four years and expected to reach $4.8 billion by 2020.
Foolish thoughtsThese industries are just a handful of what the IoT has to offer. And the $3 trillion estimate might even be on the lower side of its potential.
For investors looking for the "next big thing," the Internet of Things certainly looks like a good option. Tech companies, conglomerates, agricultural companies, and wireless providers alike all see the value in the Internet of Things -- now it's time for investors to get on board.
The article A $3 Trillion Market in 2020: 3 Sectors You Need to Watch originally appeared on Fool.com.
Chris Neiger has no position in any stocks mentioned. The Motley Fool owns shares of General Electric Company. The Motley Fool is short Deere & Company. The Motley Fool recommends Cisco Systems, Gartner, and Verizon Communications. Try any of our Foolish newsletter services free for 30 days. We Fools may not all hold the same opinions, but we all believe that considering a diverse range of insights makes us better investors. The Motley Fool has a disclosure policy.
Copyright 1995 - 2016 The Motley Fool, LLC. All rights reserved. The Motley Fool has a disclosure policy.