93% of Tesla Model 3 Reservation Holders Are New to the Company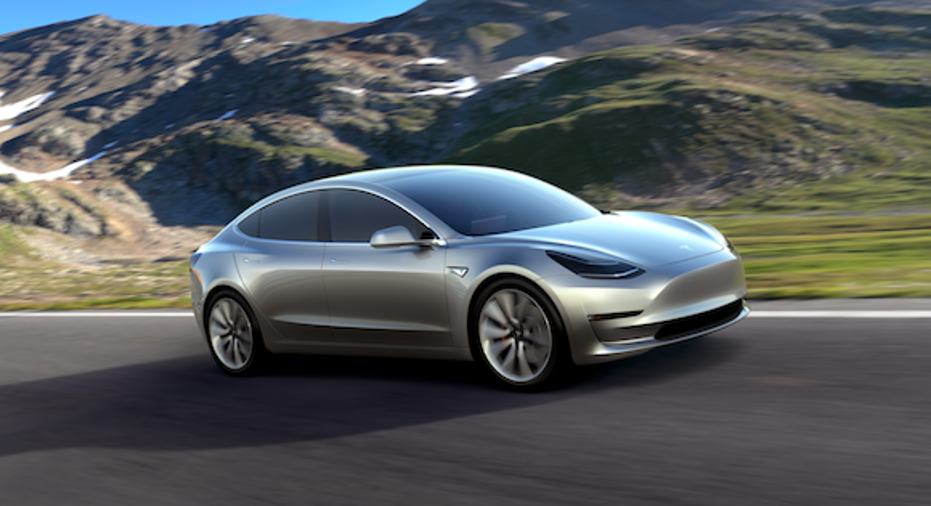 Model 3. Image source: Tesla.
It should go without saying that the market segments for $70,000 cars and $35,000 cars are worlds apart.
On Tesla Motors' first-quarter earnings call, sales and service chief Jon McNeill shared an interesting data point: 93% of Model 3 reservation holders have never previously had any type of official interaction with the company. The inverse of that figure is that 7% of Model 3 reservation holders already own either a Model S or Model X.
Here's why that figure is so important for Tesla's future.
A new relationshipNaturally, it's common sense that by moving downmarket to mainstream price points that Tesla would expand its addressable market, which has been the game plan all along. But it's also important to acknowledge that these are prospective customers who have never experienced Tesla firsthand or had a relationship with the company.
Because of Tesla's direct model when it comes to sales and service, Tesla very much maintains an active relationship with its customers. That's a stark contrast with traditional automakers, since dealers sit in a protected middle ground. The direct sales and service method translates into a superior customer experience, which in turn reinforces customer loyalty.
To the extent that Tesla can capture new customers, it has very good odds of retaining that customer over time for future vehicle purchases.
A virtuous cycleWe also know that a lot of Tesla's business is driven by customer referral programs, which is why Tesla has launched several referral programs in the past (the third program just concluded at the end of April). The company has never used traditional advertising, instead relying on broader media coverage and word-of-mouth advertising.
In essence, as Tesla grows its customer base, it also effectively grows its grassroots salesforce. Normally, increasing the headcount of salespeople by five- to tenfold would cost a company a fortune in terms of compensation. But in this case, Tesla will probably see an exponential growth in customer referrals over time once Model 3 deliveries begin. This virtuous cycle will only continue, as those new customers then turn around and refer even more customers.
Don't expect Tesla's customer-referral programs to go away anytime soon.
A new beginningTo put some hard numbers to it, 93% of Tesla's roughly 400,000 Model 3 reservations translates into a little over 370,000 new customers. That's an incredibly large number of people being directly exposed to the brand for the first time (beyond reading media headlines). A lot of those people endured hours in line to reserve a car that no one had ever seen before, made by a company that they had no prior experience with.
That's what I call brand strength.
The article 93% of Tesla Model 3 Reservation Holders Are New to the Company originally appeared on Fool.com.
Evan Niu, CFA owns shares of Tesla Motors. Evan Niu, CFA has the following options: long January 2018 $180 calls on Tesla Motors. The Motley Fool owns shares of and recommends Tesla Motors. Try any of our Foolish newsletter services free for 30 days. We Fools may not all hold the same opinions, but we all believe that considering a diverse range of insights makes us better investors. The Motley Fool has a disclosure policy.
Copyright 1995 - 2016 The Motley Fool, LLC. All rights reserved. The Motley Fool has a disclosure policy.