9 Things That Stand Out in Johnson & Johnson's Q1 Report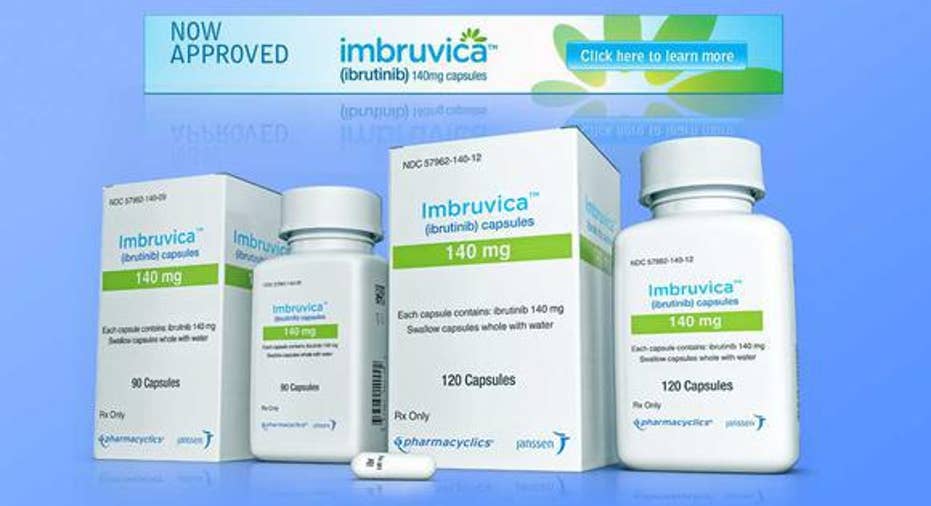 Johnson & Johnson CEO Alex Gorsky. Image source: Johnson & Johnson.
In case you missed it, earnings season has officially kicked off for the pharmaceutical and biotech industries, with Johnson & Johnson reporting its first-quarter earnings results on Tuesday morning.
For the quarter, J&Jgenerated $17.5 billion in revenue, a 0.6% year-over-year sales increase, and net earnings of $4.3 billion, or $1.54 per share. Headline numbers like these tend to get all the attention, but if we dig deeper into J&J's report, there were quite a few data points and statements that stood out beyond just these numbers. Here are nine in particular that shareholders and those on the outside looking in will want to be aware of.
1. Adjusted Q1 earnings per share increased to $1.68J&J's adjusted EPS, which excludes a number of one-time items such as divestitures and removes the effects that currency fluctuations in foreign markets can have on profits, grew by nearly 8% and surpassed Wall Street's expectations by $0.03 per share. The company's streak of surpassing Wall Street's quarterly EPS estimates has moved well beyond three full years.
2. Operational sales results increased 3.9%Building on the first point, J&J's $17.5 billion in sales includes a number of one-time, uncontrollable factors that adversely dragged down its results. For instance, translating its sales in overseas markets back into U.S. dollars wound up costing J&J 3.3% of its sales. On paper, J&J looks like it grew its top line by a meager 0.6%. However, if everything were done on a constant currency basis, J&J's operating growth was a much more impressive 3.9%.
3. Updated guidance J&Jis known for its relatively conservative full-year guidance, so it shouldn't come as too huge a shock that it upped its full-year forecast for 2016 compared to the sales and profit range it previously offered. The company now expects $71.2 billion to $71.9 billion in sales and adjusted EPS of between $6.53 and $6.68. Prior guidance had called for $70.8 billion to $71.5 billion in sales, and Wall Street had J&J pegged for only $6.53 in EPS in 2016.
Image source: Flickr user Austin Kirk.
4. Talc product scare has made a difference (but it's really small)Dealing with the backlash of consumers is never fun, but that's exactly what happened in February when a Missouri court ordered it to pay $72 million in combined actual and punitive damages after some of its talcum-based products were found by a jury to have caused ovarian cancer in a now-deceased consumer who'd used these products. Though J&J plans to appeal the decision and a reduction in damages seems likely, J&J's consumer segment took a hit with baby care in the U.S. down 14.4% operationally. Of course, in the grand scheme of things, U.S. baby care sales accounted for just 0.5% of total sales in Q1.
5. Darzalex gets a solid mentionAlthough J&Jdidn't break out sales for it and its partner Genmab's newly launched multiple myeloma drug Darzalex in its press release, Darzalex doesn't seem to be having any issue finding its niche in the third-line and higher indications.
In late-stage clinical studies, Darzalex elicited a clinical response in 29% of patients who'd progressed on a median of five prior therapies. When Amgen's competing drugKyprolis was approved by the Food and Drug Administration in a coincidentally similar study where patients had progressed on a median of five therapies, it elicited a response in just 23% of patients. Darzalex appears to be gaining quite the following, but it remains to be seen if that following is hurting Kyprolis.
Image source: Johnson & Johnson.
6. Imbruvica sales more than doubleIf there was any doubt that blood cancer drug Imbruvica, which was co-developed by J&J and Pharmacyclics (now a part of AbbVie) is going to grow into a megablockbuster, I believe this report essentially seals it. During the quarter, Imbruvica sales perfectly doubled in the U.S. from Q1 2015, and they rose by a brisk 158% in international markets. On J&J's end, Imbruvica is on pace to provide more than $1 billion in sales this year.
7. Invokana delivers strong double-digit growthDespite worries that Eli Lilly's and Boehringer Ingelheim's Jardiance was going to gobble up SGLT2-inhibitor market share in type 2 diabetes after its successful long-term cardiovascular study (where it led to a statistically significant 32% reduction in all-cause deaths compared to the current standards of care), J&J's competing Invokana continues to expand, implying that the Jardiance performance results are being perceived as class-wide.
In Q1, Invokana sales grew by 17% year over year, including a better than doubling in overseas markets, many of which have only recently launched. Shareholders should be eagerly waiting for Invokana's long-term cardiovascular study results due out later this year.
Image source: Zytiga.com.
8. Zytiga slows to a crawl If there's any nitpicking to be done, it looks as if Zytiga has run its course as a treatment for metastatic castration-resistant prostate cancer. Zytiga still produced an impressive $558 million in Q1 sales, so it'll be on pace to deliver more than $2 billion in revenue for 2016. However, sales of the drug rose by a meager 0.4% on an operating basis -- and I'm willing to bet a good chunk of that came from modest year-over-year price increases in the U.S.
Zytiga's big issue is that Astellas Pharma's and Medivation's Xtandi is coming on strong, especially in the treatment-nave setting. Xtandi wound up delaying the need for chemotherapy by an additional 17 months over the placebo during clinical trials, possibly making it the mCRPC drug of the future.
9. Obamacare is probably not a big factor on medical device sales anymoreFinally, J&J's medical device unit continues to show signs of life, especially in U.S. markets. Even though operational growth was only 0.5% in the segment, operating growth in the U.S. was 2.2%, led by a 6.3% improvement in orthopedic sales, particularly hip and knee replacements. Things look even rosier if divestitures are removed from the equation, with operating growth overall of 3%.
Looking at the big picture, though, it appears as if tight spending habits by hospitals and consumers are no longer a major concern given J&J's modest domestic medical device growth.
After reviewing J&J's Q1 report we're once again left with the feeling that the company remains on the right path to grow all three operating segments -- consumer healthcare, medical devices, and pharmaceuticals -- over the long term, and that J&J's stellar shareholder yield should help shield investors against market volatility and any excessive downside. In other words, if you're a J&J shareholder, there's nothing in this report suggesting your investment thesis has changed one iota.
The article 9 Things That Stand Out in Johnson & Johnson's Q1 Report originally appeared on Fool.com.
Sean Williamshas no material interest in any companies mentioned in this article. You can follow him on CAPS under the screen nameTMFUltraLong, track every pick he makes under the screen name TrackUltraLong, and check him out on Twitter, where he goes by the handle@TMFUltraLong.The Motley Fool owns shares of and recommends Johnson & Johnson. Try any of our Foolish newsletter services free for 30 days. We Fools may not all hold the same opinions, but we all believe that considering a diverse range of insights makes us better investors. The Motley Fool has a disclosure policy.
Copyright 1995 - 2016 The Motley Fool, LLC. All rights reserved. The Motley Fool has a disclosure policy.