9 Figures That Sum Up Regeneron Pharmaceuticals' First Quarter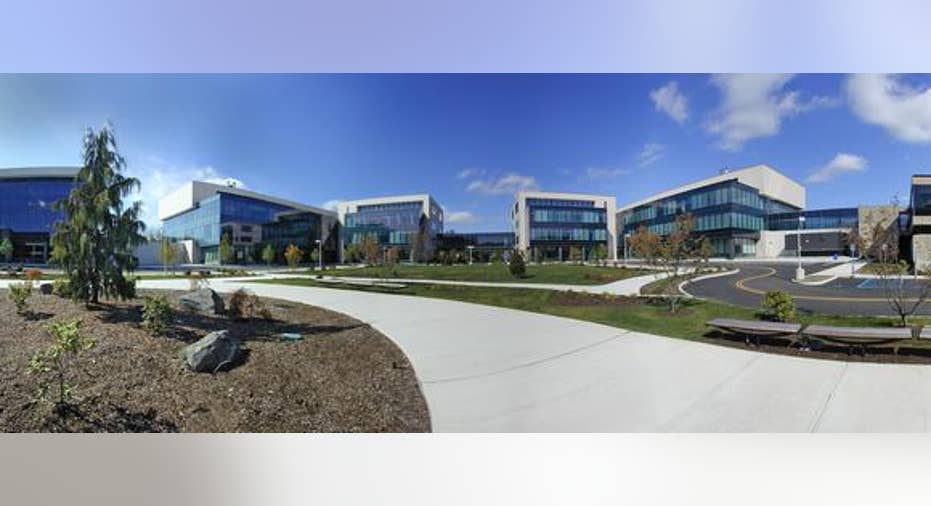 SOURCE: REGENERON PHARMACEUTICALS
After reporting first-quarter financials,investors may be wondering if Regeneron Pharmaceuticals shares should be bought or sold. Here are 9 key numbers from Regeneron Pharmaceuticals' report that offer additional insight into whether this company is worth owning in your portfolio.
$1.2 billion. Here's how much Regeneron Pharmaceuticals generated in revenue during the first quarter. That figure is up 38% from $870 million last year.
44%. That's the year-over-year growth for Regeneron Pharmaceuticals multibillion dollar blockbuster drug Eylea in the United States. Regeneron Pharmaceuticals' Eylea revenue in the U.S. totaled $781 last quarter.
$127 million. Bayer AG commercializes Eylea outside the U.S. and this is how much more Bayer sold of Eylea last quarter than in Q1, 2015. Overall, ex-U.S. Eylea revenue clocked in at $419 million.
$4.8 billion. Eylea's global sales in the quarter give it an annualized sales run rate of this amount. That's pretty remarkable given that it competes tooth-and-nail against the multibillion dollar drugs Lucentis and Avastin as a treatment for wet age-related macular degeneration, a condition affecting the eyesight of millions of seniors worldwide.
118%. The amount that Regeneron Pharmaceuticals saw its net income increase versus a year ago on a GAAP accounting basis. GAAP net income reached $166 million in the quarter, or $1.45. On a non-GAAP basis, the company's net income was $293 million, or $2.57 per share. This was down from last year because of the impact of non-cash income taxes.
5.06%. This is the percentage increase in net income margin year-over-year. In Q1, 13.8% of revenue translated into GAAP net income, up from 8.7% a year ago.
$13 million. This was the lackluster revenue that was generated by the company's cholesterol busting drug Praluent in the quarter. Praluent notched the FDA go ahead last summer to fan fare, but a $14,000 price tag led to payer pushback that's significantly curbing demand for the drug. At a $52 million annualized run rate, Praluent's a rounding error for the company, and that's not what industry watchers -- including me -- expected when this drug was approved.
20%. Regeneron Pharmaceuticals is forecasting full year Eylea sales will increase by this amount in 2016. If things go its way, Regeneron Pharmaceuticals thinks Eylea's sales could climb by as much as 25% when compared to 2015.
$875 million. That's the forecast level of Regeneron Pharmaceuticals un-reimbursed R&D spending in 2016. Some, but not all, of Regeneron Pharmaceuticals' R&D gets reimbursed via a collaboration with Sanofi , its partner on Praluent.
Sanofi is also collaborating with Regeneron Pharmaceuticals on sarilumab and dupilumab. Earlier this year, the two companies reported that sarilumab outperformed mega blockbuster autoimmune disease drug Humira in rheumatoid arthritis, and that dupilumab met its primary endpoint in treating eczema. Sarilumab's FDA decision date is October 30, 2016, and an application for approval of dupilumab is coming soon.
Tying it togetherRegeneron Pharmaceuticals continues to be an Eylea-only story. Praluent is off to an incredibly slow start and although sarilumab and dupilumab have billion dollar blockbuster potential, there's always the chance that the FDA rejects approving them. However, if an ongoing study evaluating Praluent's impact on cardiovascular events shows that Praluent lowers the risk of cardiovascular death, then Praluent could still deliver on those lofty pre-launch sales estimates. Also, a FDA approval of sarilumab and dupilumab could be needle moving events for 2017. Overall, Regeneron Pharmaceuticals remains a high-growth opportunity company that ought to be considered for inclusion in growth oriented portfolios.
The article 9 Figures That Sum Up Regeneron Pharmaceuticals' First Quarter originally appeared on Fool.com.
Todd Campbell has no position in any stocks mentioned.Todd owns E.B. Capital Markets, LLC. E.B. Capital's clients may have positions in the companies mentioned. Like this article? Follow him onTwitter where he goes by the handle@ebcapitalto see more articles like this.The Motley Fool owns shares of Regeneron Pharmaceuticals. Try any of our Foolish newsletter services free for 30 days. We Fools may not all hold the same opinions, but we all believe that considering a diverse range of insights makes us better investors. The Motley Fool has a disclosure policy.
Copyright 1995 - 2016 The Motley Fool, LLC. All rights reserved. The Motley Fool has a disclosure policy.