9 Artificial Intelligence Stats That Will Blow You Away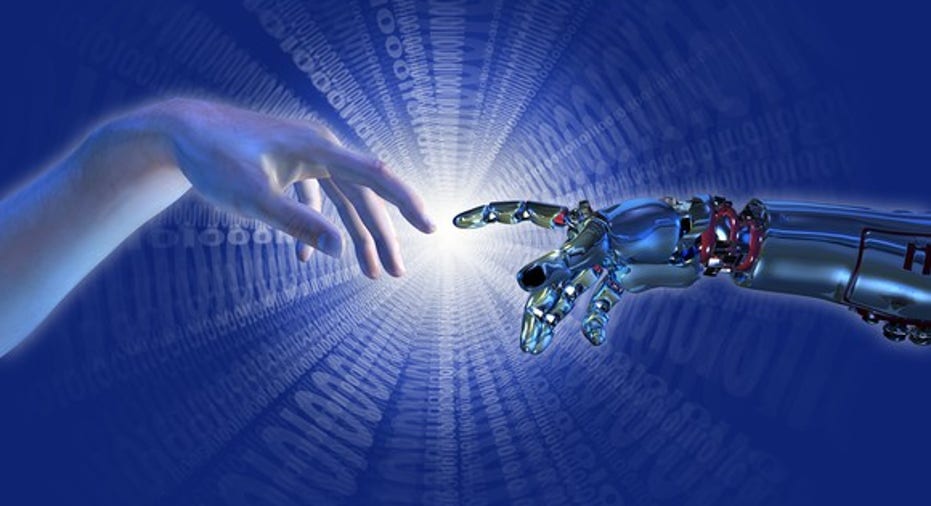 Image Source: Getty Images
As the AI era continues to unfold, the idea of a future driven by artificial intelligence can evoke mixed emotions.Microsoft (NASDAQ: MSFT) co-founder and Chairman Bill Gates referred to AI as the "holy grail" in computer science. On the other hand, and taking a far more apocalyptic perspective, Tesla CEO Elon Musk likened the development of artificial intelligence technologies to "summoning the demon."
Regardless of our feelings on the matter, artificial intelligence is set to play an increasingly prominent role in our day-to-day lives. Let's examine 9 statistics that speak to how artificial intelligence is set to become one of the most important technology trends of our lifetimes.
1. Voice assistant software is the #1 AI app today
In a survey of corporate executives, 32% of respondents said voice recognition software like Apple'sSiri, Alphabet's (NASDAQ: GOOG) (NASDAQ: GOOGL) Google Assistant, and Amazon.com's (NASDAQ: AMZN) Alexa is the most used type of AI tech in their workplace. Many of these voice-powered AIs still leave something to be desired in terms of accuracy, and it was surprising that voice assistants outnumbered big data in overall popularity with businesses.
2. AI bots will power 85% of customer service interactions by 2020
Bye bye, call centers and wait times. According to researcher Gartner, AI bots will power 85% of all customer service interactions by the year 2020. Given Facebook and other messaging platforms have already seen significant adoption of customer service bots on their chat apps, this shouldn't necessarily come as a huge surprise. Since this use of AI can help reduce wait times for many types of interactions, this trend sounds like a win for businesses and customers alike.
3. Digital assistants will "know you" by 2018
Also from Gartner, digital customer assistants will be able to "mimic human conversations, with both listening and speaking, a sense of history, in-the-moment context, timing and tone, and the ability to respond, add to and continue with a thought or purpose at multiple occasions and places over time." Said another way, digital assistants will know and interact with you like a friend does today, or at least they'll try to.
4. Amazon, Alphabet, IBM, and Microsoft to host 60% of AI platforms
These 4 tech giants already have significant cloud computing businesses, a trend researcher IDC sees as likely to continue. By the start of the next decade, Amazon.com, Alphabet, IBM (NYSE: IBM) and Microsoftwill control the majority of the market for AI software applications.
5. Get excited for self-driving cars
According to a study from leading consultancy McKinsey, the impact of self-driving cars will be tremendous, saving an estimated 300,000 lives per decade by reducing fatal traffic accidents. This is expected to save $190 billion in annual critical care and triage costs. Less miraculous (but still awesome), autonomous automobiles will also save their users as much as 50 minutes each day by allowing them to focus on other tasks while commuting.
6. 20% of business content will come from AIs by 2018
In a potentially apocalyptic turn for members of the media reading (or writing) this, AI-powered software will write as much as 20% of business content in a mere two years' time according to Gartner. Areas like "shareholder reports, legal documents, market reports, press releases, articles and white papers" are among the writing forms most likely to be automated.
7. AI drives a $14-33 trillion economic impact
In a research report to its investors, Bank of America argued that the rise of AI will lead to cost reduction and new forms of growth that could amount to $14-$33 trillion annually, in what it calls "creative disruption impact," and that's just the tip of the iceberg in some expert's view.
8. Robots will be smarter than humans by 2029?
According to Alphabet director of engineering Ray Kurzweil, machines will be smarter than us by 2029 (insert Terminator joke here). Kruzweil doesn't necessarily see this as being a negative though. Among many other "bold" predictions about our AI-laden futures, he believes people will start living forever around the year 2029 as well. Whether that's the result of some Matrix-like scenario coming to fruition isn't immediately clear, but obviously leading experts in the field believe major changes to our social fabric are only a little more than a decade away.
9. Zero people actually know how big an impact AI will have
Researching this article, I found all manner of predictions for how much AI will impact our daily lives, everything from imminent nuclear winter to global immortality waiting around the corner. So while it's certainly easy to get wrapped up in the litany of predictions, it's perhaps most useful to simply keep in mind that AI should have a major economic impact from which investors can undoubtedly benefit from today.
10 stocks we like better than Microsoft When investing geniuses David and Tom Gardner have a stock tip, it can pay to listen. After all, the newsletter they have run for over a decade, Motley Fool Stock Advisor, has tripled the market.*
David and Tom just revealed what they believe are the 10 best stocks for investors to buy right now and Microsoft wasn't one of them! That's right -- they think these 10 stocks are even better buys.
Click here to learn about these picks!
*Stock Advisor returns as of Nov. 7, 2016
Suzanne Frey, an executive at Alphabet, is a member of The Motley Fool's board of directors. The MoAndrew Tonner owns shares of Apple. The Motley Fool owns shares of and recommends Alphabet (A shares), Alphabet (C shares), Amazon.com, Apple, and Tesla Motors. The Motley Fool owns shares of Microsoft and has the following options: long January 2018 $90 calls and short January 2018 $95 calls on Apple. Try any of our Foolish newsletter services free for 30 days. We Fools may not all hold the same opinions, but we all believe that considering a diverse range of insights makes us better investors. The Motley Fool has a disclosure policy.