8 Things T-Mobile CEO John Legere Thinks Will Happen in 2017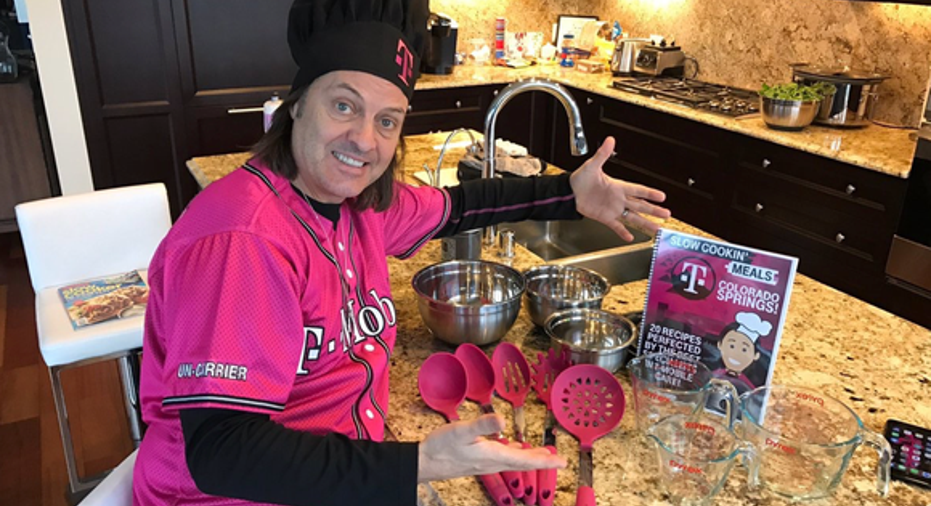 Image source: John Legere's social media account.
CES 2017 is now winding down, but last week T-Mobile (NASDAQ: TMUS) CEO John Legere held a press conference at the annual tech extravaganza. In it, Legere madeeight bold predictions of what the telecommunications industry might have in store for 2017, and also subsequently penned a blog post on T-Mobile's site.
Let's go through Legere's calls and see what they could mean for investors.
1. No more cable company MVNOs
Mobile virtual network operators (MVNOs), which buy wholesale capacity from the major network operators and resell service under a different brand, have always occupied a tenuous place within the mobile value chain. Facing sluggish landline growth, many cable companies have looked toward establishing MVNOs for some exposure to wireless growth. For instance, Comcast (NASDAQ: CMCSA) announced plans late last year that it would launch an MVNO on Verizon's (NYSE: VZ) network in 2017, supplemented by Wi-Fi hotspots.
Legere doesn't think these MVNO ambitions will play out well for anyone, and the Un-carrier will not ink any MVNO agreements with cable operators.
2. Google goes big
There are a few candidates for tech giants that may look to jump into the wireless sector, but Legere thinks Alphabet's (NASDAQ: GOOG) (NASDAQ: GOOGL)Google is the most obvious pick. Of course, the search giant launched Project Fi in 2015, which is a sort of hybrid MVNO that uses several networks (including T-Mobile's) in conjunction with Wi-Fi hotspots. Google is experimenting with and pioneering several interesting ideas, such as prorated data fees.
Thus far, Project Fi has been limited to a small number of devices, mostly Nexus and Pixel phones, but Google has the groundwork in place if it wants to make a bigger impact.
3. TV goes (more) mobile
Over-the-top (OTT) streaming services are proliferating in lockstep with cord-cutting, and Legere sees the shift to mobile accelerating. The chief executive notes that a third of TV watching occurs on devices other than TVs. By the end of 2017, he believes that the majority of TV viewing will be delivered via mobile.
Roughly 61% of mobile traffic is video, and this should jump to 77% by 2020, according to CTIA. T-Mobile delivers quite a bit of (downscaled) video for free via its Binge On program, so it only benefits financially from this increased usage if consumers pay extra for high-resolution streams or opt out of Binge On.
4. Say goodbye to DISH
DISH Network has been sitting on unused spectrum for years, fueling speculation that it would jump into the wireless world. Legere is calling for "the end of DISH as we know it" this year, saying it will cease to be a stand-alone entity. DISH's TV business has been on the decline, also a victim of cord-cutting, for quite some time. The company lost 116,000 net TV subscribers last quarter, and currently has about 13.6 million subscribers left.
5. Ridiculously fast LTE
T-Mobile recently noted that it is already approaching gigabit LTE speeds, thanks to its ongoing investments in spectrum and LTE infrastructure. Other carriers are hoping for gigabit speeds on 5G, but Legere says T-Mobile will be there first using existing technologies. Of course, hitting peak theoretical speeds is quite different than what average consumers experience, and most users won't see gigabit speeds in real-world performance anytime soon. T-Mobile reached 979 Mbps in its labs, using a combination of technologies and an unreleased handset.
6. More people will watch him cook
Legere hosts a live-streamed video segment on social media every Sunday under #SlowCookerSunday. Currently, about 500,000 viewers tune in to watch him cook each week, and he predicts he'll have 1 million weekly viewers by the end of 2017. Legere uses his segment as an example of the rise of OTT content, which continues to threaten cable channels.
7. C-suite shakeups
This is a pretty bold one, but Legere predicts that three of the four CEOs of the current major wireless operators will be out by year's end. That's an ambitious forecast not only because that's a lot of CEOs losing their jobs, but also because of the ongoing consolidation speculation that T-Mobile isn't exactly downplaying. If T-Mobile ends up merging with Sprint, Legere would immediately score at least one point on this one.
8. Speculating on speculation
Pointing to the deterioration in both Verizon's and Comcast's core businesses, Legere says that the two telecom giants will be "forced" to entertain the idea of a blockbuster megamerger that would combine "two of the most hated brands in America." Note that Legere doesn't believe a deal will be officially announced or closed, but rather the pair would have "discussions." Seeing as how discussions of this nature often leak and spur speculation, Legere is essentially speculating on speculation. In fairness, the idea isn't out of the question altogether, given AT&T's recent moves.
10 stocks we like better than T-Mobile US When investing geniuses David and Tom Gardner have a stock tip, it can pay to listen. After all, the newsletter they have run for over a decade, Motley Fool Stock Advisor, has tripled the market.*
David and Tom just revealed what they believe are the 10 best stocks for investors to buy right now... and T-Mobile US wasn't one of them! That's right -- they think these 10 stocks are even better buys.
Click here to learn about these picks!
*Stock Advisor returns as of January 4, 2017
Suzanne Frey, an executive at Alphabet, is a member of The Motley Fool's board of directors. Evan Niu, CFA has no position in any stocks mentioned. The Motley Fool owns shares of and recommends Alphabet (A shares) and Alphabet (C shares). The Motley Fool recommends T-Mobile US and Verizon Communications. The Motley Fool has a disclosure policy.