7 Ways Netflix Inc. Just Widened Its Competitive Moat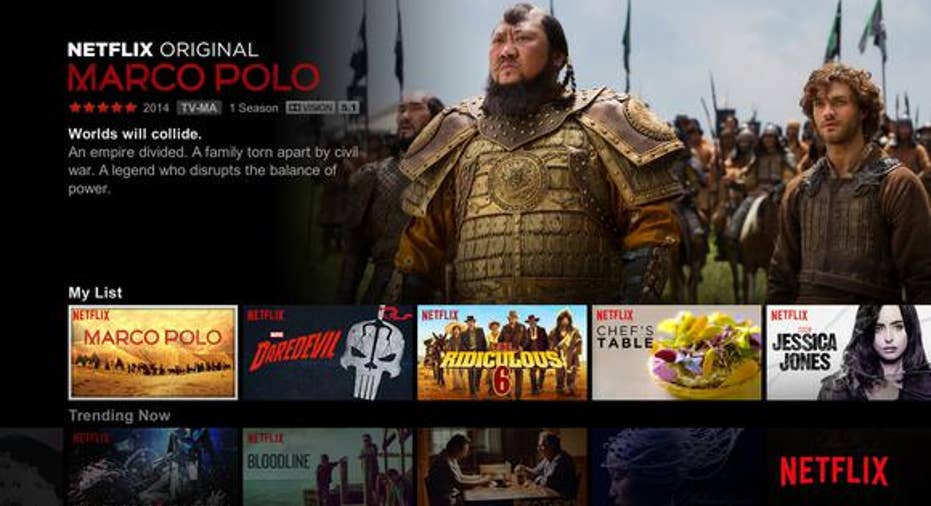 Wall Street wasn't jazzed about Netflix's first-quarter results, knocking the stock back below $100 per share this week. Critics will say that there's plenty of room for additional losses, given the streaming-video giant's triple-digit price-to-earnings valuation.
Stock-price swings aside, shareholders should be pleased with the results that CEO Reed Hastings and his executive team just posted. The company tightened its grip on the surging global Internet TV business in some key ways in Q1. Here are seven of the biggest:
1. A truly global player Netflix took a huge step toward becoming a global company by adding 4.5 million international subscribers along the way to a record 6.7 million total additions. The streamer now gets about 40% of its revenue from markets outside of the U.S., but aims to see that number eventually approach 80%.
Image source: Netflix.
As an early mover to reach worldwide scale, Netflix will be able to make full use of global broadcasting arrangements, giving it a key advantage over regional players. "Netflix is uniquely positioned to bring stories from all over the world to people all over the world," Hastings said in the shareholder letter.
2. Stronger content portfolio New original content that debuted last quarter included hits like Making a Murderer and Fuller House, along with new installments of House of Cards and Marvel's Daredevil. Netflix credited the stacked release calendar with helping membership growth spike in the U.S. market at a faster pace than they had expected. "Our forecast for the quarter was low because we underestimated the positive [customer] acquisition impact of our major original content debuts." The deeper that Netflix's exclusive content catalog gets, the more likely it will be for any given subscriber to want to stick around for the next season of a can't-miss series.
3. Improved delivery Netflix introduced a new video-encoding approach that produced a 20% jump in streaming quality -- or a 20% drop in data consumption for bandwidth-conscious members -- in yet another example of how it works behind the scenes to continually improve its service. Thanks to its Internet roots, Netflix can make changes like these at a quicker pace than legacy TV carriers could. "Today the Internet is the home of the best possible video you can get thanks to Ultra HD 4K and HDR," the company said in a blog post recently, and it intends to keep pushing the envelope by adding tons of HDR contentand boosting the efficiency of mobile-video streaming next.
4. Higher spending Streaming content liabilities spiked to $12.3 billion from $11 billion in the prior quarter. That jump reflects significant new spending across the 130 new markets that Netflix just entered, and it's also a result of management's plan to spend $5 billion on content this year alone. The list of companies that could hope to match that outlay -- notably including Amazon -- isn't very long.
CEO Reed Hastings. Image source: Netflix.
5. More competition The streaming-video market isn't a zero-sum game where one company's growth has to come at the expense of another's. In fact, additional competitors help expand the entire pie because they convince more consumers that Internet-based TV is worth trying out.
That's why Hastings still isn't concerned about Amazon's new stand-alone streaming-video option. "This is all part of the natural evolution from linear TV to Internet TV," he said in the earnings call.
6. A stronger brand Netflix's family-focused original series garnered 33 Daytime Emmy nominations last month, for another nice branding win. While it's still far from Time Warner's HBO here, critical praise and blockbuster hits like Orange is the New Black help attract more star power to the service. That's why streaming subscribers will soon see original, exclusive movies featuring actors like Brad Pitt and Will Smith.
7. New friends Netflix's partnerships have been critical to its growth, especially in the early days of streaming, when it teamed up with video-game console manufacturers and set-top box makers to make its app ubiquitous. Now that nearly every Internet-capable device can work with Netflix, the wins are getting smaller; but they're still helping push the streaming product out to more potential customers.
In its Q1 report, the company quoted Canadian TV provider Optik, which recently had this to say about its recent Netflix partnership: "Making Netflix available was a simple but powerful innovation to make our customers' entertainment experience better, and far easier." When potential competitors are talking about you in glowing terms like those, you've got to be doing something right.
The article 7 Ways Netflix Inc. Just Widened Its Competitive Moat originally appeared on Fool.com.
Demitrios Kalogeropoulos owns shares of Netflix. The Motley Fool owns shares of and recommends Amazon.com, Netflix, and Time Warner. Try any of our Foolish newsletter services free for 30 days. We Fools may not all hold the same opinions, but we all believe that considering a diverse range of insights makes us better investors. The Motley Fool has a disclosure policy.
Copyright 1995 - 2016 The Motley Fool, LLC. All rights reserved. The Motley Fool has a disclosure policy.