7 Things Investors Need to Know From Facebook's F8 Developers Conference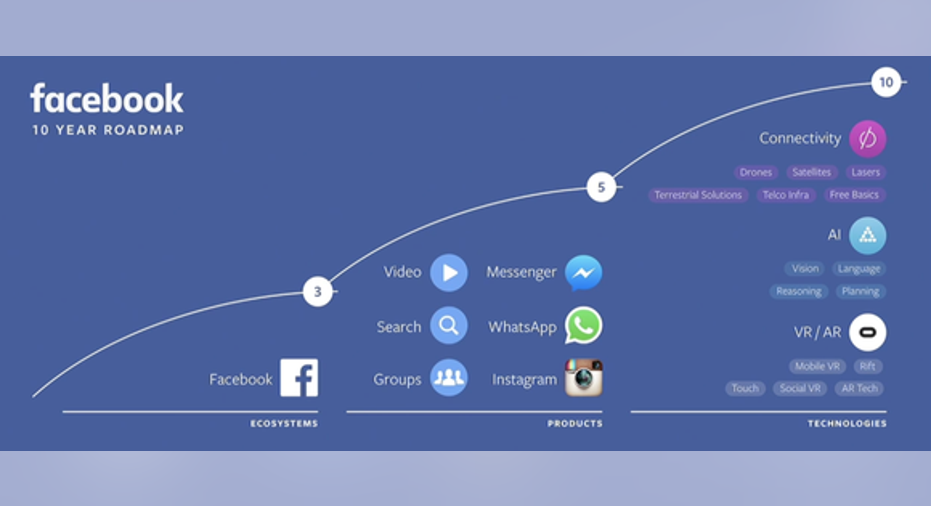 Facebook has a clear vision for its future, and it's not shy about sharing it with the public.
The company welcomed the global development community to its annual F8 Developers Conference in San Francisco April 12-13. CEO Mark Zuckerberg kicked off the event with a keynote speech that was heavy on forecasting. He shared details on not only his plan for Facebook's next 10 years, but also where he believes the world will be going in that time period.
It was an interesting two days that offered investors strong insights into the company's future. Here are seven key takeaways from the event.
1. Facebook is not all about making moneyWhile Zuckerberg's company hasn't been as blatant as rival Alphabet when it comes to altruistic efforts, Facebook does have some plans that aren't clear moneymakers. The most important of those involve the company's efforts to use drones and antennas to connect the parts of the world not served by the Internet.
That's perhaps not as altruistic as some of Alphabet's efforts, but even if Facebook eventually benefits from having more customers, it's going to cost it a lot of money to get the entire world online -- which was one of Zuckerberg's stated goals.
2. The company knows where it's goingThe CEO's keynote was built around the idea of the company's having a 10-year road map. That starts with its core platform and then branches into its other apps such as Messenger, WhatsApp and Instagram. Beyond that, it moves into delivering global connectivity and emerging platforms such as virtual and augmented reality.
Zuckerberg shared the company's 10-year-plan during his keynote. Image source: Facebook.
3. Messenger has become importantWhile Facebook's move to split Messenger off from its main app was met with more than a little skepticism, it's clearly worked, as the app is one of the most used on the planet. Messenger was one of the stars at F8, with Facebook announcing Messenger Platform, whichlets anyone create bots for the app. Essentially, this is a set of tools designed to let businesses use the platform to communicate directly with their customers. That could become a big deal, as companies have increasingly turned to social media for customer support. With these new tools, Messenger becomes a better option for that than rival Twitter.
4. Zuck does not like TrumpWhile he never directly said his name, Zuckerberg opened his speech with an impassioned plea that clearly targeted the Republican front-runner.
The CEO called Facebook's mission "bringing people together," and he lashed out at "fearful voices" that talk about "building walls, distancing people they view as others."
Zuckerberg explained that he thinks technology can build bridges, connecting people even when political forces work to bring them apart:
5. Facebook wants you to shareOne of the key planks in Zuckerberg's 10-year plan was the idea that people would be able to share anything with anyone. By "anything," he explained that he expected full virtual-reality experiences to make sharing something like a baby's first steps well beyond what it is now.
He also talked about how he expected people to have even more control over the "anyone" part of the "share anything with anyone" equation:
6. Sometimes Facebook will share, tooFacebook wants people to share new kinds of video and images on its platforms. For that to happen, consumers need access to technology to make those videos and images. To facilitate that process, the company announced that it will make the plans for its Surround 360 camera available on an open-source basis to any company that wants them.
The Surround 360 camera consists of 14 cameras arranged in a ring with overlapping fields of view, GeekWire reported. It also has another wider-angle fish-eye lens camera on the top and two more on the bottom for a full sphere of coverage.
7. Bots are an attempt to battle GoogleBecause Facebook doesn't own an operating system, it loses out on the cut of revenue that Alphabet's Google, as one example, makes when someone buys an app in its digital store. Attacking that issue is a very long-range goal, because the initial bots inside Messenger won't pay the company any fees.
Bots inside Messenger could, in theory, take away traffic from Google as well, since companies may answer queries directly that previously would have run through the search engine. It's a fledgling idea from Facebook, but if it works, it brings companies and consumers closer together in a way that bypasses Google entirely. That could be huge, and there's every reason to believe Facebook will succeed with it simply because it's a more logical system than forcing people to hunt for info while sifting the good from the bad.
The article 7 Things Investors Need to Know From Facebook's F8 Developers Conference originally appeared on Fool.com.
Suzanne Frey, an executive at Alphabet, is a member of The Motley Fool's board of directors. Daniel Kline owns shares of Facebook. He is shocked by the size of the airport in Atlanta every time he visits. The Motley Fool owns shares of and recommends Alphabet (A shares), Alphabet (C shares), Facebook, and Twitter. Try any of our Foolish newsletter services free for 30 days. We Fools may not all hold the same opinions, but we all believe that considering a diverse range of insights makes us better investors. The Motley Fool has a disclosure policy.
Copyright 1995 - 2016 The Motley Fool, LLC. All rights reserved. The Motley Fool has a disclosure policy.