7 Pharmaceutical Stocks With Dividends Yielding More Than 3%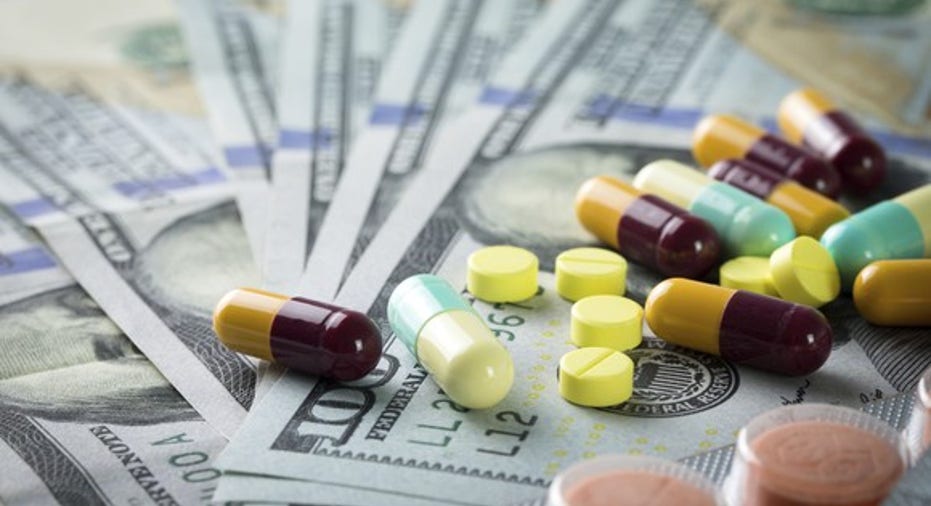 Image credit: Simon Cunningham on Flickr.
Many income-focused investors naturally gravitate toward stocks that offer up the highest dividend yield. For healthcare investors, that typically means choosing from a list of big pharmaceutical stocks, since large-cap drug companies tend to offer some of the highest yields in the sector. However, investors who base their investing decision solely on a company's dividend yield might wind up making a poor decision. After all, a high yield is one way that the market signals that a company is in danger of reducing or eliminating its quarterly payout.
To see this principle in action, let's take a look at sevenpharmaceutical stocks with market caps of at least $2 billion and rank them by their current dividend yield. Doing so produces a list that looks like this:
Company
Ticker

Dividend
Yield

AstraZeneca
AZN
6.88%
GlaxoSmithKline PLC
GSK
5.47%
Sanofi
SNY
4.32%
AbbVie
ABBV
3.74%
Novartis
NVS
3.54%
Pfizer
PFE
3.45%
Merck & Co.
MRK
3.20%
Data source: Finviz.
If the only metric that you used to make investment decisions was the dividend yield, then you would probably conclude that AstraZeneca andGlaxoSmithKline PLC are the best buys from this group. After all, both of those companies offer dividend yields of more than 5%, which is more than double that of the S&P 500 index.
However, investing wisely is rarely about trying to maximize a single metric, and that's especially true with the dividend yield. There are plenty of other factors you need to consider before you buy shares in any company, such as valuation, growth prospects, and risk.
To drive that last point home, let's have another look at that same list of companies, but with a small twist. This time around, I'll add in two simple valuation metrics and what kind of profit growth analysts are expecting from the company over the next five years.
Here's what that updated table looks like:
| | | | | | |
| --- | --- | --- | --- | --- | --- |
| Company | Ticker | Dividend Yield | Trailing P/E Ratio | Forward P/E Ratio | Estimated 5-YearEPS Growth Rate |
| AstraZeneca | AZN | 6.88% | 24 | 12 | (1%) |
| GlaxoSmithKline PLC | GSK | 5.47% | 207 | 15 | 0.6% |
| Sanofi | SNY | 4.32% | 20 | 12 | 7.1% |
| AbbVie | ABBV | 3.74% | 18 | 11 | 16.4% |
| Novartis | NVS | 3.54% | 28 | 15 | 4.7% |
| Pfizer | PFE | 3.45% | 28 | 13 | 7.8% |
| Merck & Co. | MRK | 3.20% | 35 | 15 | 3.3% |
Data source: Finviz.
As you can see, adding in just a few other metrics starts to give potential investors a more complete picture. Yes, AstraZeneca and GlaxoSmithKline offer up the highest dividend yields from the group, but they also have the worst estimated growth prospects. That's a big reason why the markets are shunning those stocks, which has pushed up their dividend yields.
Pharmaceutical stocks I'd suggest avoiding
GlaxoSmithKline has been struggling recently because one of its best-selling drugs, Advair, has seen all of its key patents expire. GlaxoSmithKline has been working on breathing new life into its respiratory franchise with the release of Breo Ellipta and Anoro Ellipta, but sales of each struggled out of the gate. Things have picked up recently, but the company is fighting an uphill battle as it tries to replace the lost revenue from Advair. That's why the markets are not exactly predicting a rosy future for this company's bottom line over the next few years, which I think makes this one astock to avoid.
The story with AstraZeneca is quite similar. Patent expirations have taken a major toll on the company's top line as sales have been in decline since peaking in 2010. The future doesn't look any better, because it lostpatent protection on Nexium last year, and it's slated to lose patent protection on another key drug, Crestor, later this year. That's a big reason why investors have pushed this company's yield up so high -- because profits are expected to head in the wrong direction for several more years. And it's reason enough for me to want to avoid this stock.
In fact, I'd suggest that investors should avoid any drugmaker from this list that is not going to grow its bottom line by at least 5% over the coming years. Why bother investing in slow-growth stocks if there are better opportunities out there with similar valuation multiples? That immediately removes AstraZeneca, GlaxoSmithKline, Novartis, and Merck & Co. from our list of stocks to consider.
Image source: Getty Images.
That leaves us with three potential investable companies: Sanofi , AbbVie , and Pfizer . Let's take a closer look at each to see if we can figure out if any of them are worth buying.
Sanofi is a questionable company to invest in right now. The company has been plagued with leadership issues and has made a few high-profile bad bets. That's a big reason why its stock has been stuck in the mud for years and why it remains in turnaround mode.
However, its near-term future looks questionable to me since its cash-cow diabetes drug Lantus is facing some serious challenges.To help combat the potential sales decline of Lantus, Sanofi expects to launch six new major drugs between now and 2020. That's exciting, but it also represents a real risk that the launches may not go according to plan, which could put itslong-term growth targetsin jeopardy.In addition, the company is planning on using layoffs to help it reach its profit targets, which I find uninspiring. That makes me want to stay away from this company's stock for the time being.
These two drug companies are worth buying
The metrics on the table above suggest that AbbVie's stock could be a smart choice. Not only does it offer up a yield of 3.74%, but analysts are also projecting profit growth of more than 16% over the next five years. That's a compelling combination, so what does AbbVie have going for it that's allowing it to grow so fast?
The answer there is Humira, its best-selling anti-inflammation drug that is approved to treat a wide range of indications. AbbVie sold more than $14 billion worth of Humira last year, which was up a huge 19% over the prior year when you adjust for currency fluctuations. AbbVie's management team believes that Humira will continue to grow quickly over the coming years, and when you add in the contributions of its other fast-growing drugs -- like itscancer drug, Imbruvica, and its hepatitis C cure, Viekira Pak -- this company's growth prospects look bright. That's why management has stuck its neck out and projected double-digit rates between now and 2020. If true, that makes AbbVie's stock a buy in my book, especially with shares trading around 11 times next year's earnings.
Finally, let's look at Pfizer. A few years ago Pfizer was the poster child for patent risk. Sales plunged in the wake of it losing patent protection on Lipitor, its blockbuster cholesterol-busting drug. However, that loss forced the company to undergo a massiverestructuring, which is now starting to pay off.
Pfizer is now positioned for strong growth over the coming years, thanks in large part to three big trends. First, it's going to be a major player in the shift towardbiologic drugsthanks to its$17 billion acquisition of Hospira last year. Second, its pneumococcal vaccine, Prevnar 13, has become a cash cow, and Europe offers strong growth prospects.Third, its recently launched best cancer drug, Ibrance, is already on pace for megablockbuster status. Add in a solid pipeline and I think that the company's forward price-to-earnings ratio of only 13 makes this stock a buy.
There's more to healthcare investing than just a big dividend yield
As you can see, it's well worth the time to do a bit more research on a stock before you hit the "Buy" button. I'm a big fan of high dividend yields, but only when the companies behind the stocks also offers up solid long-term growth prospects. If they don't, then you are probably better off staying far away.
The article 7 Pharmaceutical Stocks With Dividends Yielding More Than 3% originally appeared on Fool.com.
Brian Feroldihas no position in any stocks mentioned.Like this article? Follow him onTwitter where he goes by the handle@Longtermmind-setor connect with him onLinkedInto see more articles like this.The Motley Fool has no position in any of the stocks mentioned. Try any of our Foolish newsletter servicesfree for 30 days. We Fools may not all hold the same opinions, but we all believe thatconsidering a diverse range of insightsmakes us better investors. The Motley Fool has adisclosure policy.
Copyright 1995 - 2016 The Motley Fool, LLC. All rights reserved. The Motley Fool has a disclosure policy.