7 Non-Traditional Ways You Can Earn More Money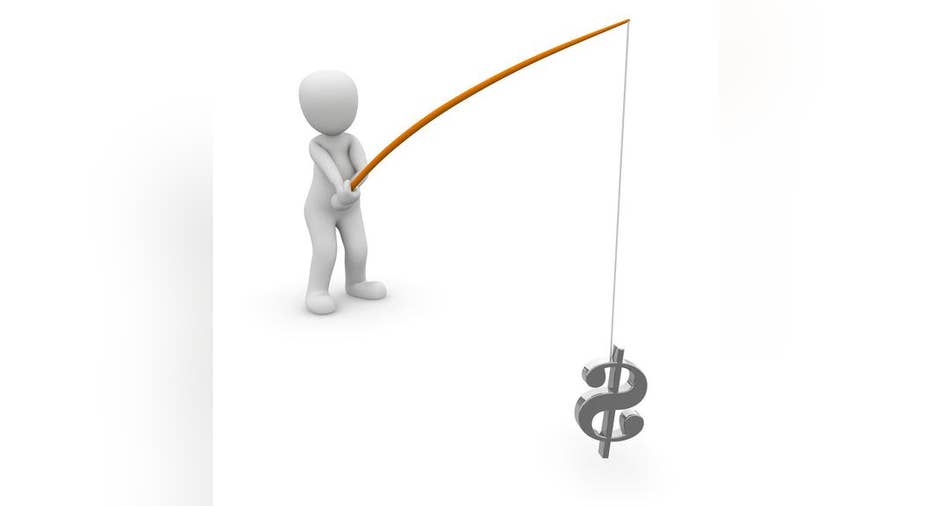 PHOTO CREDIT PEGGY_MARCO FROM PIXABAY
Are you hunting for a way to bring in more income into your life? Today's modern economy provides plenty of ways to do so even if you do not have a lot of time or experience. You just need to be willing to think outside the box and put in a little extra effort and you could easily build up a nice side income for yourself in no time.
To help you get the ball rolling we reached out to our team of contributors and asked them to share a nontraditional idea that they think is a great way to generate a little extra income. Read below to see if any of their suggestions sound appealing.
Dan Caplinger: One way you can earn some extra income is by offering travelers a place to stay in your home. By using services like Airbnb, you can become a host, listing your home and setting rules for how and when people can book a visit. Typically, you'll have a lot of flexibility in what you offer. Some hosts only give visitors the bare essentials for a stay, while others turn their residences into informal bed and breakfasts, offering meals. For the most part, you have the ability to set whatever price you want for a stay, with many services simply taking a percentage of your revenue by offering their booking platform as a vehicle to facilitate transactions.
Keep in mind, though, that there are some potential legal pitfalls involved in taking money in exchange for a place to stay. As Airbnb itself points out, some cities have laws restricting your ability to host paying guests for short periods, and others require permits or licenses before listing your home. In some cases, you'll need to collect hotel tax or similar local taxes and pay them to the appropriate authority. Not complying with regulations can result in fines or other enforcement actions.
Overall, many find hosting services like Airbnb to be useful in squeezing income out of their homes. Just be sure to watch out for unexpected traps for the unwary.
Matt Frankel: Driving for Uber (or Lyft) can be a lucrative way to bring in some extra cash. However, exactly how much you can make depends on a few variables, such as your location, the hours you're willing to work, and how economical your car is.
As far as location goes, there's obviously more money to be made in a high-density urban area. In fact, a TechCrunch study found that the national average earnings for an Uber driver were about $19 per hour, while in New York City, the average was more than $30. Using the $19/hour average, a driver who works 40 hours per week for 50 weeks a year can expect to bring in around $38,000 per year.
PHOTO CREDIT: FOUNDRY VIA PIXABAY
Uber drivers can work full-time or part-time, and drivers can tailor their schedule to work more during peak hours, when Uber charges "surge" pricing to riders.
Finally, keep in mind that Uber drivers don't get to keep all of the money they make. They have to pay for gas, tolls, insurance, and vehicle maintenance out of their own pockets, and this is where it becomes important to have an economical car. Drivers also have to pay taxes (including self-employment tax) on their income, but there are some pretty good tax breaks available to drivers. Specifically, for 2016, the IRS allows a deduction of $0.54 per mile for "business use," and a late-model car with good gas mileage should cost significantly less than this to run and maintain.
The bottom line is that with some smart planning, you can earn a pretty nice stream of income driving for Uber.
If you're an animal lover at heart, then there are a huge number of ways that you can use your passion to earn a few extra bucks. You can care for pets while their owner is away, set up a dog walking service for anyone who is too busy to do so, or even offer to bathe the animals.
If you think there isn't a market for these types of services, I'd suggest you take a closer look at the pet industry as studies show that many Americans are absolutely fanatical about their pets. In fact, a 2012 study by the American Veterinary Medical Association showed that more than 63% of pet owners considered their pets to be family members.
PHOTO CREDIT: CHIEMSEE2016 VIA PIXABAY
Taking care of these pets is big business too as the American Pet Products Association showed that U.S. households spent more than $60 billion taking care of their pets in 2015 and more than $5 billion of that total spent on basic care services like grooming and boarding. That's a massive market opportunity for anyone who is willing to hustle and get their hands dirty.
If you are interesting in diving into the business I'd suggest creating a couple professional looking flyers that list the services you offer and the price you would charge and distribute them in upscale neighborhoods and at veterinary's offices. If you prove yourself to be reliable and friendly then you'll bringing in extra money in no time.
Selena Maranjian: One under-appreciated way to make some extra money is by making strategic use of credit cards. Many offer cash back, for example, and a few such cards are quite generous.American Express, for example, offers two versionsof a "Blue Cash" card. The one without an annual fee offers $150 in cash when you sign up and spend a modest sum and more importantly pays you 3% cash back on purchases at supermarkets, 2% back on purchases at gas stations and some department stores, and 1% back on everything else. For a $75 annual fee, the "Preferred" version of the card offers 6%, 3%, and 1% back on those categories, respectively. There are a few restrictions, of course, but you can still collect a lot of dollars. If you spend $6,000 per year at the supermarket, $1,500 on gas, and $10,000 on top of that, you could collect about $500 per year in cash back!
If you learn more and approach the task strategically, you can get a lot of value when signing up for certain cards that are advertising special promotions. You might, for example, be able to get 40,000 miles on an airline credit card that are worth $500 or more. Oh, and if you pay off high-interest rate credit card debt, that's a lot like putting more money in your pocket, as you will avoid paying more interest on the debt.
Cory Renauer: A fun way to earn money that I never dared dream of as a child: Playing video games with your spouse.
I'm not joking.
If you have grade-school age children you may have have noticed a disturbing trend. Kids enjoywatchingother people play video games as much as they enjoy playing them. One of my daughter's favorites is a husband-and-wife team, mostly the wife, that play video games while shouting into a microphone on YouTube.
One day I noticed a particular upload of theirs had well over a million views. The analyst in me took over and I had to learn more. They upload a video per day. Those uploaded over the past 30 days have racked up 13.86 million views.Wow!
Alphabet, YouTube's parent company, has a well established partnership program that pays content uploaders a percentage of ad revenue generated from their videos. Advertisement revenue varies based on the content, and ad-free YouTube Red further complicates matters. I did some sleuthing, and it seems partner revenue varies between $0.30 and $2.50 per-thousand-views.
I imagine YouTube partners targeting -- whether they intend to or not -- wealthier demographics earn more than those my children are fond of. Even at the low-end, that husband-and-wife team stand to earn over $4,000 this month, from videos uploaded over the past 30 days alone. Views on previously uploaded videos, going back years, probably add significantly to those earnings. I'd also venture a guess that independent developers throw a few bucks their way to get their games reviewed.
To be fair, recording, editing, and uploading a video-per-day is probably a full-time job for these two. They sure seem to enjoy themselves, which is probably a large part of their appeal. You may not like video games, but it seems like there's an audience for just about any hobby, so get out that camera and start uploading!
Sean Williams: Who said making money can't be fun? One of the easiest ways to earn some non-traditional cash is to turn something you love into a money-making business. Best of all, not all businesses require you to present yourself in a suit or tie.
Take foraging for hidden treasures among local garage sales as a great example. In 2013, according to Signs.com, there were an average of 165,000 garage sales held each week across the United States. In total, about 690,000 Americans buy something at a garage sale in a given week (and you could be one of them). Furthermore, an average of $4.2 million is generated weekly from garage sales, or around $220 million annually.
PHOTO CREDIT: MONEYFORCOFFEE VIA PIXABAY
Now here's the thing about garage sales: they're convenient for the homeowner. The homeowner is often more interested in de-cluttering than they are in raking in the cash tied to a garage sale, which means you might be able to net some significant bargains. How does that help you? It's simple. You can turn around and resell what you've purchased at garage sales online, using a service like eBay, for what's often a tidy profit. Signs.com suggests that items purchased at a garage sale can be resold on eBay for an average premium of 462% over your cost. If this premium holds true, it would mean that garage sale mavens could, in theory, have $1 billion worth of profits out there waiting to be made each year.
Let it be known that you can have fun and make money at the same time!
Chuck Saletta: You likely shop atAmazon.com, but did you know that it's also a way to pick up a little extra money? Amazon.com runs a website called Mechanical Turkthat matches people with time to kill with companies that need tasks that require human intelligence. Many of the tasks are of the type that are straightforward for a person to do but beyond the level that artificial intelligence has been able to reliably master.
The pay isn't all that greatper task, but the tasks are frequently straightforward and quick. For instance, one task that was available as of this writing requested you to find the web site for the financial aid office of a university, and copy the page's URL into a form. For what amounts to a quick Internet search and a copy and paste, you'd pick up a quick $0.03. Repeat jobs like that three times a minute, and you'd receive a little over $5 in an hour.
It's very unlikely that you'll get rich from jobs you pick up from Mechanical Turk. Still, it's an easy way to make a few bucks wherever you can get an Internet connection and whenever you have some extra time on your hands.
The article 7 Non-Traditional Ways You Can Earn More Money originally appeared on Fool.com.
Suzanne Frey, an executive at Alphabet, is a member of The Motley Fools board of directors. Brian Feroldi owns shares of Alphabet (A shares), Alphabet (C shares), and Amazon.com. Chuck Saletta has no position in any stocks mentioned. Cory Renauer owns shares of Alphabet (A shares) and Alphabet (C shares). Dan Caplinger owns shares of Alphabet (C shares). Matthew Frankel owns shares of Alphabet (C shares), American Express, and eBay. Sean Williams has no position in any stocks mentioned. Selena Maranjian owns shares of Alphabet (A shares), Alphabet (C shares), Amazon.com, American Express, and eBay. The Motley Fool owns shares of and recommends Alphabet (A shares), Alphabet (C shares), Amazon.com, and eBay. The Motley Fool recommends American Express. Try any of our Foolish newsletter services free for 30 days. We Fools may not all hold the same opinions, but we all believe that considering a diverse range of insights makes us better investors. The Motley Fool has a disclosure policy.
Copyright 1995 - 2016 The Motley Fool, LLC. All rights reserved. The Motley Fool has a disclosure policy.