7 Companies Where Warren Buffett Owns More Than 10%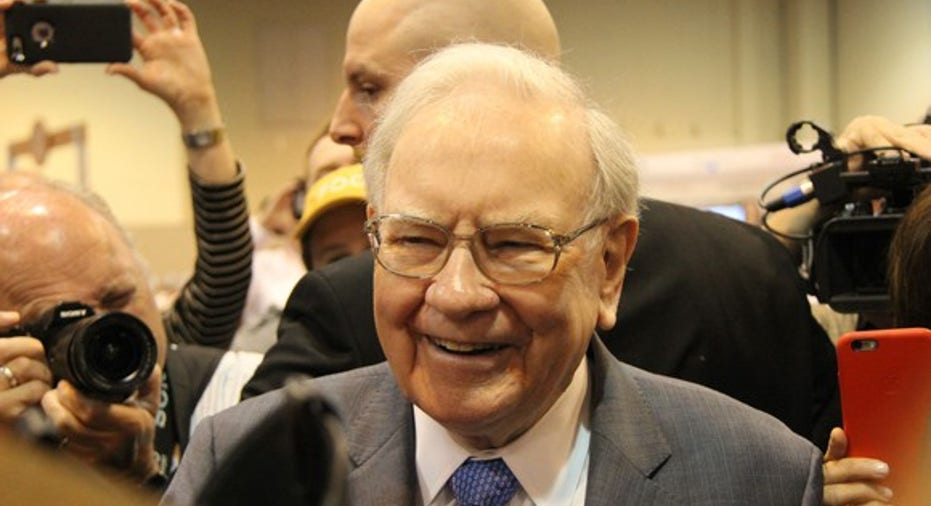 Billionaire investor Warren Buffett's company Berkshire Hathaway (NYSE: BRK-A) (NYSE: BRK-B) owns more than 60 different subsidiary businesses. In addition, Buffett and company have a massive portfolio of common stocks, which includes significant stakes in many prominent American businesses. Here are seven companies that Berkshire owns a particularly large stake in, and why Buffett loves each of them.
| Company | Symbol | Shares Owned | % Stake |
| --- | --- | --- | --- |
| Kraft Heinz | KHC | 325,634,818 | 27.2% |
| USG Corporation | USG | 39,002,016 | 26.1% |
| Davita Inc. | DVA | 38,565,570 | 19.8% |
| American Express | AXP | 151,610,700 | 16.9% |
| Phillips 66 | PSX | 80,689,892 | 15.6% |
| Moody's Corp. | MCO | 24,669,778 | 12.8% |
| Verisign Inc. | VRSN | 12,952,745 | 12.8% |
Data source: Berkshire Hathaway's latest company filings. Note that companies are listed in descending order of Berkshire's percentage stake, not in order of the monetary value of each stake.
Image source: The Motley Fool.
1. Kraft Heinz
Berkshire's massive stake in Kraft Heinz (NASDAQ: KHC) resulted from the merger of Heinz -- which Berkshire owned -- with Kraft Foods. Buffett already loved Heinz for its valuable brand and dominant market position (think about it -- can you even name the number two brand of ketchup?).The combination with Kraft Foods was a no-brainer, as it added economies of scale to two already solid food businesses.
2. USG Corp.
Construction materials company USG (NYSE: USG) is Berkshire's second-largest stake by percentage and is known for its Sheetrock brand of drywall, as well as other building materials, such as roofboard, insulation, and more. Warren Buffett played a major role in USG's turnaround a few years ago and is now well-positioned to profit from the expected increase in U.S. infrastructure spending, as my colleague Neha Chamaria recently explained.
3. DaVita Inc.
Healthcare company DaVita (NYSE: DVA) provides dialysis services in the U.S. and has more than one-third of the market. What's more, the company's revenue has steadily grown over the past decade or so. And since the company provides a non-discretionary (needed) service, its business should do just fine, no matter what the economy is doing.
4. American Express
American Express (NYSE: AXP) has a lot of qualities that Buffett loves to see. According to Interbrand, American Express has the 25thmost valuable brand in the world, worth more than $18 billion. That's more than Visa or MasterCard, which ranked 61st and 76th, respectively. The company also has a desirable, affluent cardholder base that gives it pricing power over rivals. Even with the emergence of new payment technologies, Buffett has recently stated that he's sticking with Amex as a long-term investment.
5. Phillips 66
Oil giant Phillips 66 (NYSE: PSX) is a relatively new investment in Warren Buffett's portfolio, with the company adding shares several times over the past couple of years. The oil refining business has high barriers to entry and excellent cash flow, both of which Buffett loves to see. In addition, Phillips 66 has a diverse revenue stream: Some of its business actually does better when oil prices are low, meaning that it works in any economy.
6. Moody's Corp.
Warren Buffett has been an investor in Moody's (NYSE: MCO) for some time now. The credit rating agency is in a high-barrier-to-entry industry and generates a lot of capital without requiring much money to grow. Basically, as long as the need for credit ratings exists, Moody's should do just fine. Furthermore, its shareholder-friendly management has done a great job of returning capital to shareholders through aggressive buybacks and ever-increasing dividends.
7. Verisign Inc.
Warren Buffett -- or more likely, one of his stock-pickers -- picked up a stake in Verisign (NASDAQ: VRSN) in 2013. And just like the other stocks on this list, the internet registry company has several Buffett-stock qualities. The company is a leader in its industry, has a strong brand, and produces excellent recurring cash flow.
A few others are close to 10%
It's also worth mentioning that there are several other companies in Berkshire's portfolio that are just under 10% stakes. Most notably, Berkshire's Wells Fargo stake was over 10% until very recently, when Buffett announced that he was selling some of Berkshire's shares for the specific purpose of remaining under the 10% threshold, which is significant in the banking industry.
In addition, Berkshire's stakes in Coca-Cola, Axalta, and American Airlines are all above 9% of each company's total outstanding shares. The bottom line is that in addition to its wholly-owned businesses, Berkshire has some rather large (and in some cases, very influential) stakes in publicly traded businesses, many of which are large, household names.
10 stocks we like better than Berkshire HathawayWhen investing geniuses David and Tom Gardner have a stock tip, it can pay to listen. After all, the newsletter they have run for over a decade, Motley Fool Stock Advisor, has tripled the market.*
David and Tom just revealed what they believe are the 10 best stocks for investors to buy right now... and Berkshire Hathaway wasn't one of them! That's right -- they think these 10 stocks are even better buys.
Click here to learn about these picks!
*Stock Advisor returns as of April 3, 2017
Matthew Frankel owns shares of American Express and Berkshire Hathaway (B shares). The Motley Fool owns shares of and recommends Berkshire Hathaway (B shares) and Moody's. The Motley Fool owns shares of DaVita and VeriSign and has the following options: short June 2017 $90 calls on VeriSign and short June 2017 $85 puts on VeriSign. The Motley Fool recommends American Express. The Motley Fool has a disclosure policy.