6 Things You Didn't Know About Cisco Systems, Inc.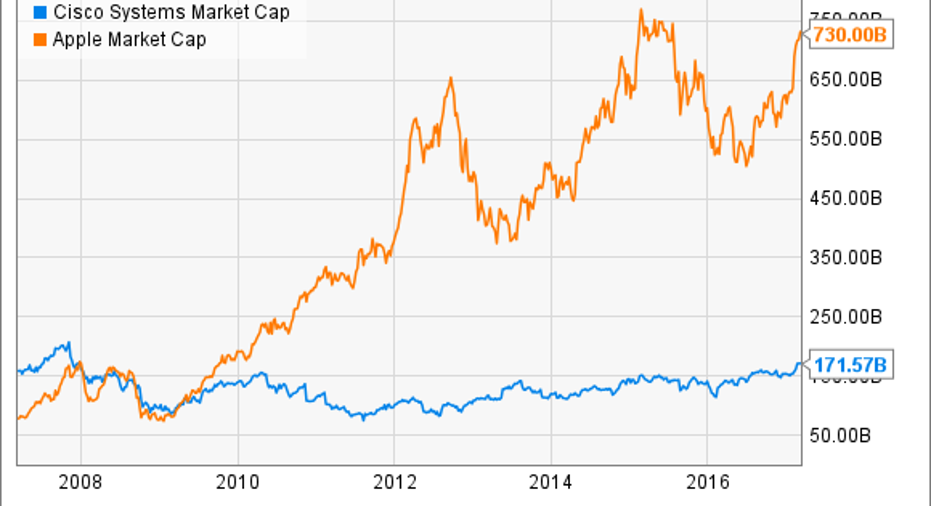 Cisco Systems (NASDAQ: CSCO), one of the biggest networking companies in the world, is generally known as a slow-growth company which sells switches, routers, and other networking products. If you had invested just $3,000 in Cisco's IPO in1990, your position would be worth $1.64 million today and be generating nearly $56,000 in annual dividends.
Investors might know that Cisco grew massively in the 1990s and 2000s, and that its revenue growth peaked in recent years. However, investors might be less familiar with these seven lesser-known facts about the networking giant.
Image source: Cisco.
1. Cisco is short for San Francisco
"Cisco" is short for San Francisco, the city where Stanford computer scientists Leonard Bosack and Sandy Lerner founded the company in 1984. That's why in Cisco's early days, Bosack and Lerner insisted on branding its products with the lowercase "cisco". Cisco's logo, which may initially appear to be just a series of vertical lines, represents the Golden Gate Bridge, with the two taller lines signifying the towers.
2. Early troubles at Stanford
Bosack and his wife Lerner founded Cisco when both of them were still employed at Stanford. Bosack continued working at Stanford with Cisco co-worker and co-founder Kirk Lougheed, where they developed the company's first router. However, it was an exact replica of Stanford's "Blue Box" router and ran an unlicensed copy of the university's multiple-protocol router software, which was adapted into the foundation of Cisco IOS.
In 1986, Bosack and Lougheed were forced to resign from Stanford over the product's development, and the university considered filing criminal charges against Cisco over the theft of its intellectual property. However, Stanford eventually agreed to license its router software and two computer boards to Cisco in 1987.
3. It was the most valuable company in the world
Cisco's price surged to nearly $80 at the apex of the dot-com bubble in March 2000, making it the most valuable company in the world with a market cap of $500 billion. However, that rally wasn't sustainable, since the stock was trading at nearly 240 times earnings. The bubble popped, and Cisco's subsequent plunge made it a cautionary tale of the dot-com bust.
Cisco stock never came close to its dot-com bubble levels again. Today, Cisco has a market cap of just over $170 billion and trades at 18 times earnings. The most valuable company in the world today is Apple (NASDAQ: AAPL), which has a market cap of $730 billion and trades at 17 times earnings.
Source:YCharts
4. It used to make cameras
Back in 2009, Cisco tried to expand its presence in consumer electronics bybuying Pure Digital Technologies, the maker of the popular Flip Video camcorders, for $590 million. At the time, Cisco stated that connecting those cameras to the internet would allow "people to share, publish, and [easily] get access to video," which fit its "vision of visual networking."
That proclamation sounded very similar to the strategy GoPro (NASDAQ: GPRO) unveiled five years later. At the time of the acquisition, Flip cameras accounted for 75% of the handheld digital camcorder market. But just like GoPro's cameras, Flip video cameras were gradually rendered obsolete by smartphones -- and Cisco quietly killedthe Flip two years later.
5. It sold its set-top box business to Technicolor
In 2005, Cisco acquired set-top box maker Scientific Atlanta for $6.9 billion to beef up its video streaming technologies. Those technologies strengthened Cisco's service provider video and collaboration products, but the set-top boxes themselves were a dead weight on its top line growth.
That's why Cisco soldthe set-top box business to Technicolor for $600 million in late 2015. That's also why Cisco has reported two sets of top line results over the past few quarters. Last quarter, its total revenue fell 3% annually, but only fell 2% after excluding the impact of the set-top box business across allcomparable periods.
6. Cybersecurity is its fastest growing business
Cisco's fastest-growing business is its cybersecurity unit, which grew its revenue by 14% annually to $528 million last quarter and accounted for 6% of its product revenues.Cisco has been aggressively expanding that business through big investments and acquisitions.
It also bundles its security products with its networking hardware and software, which gives it tremendous leverage against smaller stand-alone security companies like FireEye (NASDAQ: FEYE) -- which is frequently cited as a potential takeover target for the company.
The key takeaways
Cisco may be a "mature" tech stock which is owned for income instead of growth today, but investors shouldn't neglect its colorful history as a Stanford computer science project, the world's most valuable company, an aspiring connected camera maker, and a growing cybersecurity company. These facts indicate that Cisco is much more than a maker of switches and routers, and investors should keep an eye on its investments in other markets.
10 stocks we like better than Cisco SystemsWhen investing geniuses David and Tom Gardner have a stock tip, it can pay to listen. After all, the newsletter they have run for over a decade, Motley Fool Stock Advisor, has tripled the market.*
David and Tom just revealed what they believe are the 10 best stocks for investors to buy right now... and Cisco Systems wasn't one of them! That's right -- they think these 10 stocks are even better buys.
Click here to learn about these picks!
*Stock Advisor returns as of February 6, 2017
Leo Sun owns shares of Cisco Systems. The Motley Fool owns shares of and recommends Apple and GoPro. The Motley Fool has the following options: long January 2018 $90 calls on Apple, short January 2018 $95 calls on Apple, short January 2019 $12 calls on GoPro, and long January 2019 $12 puts on GoPro. The Motley Fool recommends Cisco Systems and FireEye. The Motley Fool has a disclosure policy.