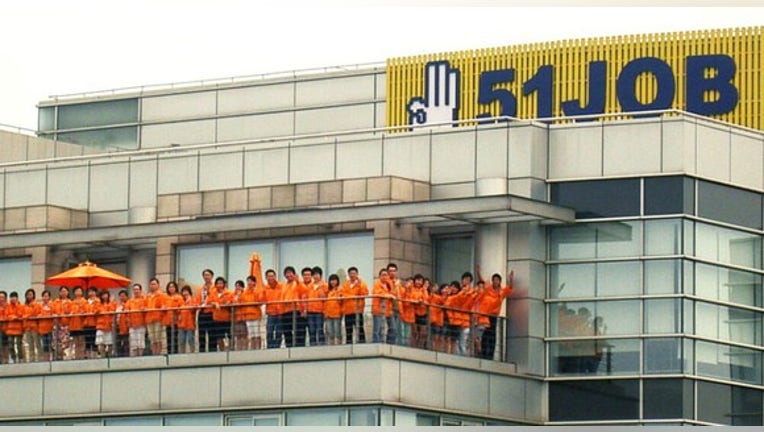 In China, there are still plenty of jobs to fill, despite the country's decelerating economic growth and rumblings about international trade discord. A good proxy to gauge the hiring market in the world's most populous nation is51job (NASDAQ: JOBS), and the Shanghai-based provider of online recruitment services came through with another quarter of healthy gains after Wednesday's market close.
51job is chiming in with fourth-quarter revenue of $100 million, breaking into nine figures (on a U.S. dollar-based basis) for the first time and 13.6% ahead of the prior year's showing. The performance finds it landing on the upper end of its earlier guidance, though the strengthening dollar versus the yuan blurs things a bit. We're still seeing accelerating top-line growth, as 51job's year-over-year gains were 10.2% in the second quarter and 13.3% during the third quarter.
Both of 51job's major internet-fueled businesses clocked in with double-digit growth. Online recruitment services -- accounting for 61% of the revenue mix -- managed to grow at a 15% clip since the prior year's showing. Other human-resources-related revenue checked in with a more modest 11.8% gain. China had a new value-added-tax policy change that went into effect last May, weighing down 51job's revenue-generating potential. The comparisons will get more realistic once we get a year past the policy change in a few months, but double-digit growth in this climate is a pretty impressive achievement.
Image source: 51job.
The bottom line
Wednesday's report extends 51job's streak of double-digit growth in revenue to seven straight quarters. The workplace matchmaker has posted double-digit top-line growth in 15 of the past 16 quarters, and the growth has been steady. Quarterly revenue gains haven't broken out above the high teens in that stretch.
51job's bottom-line results aren't keeping pace with the revenue gains despite the scalable nature of its Web-tethered businesses. Gross margin contracted and operating margin was held back, resulting in a 12.2% gain in income from operations.
51job still wound up landing ahead of its guidance that three months ago was calling for an adjusted profit of $0.46 to $0.49 a share. Its adjusted earnings clocked in at $0.52 a share for the fourth quarter.
Its outlook for the current quarter calls for an adjusted profit of $0.37 to $0.40 a share on between $85.7 million to $88.6 millionin revenue. That's a sharp sequential drop from the $100 million it just posted, but there is seasonality to this business. TheChinese New Year holiday brings hiring to a grinding halt for a good chunk of time during the first quarter. On a U.S. dollar basis, it would be year-over-year growth of just 6% to 9%, but in China's local currency we're talking about 13.6% to 17.4% in growth. 51job is still getting the job done, cranking out modest yet steady growth in all climates.
10 stocks we like better than 51jobWhen investing geniuses David and Tom Gardner have a stock tip, it can pay to listen. After all, the newsletter they have run for over a decade, Motley Fool Stock Advisor, has tripled the market.*
David and Tom just revealed what they believe are the 10 best stocks for investors to buy right now... and 51job wasn't one of them! That's right -- they think these 10 stocks are even better buys.
Click here to learn about these picks!
*Stock Advisor returns as of February 6, 2017
Rick Munarriz has no position in any stocks mentioned. The Motley Fool recommends 51job. The Motley Fool has a disclosure policy.