50,000 Vegas casino workers to vote on strike over contract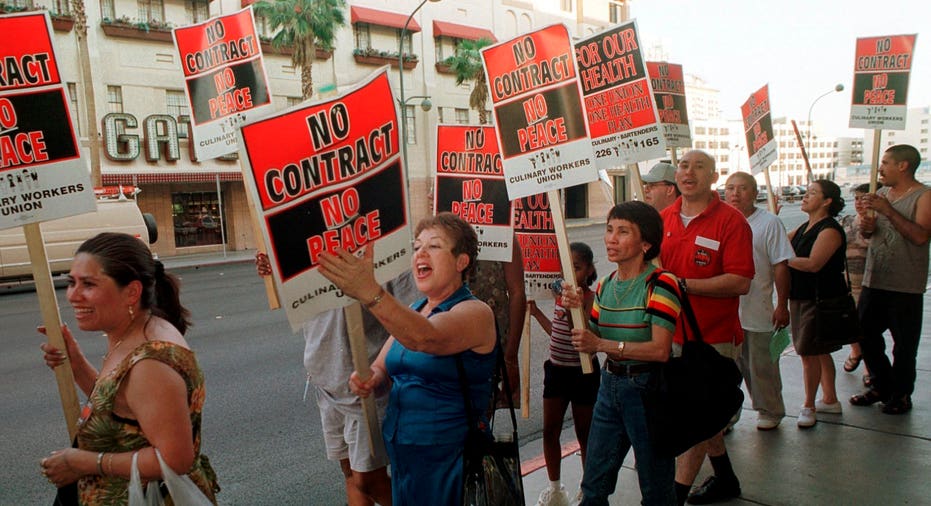 The union representing 50,000 Las Vegas casino employees whose contracts will expire at the end of the month announced Wednesday the workers are set to vote on whether to strike, a move that could cripple the city.
The Culinary Union will hold the strike vote May 22 at a university arena near the Las Vegas Strip. A majority of yes votes would allow the union's negotiators to call for a strike at any time starting June 1.
"On May 22, thousands of union members will show casino employers that workers are going to fight for security and that they are not going to be left behind as companies are making record profits and getting windfall tax breaks," Geoconda Arguello-Kline, the union's secretary-treasurer, said in a statement.
A strike would empty 34 casino-hotels on the Strip and in downtown Las Vegas of kitchen employees, food and cocktail servers, housekeepers and other workers key to running a resort.
The workers' existing contracts will expire at midnight May 31. Negotiations for new five-year contracts began in February.
Arguello-Kline previously told The Associated Press the group planned to negotiate with companies to protect existing benefits, increase wages, protect job security against the increasing adoption of technology at hotel-casinos, and to strengthen language against sexual harassment. The union has asked casino operators to give every housekeeper a so-called "panic button," a wireless device that can alert managers if they are in a threatening situation.
MGM Resorts International and Caesars Entertainment operate more than half of the properties that would be affected by a strike.
"MGM Resorts and the Culinary and Bartenders Unions have always been great partners," MGM said in a statement Wednesday. "We have issues to address, but we're confident we will find mutually beneficial solutions to all our contract issues."
Richard Broome, executive vice president of communications and government relations for Caesars, said the company will continue to negotiate in good faith with the union and is optimistic that it "will achieve a good settlement before the current contract expires at the end of this month."
Both companies previously said they would work with the union to equip housekeepers at their Las Vegas casino-resorts with the panic buttons.
The last citywide strike vote took place in 2002, when the overwhelming majority of 25,000 workers voted in favor of authorizing a strike. A deal was reached before a strike was called.
Carlos Martinez, a pantry worker at the MGM-operated Mirage casino-resort, said he plans to vote in favor of a strike because workers won't allow companies to outsource their "jobs to robots."
"Technology can be assistive in the workplace, but workers should have a voice in that and additional job training," he said in a statement. "The company needs to invest in human capital and treat us with dignity."
A citywide strike last happened in 1984 and lasted 67 days. Union members lost an estimated $75 million in wages and benefits, while the city lost a like amount in lifeblood tourism revenue. Millions more were lost in gambling income.
___
Follow Regina Garcia Cano on Twitter at https://twitter.com/reginagarciakNO