5 Ways to Save on Your Summer Vacation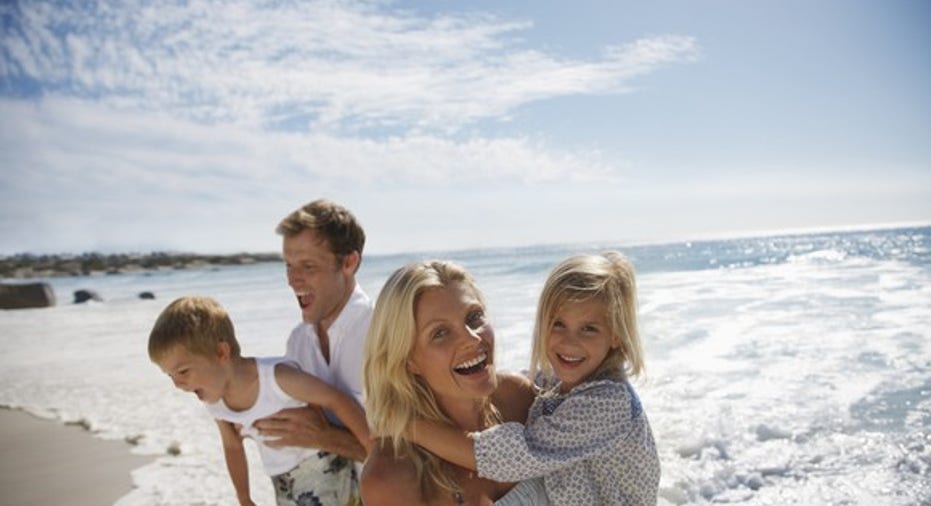 Summer is a time to relax, unwind, and, if you're lucky, go on vacation. But if you're on a budget, funding that vacation can be easier said than done. Here are five ways to cut costs as you plan your next trip.
Image source: Getty Images.
1. Cash in your rewards
The best way to save money on your vacation is to avoid paying for it out of pocket. You can pull this off by using hotel points to cover your lodging, air miles to cover your flight, or gas rewards points (which many fuel stations and credit cards offer) to cover the cost of your road trip.
Let's say you're looking to take a family of four on a five-night vacation where flights are $300 apiece and hotel rooms average $200 per night. Use your rewards instead, and you'll save $2,200. The only caveat is that hotel points and air miles tend to come with restrictions, so if you're looking to cash them in, be sure to book early.
2. Skip the hotel
While hotels are an obvious choice for out-of-town lodging, on top of their nightly rates, many come with additional fees (like internetand laundry service) that can add up over the course of a weeklong stay. Furthermore, if you have multiple children, a single hotel room may not be enough to accommodate your family. That's why it often pays to opt for a rental property instead.
According to TripAdvisor, a family of four could save up to $2,000 by staying at a vacation rental versus a hotel for popular destinations like Maui, Hawaii, and Ocean City, Maryland. Many vacation rentals come equipped with full kitchens, laundry facilities, and other such amenities that typically cost extra when you stay at a hotel. And when you choose a rental property over a hotel, you almost always come away with more space for less money.
3. Make your own meals
Most restaurants charge a 300% markup for food -- which makes sense, because a lot of money goes into running a restaurant. But what this also means is that you're pretty much guaranteed to pay considerably more for a restaurant dish than the equivalent one you'd make at home. Or, to put it another way, a meal that costs $10 to make in your own kitchen will likely cost $30 at an outside dining establishment.
So let's say you're a family of four dining out for lunch and dinner every day on a week-long vacation. Let's also assume you spend $30 on lunch every day and $50 on dinner. Over the course of a week, that's $560. On the other hand, if you make your own meals, you'd knock that figure down to $186 -- almost $400 in savings.
If you're staying at a rental property instead of a hotel, preparing your own meals should be a snap. Cooking while at a hotel is more of a challenge, but if your room has a kitchenette and mini fridge, and you're willing to rough it, you can very possibly make do.
4. Avoid peak travel times
While summer is a popular time to travel in general, holiday weekends tend to come with an almost automatic vacation premium. And though it makes sense to try to take advantage of an extra built-in vacation day, traveling on or around Memorial Day, Fourth of July, or Labor Day usually means paying extra for flights, hotels, and even gas. In fact, you might wind up shaving several hundred dollars off your vacation by avoiding holiday weekends or, better yet, weekends in general. For example, a three-night stay at a popular Cape Cod, Massachusetts hotel costs $329 per night for a Friday to Monday stay in August, but only $309 per night for a Tuesday to Friday stay.
5. Take a staycation
Sure, there's something to be said for experiencing someplace new, but if you really want to save money on your summer vacation, skip the travel aspect altogether and take a staycation. U.S. hotel rooms cost $141 per night on average, and while rental properties are often cheaper, they still cost money, as does transportation to and from your destination. Avoiding six nights' worth of hotel fees could save you over $800 alone based on the average rate. Plus, being home means having the ability to cook your own meals instead of constantly dining at restaurants, which will leave you with more money to spend on entertainment and local attractions.
No matter what cost-saving measures you employ, the key is avoid letting your vacation drive you into debt. While you may feel that you deserve a break, it's not worth sacrificing your financial security just to get away for a bit. Better to skip the vacation this year, save up some money, and make next summer's trip one to remember.
The article 5 Ways to Save on Your Summer Vacation originally appeared on Fool.com.
Maurie Backman has no position in any stocks mentioned. The Motley Fool owns shares of and recommends TripAdvisor. Try any of our Foolish newsletter services free for 30 days. We Fools may not all hold the same opinions, but we all believe that considering a diverse range of insights makes us better investors. The Motley Fool has a disclosure policy.
Copyright 1995 - 2016 The Motley Fool, LLC. All rights reserved. The Motley Fool has a disclosure policy.