5 Top Dividend Stocks in the Forestry Industry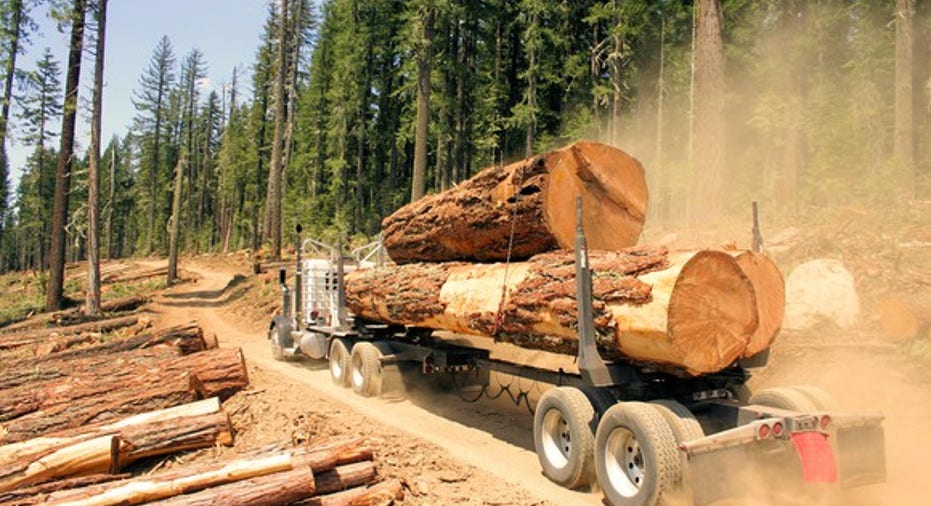 The forestry industry is a great place to go for dividend income. That's because many companies operating in the sector have chosen to structure as real estate investment trusts, or REITs, for tax purposes. Not only does that give them a tax exemption on the corporate level, but one of the requirements to maintain that status is that these companies must pay out 90% of their income out to shareholders via dividends.
The net result is that the dividend yield of the top forest owners is often more than double that of the average stock in the market:
| Forestry Stock | Ticker Symbol | Market Cap | Dividend Yield |
| --- | --- | --- | --- |
| Catchmark Timber Trust | (NYSE: CTT) | $443.2 million | 4.66% |
| Pope Resources | (NASDAQ: POPE) | $305.1 million | 3.97% |
| Potlatch Corporation | (NASDAQ: PCH) | $1.8 billion | 3.37% |
| Rayonier | (NYSE: RYN) | $3.5 billion | 3.64% |
| Weyerhaeuser | (NYSE: WY) | $24.7 billion | 3.77% |
Data source: Yahoo! Finance. Note: Divided yield as of May 16, 2017.
Here's a closer look at the five leading dividend payers from the forestry industry.
Image source: Getty Images.
Focused on the deep south
Catchmark Timber Trust is the youngest of the timber REITs, having begun operations in 2006 before going public in 2013. Because of its shorter history, Catchmark is also the smallest of the publicly traded timber REITs, controlling just less than 500,000 acres of commercial timberland in several southern states, though more than half of its land is in Georgia. That smaller size and concentration is one reason its yield is higher than those of its rivals. Another driver of its higher yield is the company's greater leverage, which, at 42% of enterprise value and 10.3 times net debt to adjusted EBITDA, is on the steep side. However, the company does have a well-covered dividend since it only paid out 74% of total cash available for dividends last year, and it has steadily grown the payout since going public. Overall, Catchmark Timber Trust is a higher-risk, higher-reward option.
Different vehicle, same great income
Pope Resources is a bit distinctive from the other companies on this list because it's a master limited partnership (MLP) for tax purposed instead of a REIT. However, that structure has similar tax advantages, enabling Pope Resources to pass through the bulk of its income to investors. The company generates that cash flow from the 212,000 acres of productive timberland it controls in the Pacific Northwest, which includes the 94,000 acres owned by the three private equity timber funds it manages. One thing worth noting about Pope Resources is that it has lower leverage, at just 20% net debt to enterprise value, which gives it ample financial capacity to acquire more productive timberland. That conservative balance sheet makes it a safer choice for income investors, though because it's an MLP, Pope Resources isn't the best choice for a retirement account.
Image source: Getty Images.
A solid all-around timber stock
Potlatch is a much larger and diversified company. The REIT owns 1.4 million acres of timberland in the three separate regions of the country, though nearly half of its land is in Idaho. In addition to that, the company is a top 10 lumber manufacture since it also operates several sawmills across the country. Potlatch compliments that diversification with a conservative balance sheet -- evidenced by a net debt-to-enterprise value of just 21% -- and a well-covered dividend since its payout ratio was just 63% of cash available for distribution last year. While the company offers the lowest dividend yield of the group, its diversification and financial conservatism make it an excellent choice for risk-averse investors.
The bigger and better timberland pure play
Like Catchmark, Rayonier is a pure-play timberland REIT since it doesn't own any manufacturing assets and recently spun off its chemicals business into Rayonier Advanced Materials (NYSE: RYAM). That said, it's much larger in size, controlling 2.7 million acres, most of which are in the U.S. south, though the company does own land in the Pacific Northwest and manages a joint venture in New Zealand. Rayonier also has an excellent balance sheet since itsnet debt-to-enterprise value is an industry-leading 19%. These factors make it the stock to own for investors looking for a low-risk pure play on timberlands.
Image source: Getty Images.
The granddaddy forestry company
Weyerhaeuser is not only a behemoth in the forestry sector, but it's one of the largest REITs in the country. The company has unmatched scale since it owns 13 million acres of timberlands across the U.S., which makes it one of the world's largest private timberland owners. That said, Weyerhaeuser is a diversified forestry company because it's also the leading wood products producer in North America. Meanwhile, the company has a healthy balance sheet, complete with an investment-grade credit rating and solid leverage metrics, including a net debt-to-enterprise value of 21% and 3.5 times net debt-to-adjusted EBITDA. Those characteristics make it an excellent option for investors seeking a forestry company to be a core long-term holding in their portfolio.
Investor takeaway
While forestry companies come in all shapes and sizes, the key similarity is that this group pays above-average dividends. That's mostly thanks to their dividend-friendly corporate structures and the fact that timberlands generate relatively consistent cash flow. That leaves investors with plenty of good options as they seek to harvest money from owning trees.
10 stocks we like better than WeyerhaeuserWhen investing geniuses David and Tom Gardner have a stock tip, it can pay to listen. After all, the newsletter they have run for over a decade, Motley Fool Stock Advisor, has tripled the market.*
David and Tom just revealed what they believe are the 10 best stocks for investors to buy right now...and Weyerhaeuser wasn't one of them! That's right -- they think these 10 stocks are even better buys.
Click here to learn about these picks!
*Stock Advisor returns as of May 1, 2017.
Matt DiLallo owns shares of Weyerhaeuser. The Motley Fool has no position in any of the stocks mentioned. The Motley Fool has a disclosure policy.