5 Things You Need to Know About Express Scripts Losing Anthem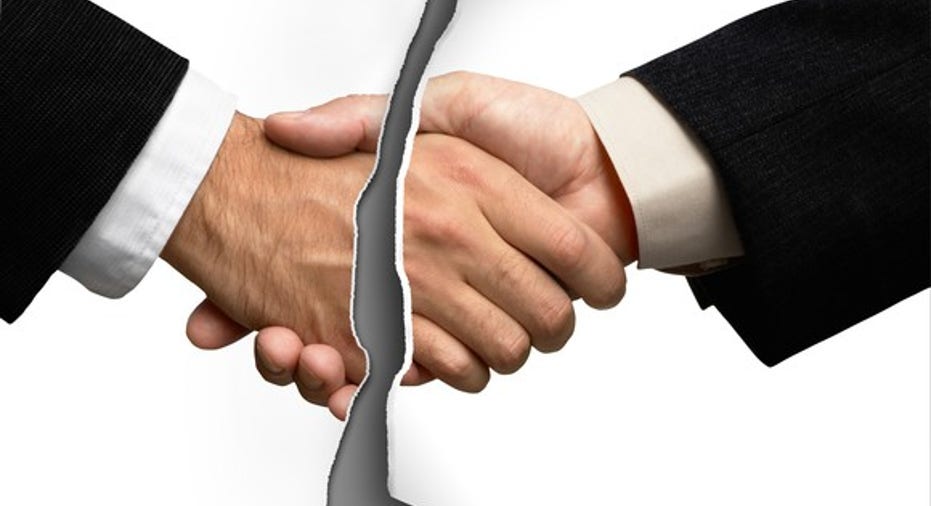 The other shoe finally dropped forExpress Scripts (NASDAQ: ESRX).
After a over a year of legal battles with its top customer, Anthem (NYSE: ANTM), Express Scripts announced on Monday that the large health insurer doesn't intend to renew its contract that expires in 2019. Express Scripts' CEO and CFO discussed the Anthem departure in the company's first-quarter earnings call on Tuesday morning. Here are five things you need to know about the Anthem loss.
Image source: Getty Images.
1. Express Scripts tried hard to keep Anthem
Express Scripts CEO Tim Wentworth emphasized that the pharmacy benefits manager (PBM) tried hard to keep Anthem despite the legal dispute. He stated that Express Scripts offered up to $1 billion in savings over the next three years in exchange for anegotiated contract extension beyond 2019 at prevailing market rates.Wentworth expressed surprise that Anthem wasn't interested in attaining these savings.
2.The earnings impact of losing Anthem is huge
Make no mistake: Losing Anthem will hurt Express Scripts significantly. The PBM revealed that it made EBITDA of nearly $2.25 billion from the Anthem contract in 2016. That represented 31% of Express Scripts' total EBITDA for the year. Growth from the Anthem business was also the primary driver of overall EBITDA growth in 2016.
Express Scripts' announcement of details about the profitability of the Anthem contract also served to underscore the company's position in its dispute with the health insurer. Anthem had insisted that Express Scripts owed it $3 billion per year for savings due to overpaying for prescription drugs. Tim Wentworth was quick to point out that his company's earnings from the Anthem deal were less than the annual savings that Anthem maintained it was owed.
3. The financial hit is still a few years away
Anthem will remain a customer of Express Scripts through the end of 2019. No financial impact of the insurer's departure will be felt until 2020, and the full brunt of the loss won't even be felt then.
When Express Scripts first signed an agreement with Anthem in 2009, it took three years to fully transition the business. It wouldn't be surprising for the movement from Express Scripts to Anthem's new PBM (whoever that might be) to also take a few years.
4. Overall customer retention is still very good
Will Anthem's move away from Express Scripts cause others to follow? It's not likely. The PBM's overall customer retention from the 2017 selling season is expected to be somewhere between 95% and 98%. However, that range does exclude the continuing roll-off of the Coventry business.
Wentworth said Express Scripts' other clients understand that the contract with Anthem was very different from other agreements the PBM has with its customers. He mentioned that he has talked with a number of clients, and that the "feedback has been extraordinarily positive."
5. Replacing the Anthem business won't be easy
Don't expect Express Scripts to replace the revenue and earnings it receives from Anthem anytime soon. The company projects core PBM (excluding Anthem and Coventry business) EBITDA to see a compounded annual growth rate of 2% to 4% in 2020.
While the PBM will work hard to win new clients, Tim Wentworth emphasized that "winning at all costs is not the strategy." He also noted that retention of existing customers would be a top priority.
More acquisitions could be one way Express Scripts boosts its growth. Wentworth said the company is open to deals but would deploy its cash in a thoughtful manner. He indicated there were several areas interesting to Express Scripts for potential expansion, including cost containment and health analytics.
When asked if there was still room for dialog with Anthem about potentially renewing its contract, Wentworth replied that he hoped the health insurer would rethink its strategy. He said Express Scripts remains "absolutely committed" to serving Anthem's members. While Wentworth wasn't optimistic that anything would change in view of Anthem's stance, he said he would be ready to talk at any time -- and that his phone will be in his pocket.
10 stocks we like better than Express ScriptsWhen investing geniuses David and Tom Gardner have a stock tip, it can pay to listen. After all, the newsletter they have run for over a decade, Motley Fool Stock Advisor, has tripled the market.*
David and Tom just revealed what they believe are the 10 best stocks for investors to buy right now...and Express Scripts wasn't one of them! That's right -- they think these 10 stocks are even better buys.
Click here to learn about these picks!
*Stock Advisor returns as of April 3, 2017.
Keith Speightsand The Motley Fool own shares of Express Scripts. The Motley Fool has a disclosure policy.