5 Things Teck Resources Management Wants You to Know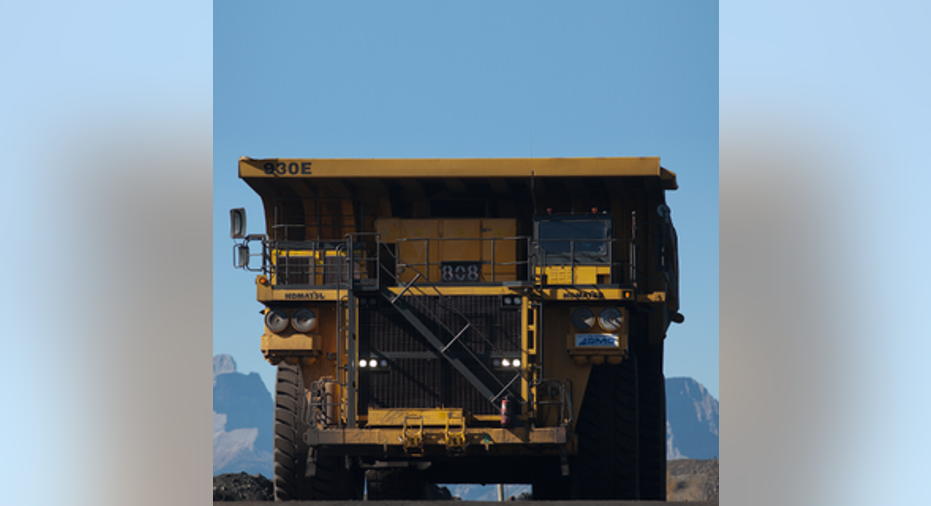 Image source: Teck Resources.
Teck Resources turned in a solid first quarter. In fact, it beat analyst expectations by a wide margin. Even better, there appear to be some bright spots starting on the horizon. Although it may be too early to call the all-clear, here are five key takeaways from the first quarter that management wants you to know about.
1. We made moneyAccording to Teck CEO Don Lindsay, "After removing the unusual items, adjusted profit attributable to shareholders was $18 million, or $0.03 per share." That may not sound like much, and it isn't. Last year the company earned $0.11 a share in the first quarter. But analysts were calling for a loss of $0.04 a share.
In other words, it was a pretty good quarter on an absolute basis, despite the ongoing impact of low metallurgical coal, copper, and zinc prices. To put a number on that, revenues fell roughly 16%. So in some ways its pretty impressive that Teck didn't fall into the red, adjusting for one-time items.
2. We're controlling what we canA big piece of this puzzle comes down to Teck's hard-won cost cuts. Selling commodities means a company doesn't have pricing power. What a miner can control is how much it spends. Lindsay was proud to announce that "unit costs are down in each of our coal, copper, and zinc business units."
Image source: Teck.
Helping that along were lower oil prices, which reduces fuel costs, and a weakening Canadian dollar. The company's products are sold in dollars, but most of its expenses are in Canadian dollars, setting up a natural currency arbitrage. Adding a little color to the big picture, the CEO noted: "On a USD basis, total cash unit costs, including capitalized stripping, were $68 per ton for coal; that's down $12 per ton from Q1 last year. Copper cash unit costs, including capitalized stripping, again, are currently $1.49 per pound, and that's down $0.26 per pound from the same period last year." A lot of hard work is starting to pay off at Teck.
3. We've got some breathing roomOne of the big overhangs at Teck, and a lot of other miners, has been finances. With prices falling and a lot of miners spending heavily in recent years, often supporting that with debt, investors have been rightly worried about solvency. Lindsay wants you to know that Teck has plenty of cash available.
He explains, "Our liquidity remains strong [at] over $5 billion, with our current cash balance of $1.3 billion and undrawn $3 billion U.S.-committed line of credit." That didn't happen on its own. For example, in 2015 Teck signed two streaming deals -- one with Franco-Nevada that raised $610 million, and another with Royal Gold that added about $160 million or so to the company's cash hoard. In other words, Teck's been busy here, too.
4. What about that oil thing?One of the other big investor worries about Teck is an oil sands project that it's involved in, called Fort Hills. For starters, Lindsay noted, "Construction on the Fort Hills project continues to progress well." But that's not really what's worrying investors -- it's the cost of the project.
Image source: Teck.
On that score, the CEO explained: "[O]ur target for the full year is to fund all of our share of the project capital [expenditures] internally. In total, there's only $1 billion remaining to project completion." A billion dollars is nothing to sneeze at, but remember that $1.3 billion it has in cash and $3 billion or so it can pull from a line of credit, if it needs to. In other words, it looks like Teck has the costs for Fort Hills under control.
5. Is that a glimmer of hope?The last takeaway is a bit more speculative. According to the CEO, "[C]oal sales were higher than we originally expected, and demand strengthened toward the end of the quarter." Also, "The quarterly contract price of $84 per ton represents the first increase since Q3 of 2013."
And this is pretty important. Coal's lost some of its luster at Teck, but go back to 2011 and this business made up roughly half of revenues. So this positive news isn't heralding a turnaround -- it's way too soon to call that -- but it is something to keep an eye on, especially since the CEO noted that "the outlook for [the] steelmaking coal market has improved in the last two months, quite significantly."
In all, Teck had a pretty solid quarter to start the year. Investors should be pleased. But, more important, it looks like some of the dark clouds are starting to lift. And there may even be some silver linings starting to appear at the edges. If you're looking for a miner, Teck is worth a deeper dive after its solid first-quarter performance.
The article 5 Things Teck Resources Management Wants You to Know originally appeared on Fool.com.
Reuben Brewer has no position in any stocks mentioned. The Motley Fool has no position in any of the stocks mentioned. Try any of our Foolish newsletter services free for 30 days. We Fools may not all hold the same opinions, but we all believe that considering a diverse range of insights makes us better investors. The Motley Fool has a disclosure policy.
Copyright 1995 - 2016 The Motley Fool, LLC. All rights reserved. The Motley Fool has a disclosure policy.