5 Things Phillips 66's CEO Says Investors Can Expect in 2017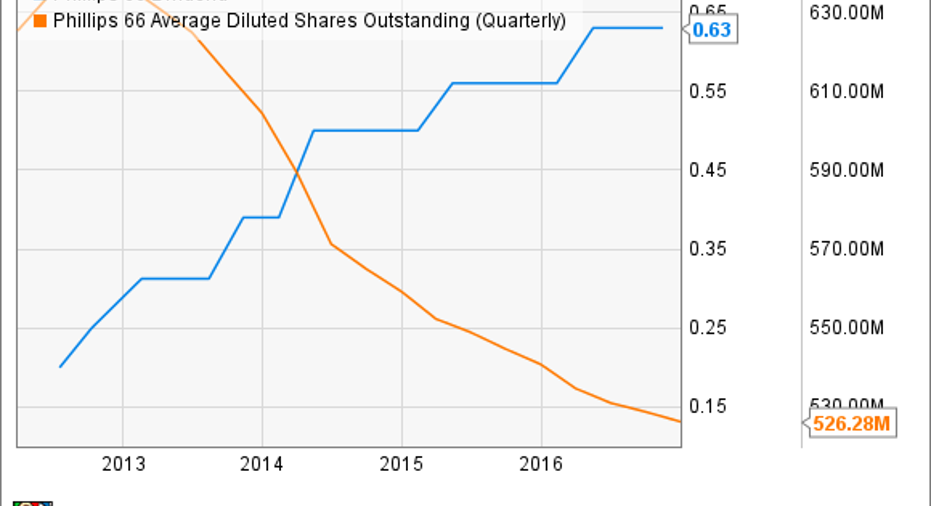 Phillips 66 (NYSE: PSX) recently put the wraps on 2016 by releasing its fourth quarter results. Overall, the results were quite disappointing as problems across its business portfolio caused earnings to fall well short of expectations. That said, CEO Greg Garland painted a brighter picture for 2017 on the company's quarterly conference call due in part to the upcoming completion of several strategic initiatives that should provide incremental cash flow in 2017. Here's what he said investors could expect to see this year.
This controversial pipeline will get completed soon
Garland spent much of his prepared remarks on the call detailing progress the company made on growth projects across its portfolio. For example, the company recently completed its LPG Export Terminal at Freeport, which shipped its first cargo in mid-December and has been operating near capacity ever since. Meanwhile, he said the Beaumont Terminal expansion was going as planned.
Image source: Getty Images.
That said, not every expansion project has been going as smoothly as expected because the company, and its partners Energy Transfer Partners (NYSE: ETP) and Sunoco Logistics Partners (NYSE: SXL), haven't been able to complete their Dakota Access Pipeline. That's after protests in North Dakota forced the government to reevaluate the permit needed to finish construction of the pipeline. As a result, Phillips 66's 25% investment in the $4.8 billion project has remained in limbo.
However, on the call, Garland said that "the Dakota Access ETCOP System is expected to be complete in the [first] quarter." He made that comment shortly before Energy Transfer Partners announced that it had indeed received the required easement following a directive from President Trump to finish the project. This final approval would enable Energy Transfer to complete the project by the end of the current quarter and place it into service during the second quarter, barring any last-minute delays.
MLP growth remains on track
Garland then noted that its MLP, Phillips 66 Partners (NYSE: PSXP) made significant progress on its growth strategy last year. Overall, the company raised more than $2 billion to finance growth projects and acquisitions, including completing a $1.3 billion drop-down transaction with Phillips 66 during the fourth quarter. As a result, Garland said that "the partnership remains on pace to achieve its growth objective of having $1.1 billion in run rate EBITDA by the end of 2018." However, to achieve that ambitious goal Phillips 66 Partners will need to continue to make acquisitions this year, which will likely include additional drop-downs from its parent company. Those deals would allow the refining giant to receive an upfront cash payment, while still collecting a portion of the cash flow via its ownership interest in Phillips 66 Partners.
The turnaround of DCP Midstream is under way
Sticking with the MLP theme, Phillips 66 and its partner Spectra Energy (NYSE: SE) also completed a significant repositioning of their jointly owned gathering and processing companyDCP Midstream (NYSE: DCP) earlier this year. The joint owners combined the general partner with the MLP to simplify the organizational structure and increase their ownership of the publicly traded partnership. This transaction, according to Garland, "should enable better capital allocation, position DCP Midstream for growth, and allow for increased cash distributions to its owners." Those increasing cash distributions would provide Phillips 66 with more money to use on behalf of its shareholders.
Image source: Getty Images.
More cash flowing from chemicals, too
Another of Phillips 66's joint ventures, CPChem, which it co-owns with Chevron (NYSE: CVX), is also expected to reach a major inflection point this year. The partners are finishing up work on several U.S. Gulf Coast petrochemical projects and anticipate that the polyethylene units will start up in mid-2017 while the ethane cracker should commence operations in the fourth quarter of 2017. Because of that, Garland said that "we expect to see increased distributions from CPChem starting this year, as capital spending is reduced following the completion of the project." Again, that means more cash flowing into Phillips 66 this year.
All these additional inflows mean one thing
As Garland noted, 2017 will mark a turning point for the company as several strategic initiatives will go from consuming capital to generating cash flow for the refiner. That led Garland to conclude his prepared remarks on the call by saying that, "the projects we have coming online are well-positioned to increase cash flow" to Phillips 66. As a result,he stated that "in 2017 we expect to increase our dividend again and to spend $1 billion to $2 billion on share repurchases." This plan to expand capital returns to shareholders would continue the company's history of steadily boosting the dividend and reducing shares outstanding:
PSX Dividend data by YCharts.
Investor takeaway
Phillips 66 is nearing the completion of several strategic initiatives. Because of that, it has clear visibility that cash flow should rise this year even without any improvement in its core refining business. That gives the company complete confidence that it can continue to increase shareholder returns again this year.
10 stocks we like better than Phillips 66When investing geniuses David and Tom Gardner have a stock tip, it can pay to listen. After all, the newsletter they have run for over a decade, Motley Fool Stock Advisor, has tripled the market.*
David and Tom just revealed what they believe are the 10 best stocks for investors to buy right now... and Phillips 66 wasn't one of them! That's right -- they think these 10 stocks are even better buys.
Click here to learn about these picks!
*Stock Advisor returns as of February 6, 2017
Matt DiLallo owns shares of Phillips 66. The Motley Fool owns shares of and recommends Spectra Energy. The Motley Fool recommends Chevron and DCP Midstream. The Motley Fool has a disclosure policy.