5 Things NXP Semiconductors NV's Management Wants You to Know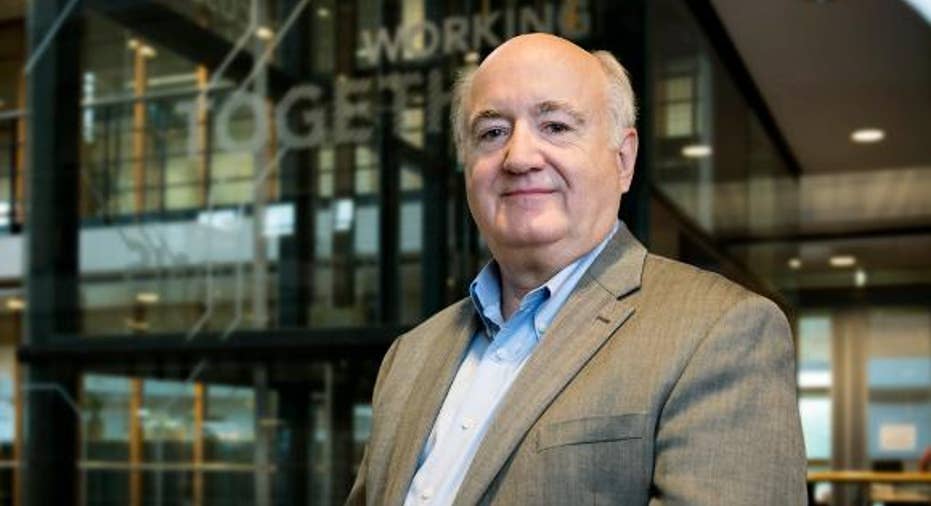 Late on April 25, NXP Semiconductors reported first-quarter results. Boosted by the recently closed acquisition of sector rival Freescale, NXP's sales rose 52% year over year. Net income jumped 22% higher, but due to the large number of new shares that were printed to close the Freescale deal, earnings per share fell 16%.
The results exceeded NXP's guidance, and the company met or beat analyst estimates on both the top and bottom lines.
That NXP's first quarter by the numbers. But as always, there was plenty of nuance lost in these simple figures. To get a better understanding of what the company really is up to, let's turn to the conference call with analysts that NXP's management held the next morning. That's where you get color commentary that just wouldn't fit in the basic earnings release. Here are five of the most enlightening tidbits from that call.
NXP CEO Rick Clemmer. Image source: NXP.
Automotive muscle CEO Rick Clemmer underscored how NXP exceeded its own guidance target in the largest and most important part of the post-merger company.
"Within automotive, revenue was $805 million, about $5 million above the midpoint of guidance," Clemmer said. "Growth in the quarter was primarily driven by strong demand for auto [microcontroller] products as well as our advanced automotive analog products, which for clarity, includes our in-vehicle networking and secure car access products, both of which saw good trends in the quarter."
This was the one segment I advised investorsto keep an eye on in this report. Beating expectations here is a clear sign that the Freescale integration is going swimmingly, and that the combined company is ready to exploit new economies of scale.
Adding more color to the automotive discussion, Clemmer also noted that this business was strong with European and North American tier one car makers, but only stable in China. Kicking that important market up a notch must be a prime directive at this point. Doing so would unleash another leg of rapid growth.
Stretching the lead That being said, adding Freescale to NXP's existing automotive products created a bona fide market leader.
"We are pleased to confirm NXP is the No. 1 auto semi supplier globally with a 14.5% share," Clemmer said, "up nearly a full point year on year, further distancing ourselves from the number two player and expanding our leadership position, a true testament to the attractiveness of our automotive portfolio."
I find it interesting how neatly these two automotive portfolios interlock with each other. Separately, NXP was a leader in compact communications solutions while Freescale specialized in microcontrollers and power management chips. Together, they can present complete solutions such as this multi-chip automotive radar module:
Image source: NXP.
This product caters to top-shelf car sensor needs and ultimately aims at the self-driving car revolution. With Freescale under its wing, NXP looks ready to ride that wave like a pro.
Unlocking Freescale's vaults On that note, NXP is getting busy unleashing the full value of Freescale's complementary chip portfolio.
"The current demand environment continues to be somewhat subdued," said CFO Dan Durn. He continued:
Cross-selling plus erasing redundant operations equals a classic recipe for reaping merger synergies. That's what NXP is doing, and the effort is off to a good start.
Market turnaround ahead? NXP beat its automotive sales targets, but the goal was not set terribly high. The $805 million in automotive revenues only amounted to 9% annual growth, comparing the Freescale-infused results with the combined automotive sales of each company in the year-ago quarter. As promising as this market is, the industry isn't exactly pouring in chip orders by the boatload yet. However, Clemmer sees light at the end of the tunnel.
"In summary, while the overall year-on-year revenue trends tend to mirror the generally subdued environment, we have begun to see incrementally positive trends in a number of our businesses," the CEO said. "I am very pleased with the significant progress we have made."
Okay, that's not a glowing endorsement of an upcoming market revolution. I'd still take a subdued but honest assessment over artificial gloss any day. And positive trends are positive trends. A modest improvement is fine, because the real gold rush still lies a couple of years ahead. Quietly expanding that dominant market share before the market goes crazy will help NXP and its investors in the long run.
Cash management Finally, Clemmer wanted to reassure investors that management is all ears for ideas on how to best manage NXP's cash flows.
"Based on a wide survey of our largest investors, we have basically a split vote between deleveraging and buying back stock," he said. " And so what we're going to try to do is balance that off in the best interest of shareholders moving forward."
Indeed, NXP spent $199 million on net debt payoffs in the first quarter, versus $298 million in share buybacks. That amounts to 152% of NXP's free cash flows, taking $171 million out of the bank vaults. Normally, that would be an unsustainable cash return strategy, but the Freescale merger brought in a mountain of fresh debt that needs to be managed. Interest payments are expected to consume 15% of NXP's operating income in the second quarter. Paying down debt quickly will reduce those very significant interest charges and boost bottom-line earnings.
The article 5 Things NXP Semiconductors NV's Management Wants You to Know originally appeared on Fool.com.
Anders Bylund has no position in any stocks mentioned. The Motley Fool owns shares of and recommends NXP Semiconductors. Try any of our Foolish newsletter services free for 30 days. We Fools may not all hold the same opinions, but we all believe that considering a diverse range of insights makes us better investors. The Motley Fool has a disclosure policy.
Copyright 1995 - 2016 The Motley Fool, LLC. All rights reserved. The Motley Fool has a disclosure policy.