5 Things Northrop Grumman Wants You to Know About Its Business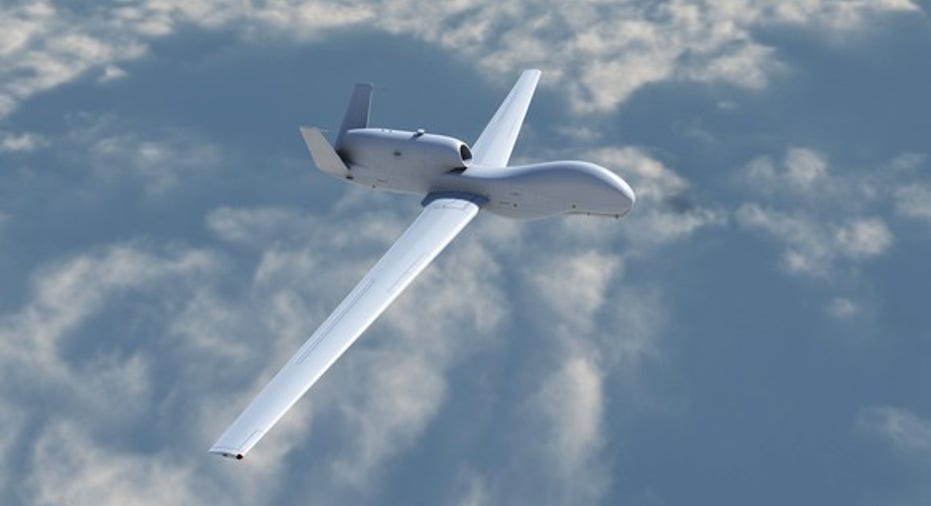 Northrop Grumman stock is more than just Global Hawks. Image source: Getty images.
Shares of defense contractor Northrop Grumman (NYSE: NOC) slumped last week despite the company reporting stronger than expected earnings. Was the sell-off deserved?
Well, sales growth was anemic at just 2%, profit margins contracted, and the company suffered a 16% decline in free cash flow produced in Q2. So to an extent, the sell-off was deserved. But was that the whole story?
For a bit more color on what's happening at Northrop Grumman these days, we listened in to the company's post-earnings conference call for you. Here are a few things we thought you'd like to know.
Thing 1: Air superiority reestablished
On Defense News Guru, the "professional" Facebook page I've set up to track major Pentagon weapons purchases, we've seen numerous signs of the Navy slowly preparing to introduce Northrop's MQ-4C Triton aircraft, ranging from contracts to secure "diminishing manufacturing sources" needed to build the drone, to extensions of funding to support the Broad Area Maritime Surveillance-Demonstratoraircraft that predates Triton, to setting up bases for the aircraft to operate when ready. While not in operation yet, Northrop saysthe Navy intends to buy as many as 68 of the drones eventually.
We've also seen hundreds of millions in contracts awarded to service U.S. Air Force Global Hawks, and even a big $657 million contract to sell the drone to U.S. ally South Korea. Some of these contracts were announced years ago, others just months ago, but all of them support Northrop's contention that it has plenty of new products to replace old aircraft as sales in the latter slow down.
Thing 2: And the F-35? Doesn't Lockheed build that?
Northrop's mention of the F-35 as a profit contributor is interesting, because Lockheed Martin (NYSE: LMT) is actually the prime contractor on that one. But Northrop plays a valuable role as a member of Lockheed's "team" building the F-35, building the plane's center fuselage, its tracking and fire control radars, and even its avionics suite.
One valuable bit of information here is that while Bush says his company is relying on sales of the F-35 to help offset slower sales of F-18s, NATO drones, and so on, the margins Northrop is earning on the F-35 work it does for Lockheed Martin currently aren't as high as he'd like them to be. That means that just replacing revenues might not be enough for Northrop. To keep profits steady, they need to find a way to boost margins as well -- and margins were in fact a weak spot in last week's earnings report.
Speaking of margins, let's speak a bit more about margins...
Thing 3: Margins
Profit margins were weaker in Q2 2016 than in Q2 2015, but they still improved sequentially from Q1 2016. That's a good thing. A better thing is that management's full-year forecast appears to be inching up from the flat 12% number it was anticipating earlier this year.
Better still, a bit later in the call, Northrop's CFO confirmed that he does not see a risk of "a precipitous drop in the margin rates, assuming we continue to perform."
Thing 4: Free cash flow
Likewise, Northrop Grumman is holding steady to its projections for free cash flow this year. That's both good and bad news, though. According to S&P Global Market Intelligence data, last year, Northrop produced only $1.7 billion in free cash flow from its business, a 17% drop from 2014 levels -- which was down 4% from 2013 FCF, which was down 8% from 2012! If Northrop can break this trend in 2016 and report free cash flow close to the top of its projected range, then all will be well and good.
If not, 2016 could mark the company's fourth straight year of declining cash profitability.
Thing 5: Space -- the final frontier
It's always nice to end these kinds of reports on an optimistic note, and I think Northrop Grumman's CEO's comments on the emerging opportunities in space do just that.
Mind you, Bush didn't go into any deep specifics on the space projects that his company is angling to work on, the profit margins they might generate, or the free cash flow that might result -- and really, given how fast the picture is changing in space, that's not surprising. Just knowing that Northrop has its eye on the space ball, though, is reassuring.
And we'll be watching how they perform up there, as well.
A secret billion-dollar stock opportunity The world's biggest tech company forgot to show you something, but a few Wall Street analysts and the Fool didn't miss a beat: There's a small company that's powering their brand-new gadgets and the coming revolution in technology. And we think its stock price has nearly unlimited room to run for early, in-the-know investors! To be one of them, just click here.
Fool contributorRich Smithdoes not own shares of, nor is he short, any company named above. You can find him onMotley Fool CAPS, publicly pontificating under the handleTMFDitty, where he's currently ranked No. 308 out of more than 75,000 rated members.
The Motley Fool has no position in any of the stocks mentioned. Try any of our Foolish newsletter services free for 30 days. We Fools may not all hold the same opinions, but we all believe that considering a diverse range of insights makes us better investors. The Motley Fool has a disclosure policy.