5 Things Micron's Management Wants You to Know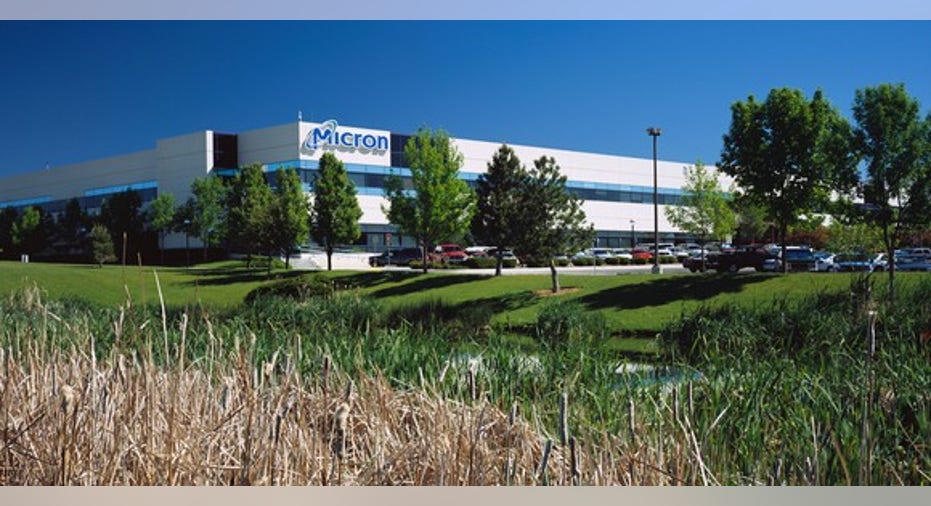 After a year and a half of tough conditions in the memory chip markets, Micron Technology (NASDAQ: MU) is now benefiting from rising prices and strong demand. The company's first-quarter results beat expectations, and its guidance for the second quarter foretells a return to exceptional profitability.
While Micron's first-quarter numbers give investors a good idea of where the company stands, management provided additional information during the earnings conference call. Here are five quotes from CEO Mark Durcan and CFO Ernie Maddock, from the transcript provided by Thomson Reuters, that investors need to see.
Image source: Micron Technology.
Rapidly improving conditions
Both DRAM (a type of memory used in processors) and NAND (a flash storage technology) selling prices tumbled for Micron in fiscal 2016, dropping 35% and 20%, respectively. The company was unable to cut per-bit costs fast enough to keep up, leading to three consecutive quarters of losses. But the situation has now reversed itself. Durcan has the details:
According to Durcan, PC DRAM average selling prices (ASPs) are up 50% to 60% since bottoming out. Higher demand, lower inventory levels, and supply shifts to other segments are the main drivers of the substantial increase. Other DRAM segments are recovering more slowly, with blended DRAM ASPs roughly flat year over year as a result. But Micron's ability to cut per-bit costs is helping to drive gross margins higher.
A recovery in mobile
The global smartphone market is expected to grow by just 1.6% in terms of units in 2016, according to IDC. Mature markets are expected to suffer declines in the coming years, while emerging markets are expected to post mid-single-digit growth. This slow growth wasn't a problem for Micron during the first quarter, and Durcan expects the mobile business to continue to drive growth despite sluggish demand for smartphones:
Mobile revenue soared 54% sequentially during the first quarter. While the smartphone market is no longer growing very fast, a combination of market-share gains and an increase in memory content per phone could continue to drive Micron's mobile revenue higher.
A done deal
Micron finally closed its acquisition of Inotera Memories on Dec. 6, ending a yearlong process. All of Inotera's DRAM output was previously being bought by Micron, so the deal doesn't increase Micron's capacity. But Maddock expects the bottom line to benefit:
The acquisition of Inotera essentially cuts out a middleman, which will lead to an increase in DRAM gross margins. The downside to the deal is that Micron's total debt has soared to $9.6 billion. That's up from $7.3 billion at the end of fiscal 2015, and will lead to higher interest expenses going forward.
Possibility of moderation in price cycles
DRAM and NAND chips are commodities, and overcapacity in the industry can cause prices to plummet and Micron's profits to disappear. Micron fluctuates between profits and losses due to these boom-and-bust cycles, and that's unlikely to change. But Durcan does see a reason to believe that these cycles could become less intense:
Something that won't change, however, is the tendency for periods of high prices to compel manufacturers to increase capacity in order to take advantage. The cycles may very well be less severe in the future, but they're unlikely to go away.
The impact of Trump
With Donald Trump set to become president in just a few weeks, every company is attempting to work out the implications. Maddock explains that there's far too much uncertainty to draw any real conclusions:
It's impossible to predict what will actually become law under the Trump administration. Some of Trump's proposals, such as a lower corporate tax rate, would be good for Micron. Others, such as a tax on imports, would be bad for Micron. Only time will tell what the ultimate impact of Trump's policies will be on Micron's business.
10 stocks we like better than Micron Technology When investing geniuses David and Tom Gardner have a stock tip, it can pay to listen. After all, the newsletter they have run for over a decade, Motley Fool Stock Advisor, has tripled the market.*
David and Tom just revealed what they believe are the 10 best stocks for investors to buy right now... and Micron Technology wasn't one of them! That's right -- they think these 10 stocks are even better buys.
Click here to learn about these picks!
*Stock Advisor returns as of Nov. 7, 2016
Timothy Green has no position in any stocks mentioned. The Motley Fool has no position in any of the stocks mentioned. The Motley Fool has a disclosure policy.