5 Things Kratos Defense and Security Wants You to Know About Gremlins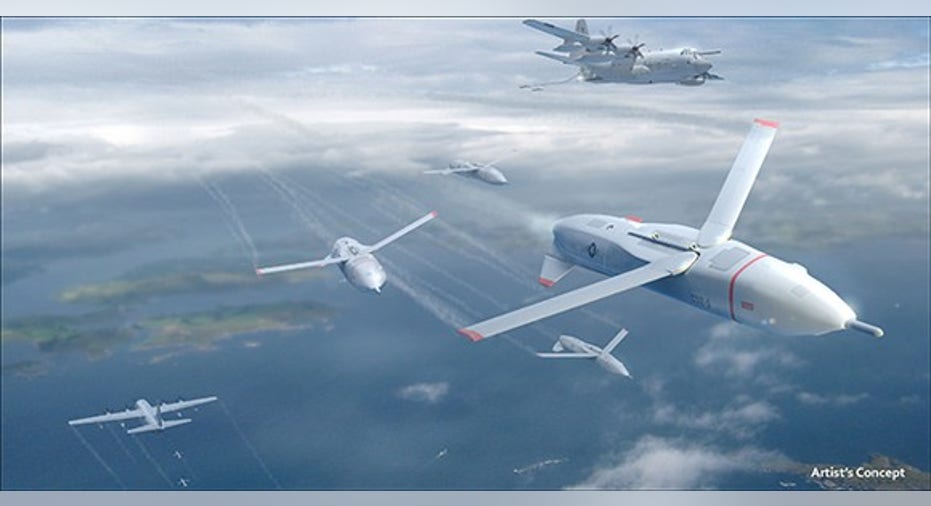 Air Force GREMLINS. DON'T GET THEM WET. Don't get them angry. IMAGE SOURCE:DARPA.
There are no two ways about it: Kratos Defense and Security's Q1 earnings report was a disaster. Sales slipped only 3% year over year, but the company failed to earn any profit at all, instead losing $0.37 per share, a 32% bigger loss than in last year's Q1.
Investors dropped the stock like the proverbial hot rock, and Kratos ended the week down 20%. But as bad as the headline numbers were, Kratos also revealed some good news: It has won a place at the table on DARPA's revolutionary new "Gremlins" project. What is Gremlins, how much is it worth to Kratos, and when might the money begin flowing? To find out, we listened in on Kratos' post-earnings conference call and gathered the details.
Here are five things we found out and thought you'd like to know.
Thing 1: Small drones, big profits?
We all know that Kratos has expertise in building unmanned aerial vehicles (UAVs). The company has invested millions of dollars in developing a proprietary combat drone -- jet-powered, and capable of carrying weapons -- that it calls the UTAP-22 Tornado. In the earnings call, though, Kratos CEO Eric DeMarco described another competitive advantage his company has over rival bidders on Gremlins.
Thing 2: Small drones -- acting cooperatively
Like UTAP-22,this technologyappears to have been developed in-house, and this gives Kratos a leg up over the competition in proving that its version of Gremlins aren't yet mechanically capable of launching from and landing on larger airplanes in-flight, but also capable of flying and operating as a team, autonomously, once launched.
Thing 3: Who is the competition -- and when?
So General Atomics and Dynetics. According to the financial data experts at S&P Global Market Intelligence, those are both privately owned companies -- there's not much we can invest in there. But Lockheed Martin -- that one's public. In the event that Kratos fails to win Gremlins but Lockheed Martin does, that would give individual investors one other way to invest in the project.
At the same time, if Kratos does win one of the two phase 2 Gremlins slots at the end of this current competition, it could be in line for an additional $20 million in revenue. That's worth nearly one full month's revenues to Kratos -- five times as much money as it won in phase 1.
Thing 4: What comes next?
Whether Kratos wins a phase 2 slot should become evident sometime in the first quarter of next year. After that, there's the even bigger pot of gold to win -- $35 million for a phase 3 win in Q2 2018. And assuming DeMarco isn't just pulling the "1,000" out of a hat, perhaps as much as $700 million or more in future revenue once Gremlins kicks into the production phase post-2020.
Finally, we have a clear view of Kratos' path forward, if it succeeds in winning Gremlins.
Thing 5: Can Kratos afford to compete?
Winning Gremlins won't be easy, going up against a defense industry giant like Lockheed Martin. (And for that matter, although privately owned, Dynetics and General Atomics are hardly bit players in the field of aerospace. Both are dominant in their respective sectors.)
That's why it's reassuring to hear that in the initial stages of the Gremlins competition at least, Kratos has already done the groundwork -- and spent the money -- it needs to compete effectively. Kratos invested heavily in developing advanced drone technology for UTAP-22, and now that investment will begin to pay off in another program entirely. Indeed, it could pay off in two separate programs, including the mysterious second "tactical UAS award," about which Kratos will say nothing.
But the key thing to keep in mind here is this: Lockheed Martin, Dynetics, and General Atomics are all strong rivals, and Kratos' victory on the Gremlins contract is far from assured. But at least in round 1, they won't be able to spend Kratos into the ground and knock it out early.
For the time being, Kratos is well equipped to go toe-to-toe with the giants of the aeronautics industry.
The article 5 Things Kratos Defense and Security Wants You to Know About Gremlins originally appeared on Fool.com.
Rich Smithdoes not own shares of, nor is he short, any company named above. You can find him onMotley Fool CAPS, publicly pontificating under the handleTMFDitty, where he's currently ranked No. 299 out of more than 75,000 rated members.The Motley Fool has no position in any of the stocks mentioned. Try any of our Foolish newsletter services free for 30 days. We Fools may not all hold the same opinions, but we all believe that considering a diverse range of insights makes us better investors. The Motley Fool has a disclosure policy.
Copyright 1995 - 2016 The Motley Fool, LLC. All rights reserved. The Motley Fool has a disclosure policy.