5 Things Huntington Ingalls Wants You to Know About Its Business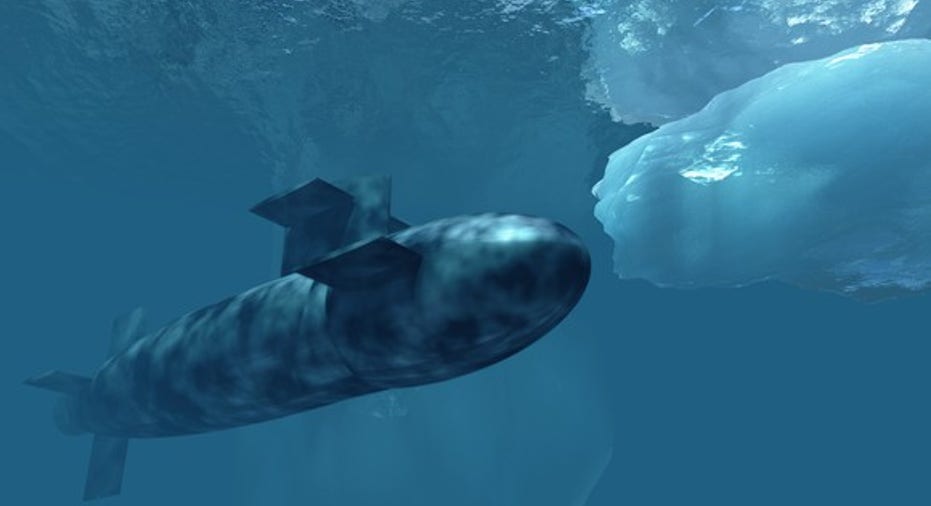 Huntington Ingalls stock hit the iceberg after releasing earnings last week. And there are a few things you might want to know about why. Image SOURCE: Getty Images.
In a week of strong earnings reports from American defense contractors, and reports generally well received by investors, Huntington Ingalls (NYSE: HII) stock stuck out like the proverbial sore thumb. And shareholders are probably pretty sore as well.
After Huntington missed on revenues, and just barely beat estimates for earnings, Huntington shareholders saw their stock price sink 4%. But was Huntington's news really bad enough to justify the sell-off? To try to figure that out, we listened in on Huntington Ingalls' post-earnings conference call. Here are five things they told us that we thought you'd like to know.
Thing 1: Inflection point?
"While positive performance continues at Ingalls, we'll continue to see volume and margin pressure in Newport News as we focus on delivering the three aircraft carriers. With that said, we continue to expect total revenues in fiscal year 2016 to be relatively flat to 2015 and segment operating margin in shipbuilding to be in the 9% to 10% range." -- CFO Christopher Kastner
Huntington has been warning for some time that the 11%-plus operating profit margins we've been seeing of late are not sustainable over the long term. 9% to 10% margins, says Huntington, are much more likely to be the norm over long periods of time. That time may be now.
But have you ever wondered why?
Thing 2: Get to know the business
"I'd just remind you what we've said about the 9% to 10% range. If you are operating outside of that range for any period of time you have to ask yourself why. If you are above the range, it probably means that you have a lot of mature programs and you're harvesting pretty well, but the fundamental thing you need to be focused on is what's the new work?" -- CEO Mike Petters
It's useful for Huntington Ingalls shareholders to know that management regards 9% to 10% profit margins to be its norm. That alone injects a note of caution into the decision whether to buy a stock that's suddenly become more profitable than we've been accustomed to seeing. What's even more useful, though, for investors who may own other defense stocks other than just Huntington Ingalls, is knowing why margins in this industry tend to revert toward certain levels -- and why deviations from that norm are temporary.
Huntington Ingalls' CEO thus does us a useful service when he explains the dynamics: It takes a lot of work to develop a new type of warship (or a new stealth fighter jet, a new tank, or a new variety of ICBM). That extra work -- risk reduction, bug stomping, and supply line unkinking -- adds costs to a weapons system and depresses profit margins for its maker. But as a weapons system matures, and enters full-rate production, the profit margins from producing it may likewise improve. That very improvement in profits, however, may act as a harbinger of eventual declines in sales, as the weapon becomes obsolete, and approaches its retirement date.
Good to know.
Thing 3: Free cash flow
"Capital expenditures were $48 million or 2.8% of revenues in the quarter compared to $29 million in the second quarter last year. Our capex spend is typically back end loaded for the fiscal year, so we continue to expect capital expenditures for the year to be between 3.5% to 4.5% of revenues." -- Kastner
Changing the subject abruptly, last week I dinged Huntington Ingalls for the lack of guidance on what to expect for its profits as this year rolls along. Let me walk back that chiding just a bit, though, based on this revelation. While Huntington Ingalls management hasn't provided investors complete guidance on its expectations for this year, it has at least told us something.
Revenues, according to management, should be "relatively flat to 2015" -- so about $7 billion. At an operating profit margin of 9% to 10%, that works out to roughly $630 million to $700 million in operating profit this year. Meanwhile, analysts surveyed by S&P Global Market Intelligence are still projecting operating cash flow of $740 million. Minus $280 million for CapEx (4% of $7 billion revenues), that leaves $460 million total free cash flow for the year.
And now, with your forbearance, I'll abruptly change subjects once again, and turn to the broader prospects for defense spending as a whole.
Thing 4: Where we're at with the defense budget
"In Washington, House and Senate conferees have begun the process of reconciling FY2017 Defense Policy Bill and measured progress is also being made in the markup before consideration of respective appropriations bills. We are encouraged by the strong bipartisan support for Navy and Coast Guard shipbuilding programs in the various committee markups and bills. --Petters
Revenues, management tells us, are likely to hold up pretty well through the rest of this year, relative to what we saw in 2015. Going forward, too, management seems confident that there is "strong bipartisan support" for continuing to give the Navy and Coast Guard the money they need, to buy the ships they need -- and the ships they intend to buy from Huntington Ingalls.
That's good to know, but there's a caveat.
Thing 5: "Sequester." Yes, that's still a thing
"[We] remain concerned about the prospect of a long term continuing resolution as well as the implications of returning to a sequester top line for defense spending after the two-year Bipartisan Budget Act of 2015 ends. Given the Navy's firm commitment to funding the higher replacement program, a sequester top line would create significant funding challenges across the Navy's budget that could severely impact a broad array of shipbuilding and ship repair programs. --Petters
Four years ago, a divided Congress still scarred by the trauma of the Great Recession decided to solve its budget problems by "splitting the baby." Congress enacted a "sequester" that reduced spending on both social programs and defense spending.
Now, there's no guarantee that Congress will resort to such drastic action again. But Huntington Ingalls isn't taking anything for granted. Unless and until Congress passes a defense budget, and President Obama signs it, there's still a chance Congress will revisit sequester, and that this could damage business prospects for Huntington Ingalls, and for other defense contractors as well. By no means is this certain to happen, but there's a non-zero chance that it will. If you're contemplating an investment in a defense stock today, this is a risk you need to be aware of.
Especially because of ...
Bonus thing: Caveat investor
"Quite frankly what we're dealing with today is that ... valuations are pretty high and ... it's kind of challenging given some of the valuations that are out there today that we could really make the case that we're such a better owner that we would create the value that we need to create." -- Petters
About halfway through last week's earnings call, Petters was asked -- kind of out of the blue -- whether he had any plans to make acquisitions of other companies in the defense space. His response was something that might give investors pause.
While Huntington Ingalls continues to feel its own stock is undervalued, as evidenced by the 239,000 shares of stock it bought back last quarter, the CEO is hard pressed to see similar value in other companies operating in the defense space. If you're contemplating an investment in Lockheed, in Boeing, or even in Huntington Ingalls itself, these are words worth considering. If the CEO of one of the nation's biggest defense contractors, a man who lives and breathes defense-stock valuations, cannot find much of anything worth buying at today's high prices, then what are you seeing that he's not?
A secret billion-dollar stock opportunity The world's biggest tech company forgot to show you something, but a few Wall Street analysts and the Fool didn't miss a beat: There's a small company that's powering their brand-new gadgets and the coming revolution in technology. And we think its stock price has nearly unlimited room to run for early in-the-know investors! To be one of them, just click here.
Fool contributorRich Smithdoes not own shares of, nor is he short, any company named above. You can find him onMotley Fool CAPS, publicly pontificating under the handleTMFDitty, where he's currently ranked No. 308 out of more than 75,000 rated members.
The Motley Fool has no position in any of the stocks mentioned. Try any of our Foolish newsletter services free for 30 days. We Fools may not all hold the same opinions, but we all believe that considering a diverse range of insights makes us better investors. The Motley Fool has a disclosure policy.