5 Things Helmerich & Payne's Management Want You to Know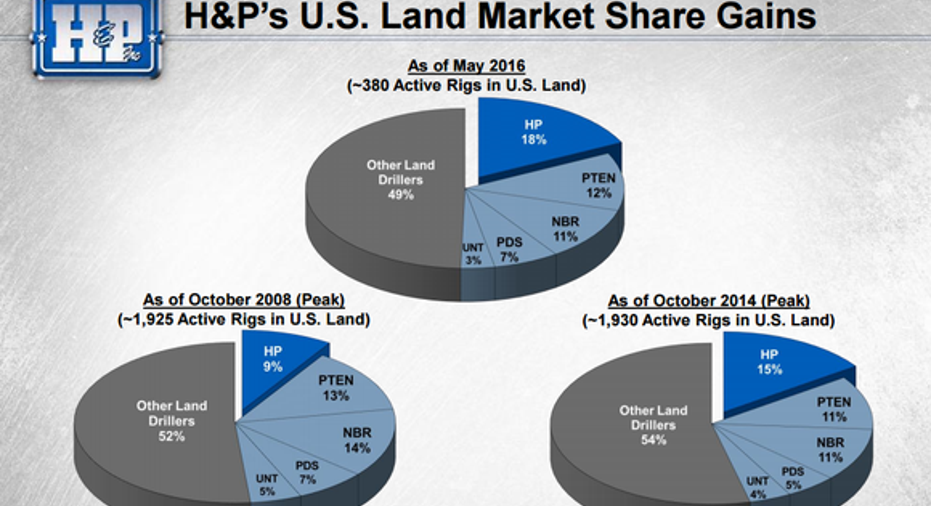 Image source: Helmerich & Payne corporate website
There haven't been many reasons to celebrate if you are an investor in Helmerich & Payne as of late. Even though oil prices have climbed toward the $50 range, rig counts in the US are still at or near all time lows. As bad as the market may be right now, Helmerich & Payne's management still heartily believes in its strategy, and it was sure to point that out in its most recent conference call. These 5 quotes from that call give a pretty good glimpse into what management is thinking and what investors should be on the lookout for in the coming quarters.
The right assets
Oil and gas rigs have gone through more changes in the past decade than the 100 years prior. Today's rigs can drill down 10,000-12,000 feet, turn on a dime, and then drill horizontally for another couple of miles. It's thanks to these new, high specification rigs that we have been able to unlock oil and gas in shale wells at economic prices. Helmerich & Payne CEO John Lindsay wants to remind investors that H&P has the largest fleet of these rigs -- called AC drive, Tier 1 rigs in industry lingo -- in the US.
Having these rigs has been incredibly valuable for Helmerich & Payne during this downturn as producers have shut down operations with older rigs and focused on working with a small fleet of highly efficient rigs. This has led to H&P taking market share.
Image source: Helmerich & Payne investor presentation
Still going to have some rough times in the near future
As oil prices have started to slowly tick back up from lows in January, there is some thought that the company might start to see an uptick in business. Before anyone got ahead of themselves, CFOJuan Pablo Tardio wanted to remind everyone that for at least the next quarter, things will continue to look bleaker.
Helmerich & Payne's revenue and income have been on a steady decline for several quarters now, but the company has so far been able to eek out slight profits that keep the company afloat and support its 43 year long streak of raising dividends.These next several quarters could be a true test of whether the company can keep this going.
Mixed signals on the horizon
On top of that less than stellar guidance for the next quarter, CEO John Lindsay was also quick to point out that the company is in discussions with many of its oil and gas producing clients as to when they will start putting rigs to work again.
We will see an uptick in demand eventually. Growing demand for oil and delayed production spending is setting the table for a time when we will need to invest in the sector again. When that actually happens still appears to be beyond the best guesses of even the most in tune people in the market like H&P's management team.
The benefits to the bottom line (when it comes)
Operations like Helmerich & Payne's has a lot of variable and fixed costs. Those fixed costs can be things like hanging onto key personnel or maintaining assets. As less and less rigs are at work, those fixed costs become a larger portion of the company's cost structure. As those idle rigs get put back to work, though, the fixed costs can be spread around and really drive results to the bottom line. As Lindsay pointed out, fixed costs are such a high percentage of the current cost structure that bringing on incremental rigs won't come at huge additional costs.
A protected payout?
With that long dividend streak also comes a certain responsibility to keep it up. After all, no CEO wants to be the one that has to end a 43 year dividend increase streak. SoTardio wanted to point out that even though the company is in the middle of a very rough patch, its financial house is in order and there is a decent amount of work left on the books.
What a Fool believes
The things that both Lindsay and Tardio didn't reveal were some deep held secrets about what's going on in the market. Instead, they provided a reminder that no one can time the market precisely, and that the best way to ride out the tough times is to rely on greatbusinesseswith goodmanagementteams and a soundfinancialstanding. As we head into the coming quarters, investors should continue to watch to see if the company can continue to take a few more quarters of miserable performance without having to tap the strength of its balance sheet.
The article 5 Things Helmerich & Payne's Management Want You to Know originally appeared on Fool.com.
Tyler Crowe has no position in any stocks mentioned.You can follow him at Fool.comor on Twitter@TylerCroweFool. The Motley Fool has no position in any of the stocks mentioned. Try any of our Foolish newsletter services free for 30 days. We Fools may not all hold the same opinions, but we all believe that considering a diverse range of insights makes us better investors. The Motley Fool has a disclosure policy.
Copyright 1995 - 2016 The Motley Fool, LLC. All rights reserved. The Motley Fool has a disclosure policy.