5 Things Gilead Sciences' Management Said as Its Stock Slumped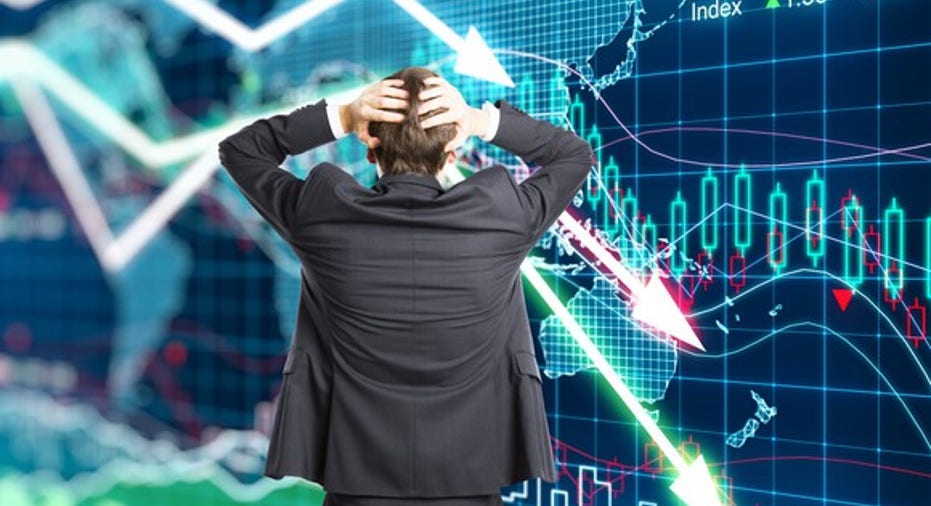 Gilead Sciences (NASDAQ: GILD) announced its fourth-quarter and full-year 2016 results after the market closed on Tuesday. The company followed up, as usual, with a conference call with analysts to discuss those results. But it wasn't the fourth-quarter results that generated the most discussion.
The big biotech also provided its guidance for 2017. And that guidance was disheartening -- enough to send shares sharply downward in after-hours trading. Here's what Gilead's management had to say while the stock slumped.
Image source: Getty Images.
Hepatitis C franchise sales deterioration isn't slowing
Gilead'shepatitis C virus (HCV) franchise sales dropped yet again in the fourth quarter, just as expected. However, thanks to strong sales growth for Epclusa, the rate of the sales declines seem to have leveled off somewhat. According to Gilead's executives, that's just a temporary lull. The company expects HCV sales to drop by 40% or more in 2017.
Kevin Young, Gilead's COO, said that there were three one-time events that lifted 2016 HCV patient starts. Two of the largest U.S. commercial payers opened access in the first quarter. There was an increase in patients treated through the Veterans Administration (VA) system, particularly in the second quarter. Also, there was a "warehouse" effect for Epclusa in the second half of 2016, where a large number of patients were waiting on the new drug before receiving treatment.
Young said none of these factors will continue in 2017. He also noted that Gilead expects fewer patient starts this year because "agreater number of patients have less advanced disease" and more patients will likely delay treatment due to "circumstances that favor delay, such as ongoing drug or alcohol use, co-morbidities or unstable living conditions."
Confident about HIV portfolio despite some headwinds
While Gilead's HCV franchise is floundering, the company's HIV portfolio remains strong. Gilead CEO John Milligan said, "We're very confident of our HIV franchise. That is going to be a good growth driver for us."
Most of that confidence stems from the biotech's new tenofoviralafenamide (TAF) drugs -- Genvoya, Descovey, and Odefsey. Genvoya's launch was the most successful of any HIV drug to date.
Gilead does face some challenges in HIV, though. In particular sales for rival drugs Tivocay and Triumeq are growing quickly. Kevin Young noted, though, that about 10% of Genvoya sales are from patients not currently on a Gilead HIV regimen. He thinks the company can continue to gain market share from competitors at that rate and potentially do even better in the future.
Patent losses are just around the corner
A subject that hasn't been discussed much in the past surfaced in the company's fourth-quarter call: loss of patent protection for key drugs. John Milligan said that Gilead is "facing some headwinds in 2018 and beyond" with patents expiring.
HIV drug Viread loses European patent protection in July of this year. That will be followed by a loss of U.S. patent exclusivity in late 2017. The key U.S. patent forpulmonary arterial hypertension drug Letairis expires in 2018. A year later, Gilead loses patent protection for angina drug Ranexa.
Milligan said that these looming patent losses "puts some downward pressure" on its non-HCV revenue. However, he thinks that new product entrants will help significantly.
The pipeline is strong -- but not much coming soon
The most important near-term new product that Gilead hopes to launch is itsbictegravir/F/TAF combo. The HIV regimen is in late-stage testing. Milligan said that the biotech plans to submit for regulatory approval later this year.
Gilead also has one final HCV candidate potentially on the way to market. An FDA decision on new combination treatment for patients whofailed direct-acting antiviral drugs is expected by Aug. 8, 2017.
The company also has three pipeline candidates targeting treatment of non-alcoholic steatohepatitis (NASH). The most promising of those drugs at this point appears to be ASK-1 inhibitorselonsertib. Late-stage autoimmune disease drug filgotinib is another potential winner for the biotech.
Although Gilead's pipeline has plenty of solid candidates, Milligan admitted, "We don't have a lot of things launching over the next few years." That puts even more pressure on the company with its falling HCV sales.
We're serious about making an acquisition this year
Gilead's management team fully understands that the only way to return to growth is to make acquisitions. Milligan said again that the company is "pursuing partnerships or acquisitions that are the right strategic fit."
Robin Washington, Gilead's CFO, said that the company feels "comfortable that from an asset standpoint that we could support any type of acquisition that we'd need to do to support." She said the company expects its strong cash flow "to continue for a very long time."
Washington provided perhaps the best clue about how important an acquisition is to Gilead Sciences. She said, "In 2017, leveraging our capital to pursue external opportunities to expand our R&D pipeline is our primary focus."
It sounds like Gilead is getting ready to make one or more deals in the near future. The unanswered question, though, is: Which company (or companies) will Gilead pursue?
10 stocks we like better than Gilead SciencesWhen investing geniuses David and Tom Gardner have a stock tip, it can pay to listen. After all, the newsletter they have run for over a decade, Motley Fool Stock Advisor, has tripled the market.*
David and Tom just revealed what they believe are the 10 best stocks for investors to buy right now... and Gilead Sciences wasn't one of them! That's right -- they think these 10 stocks are even better buys.
Click here to learn about these picks!
*Stock Advisor returns as of February 6, 2017
Keith Speights owns shares of Gilead Sciences. The Motley Fool owns shares of and recommends Gilead Sciences. The Motley Fool has a disclosure policy.