5 Things Fitbit Management Wants You to Know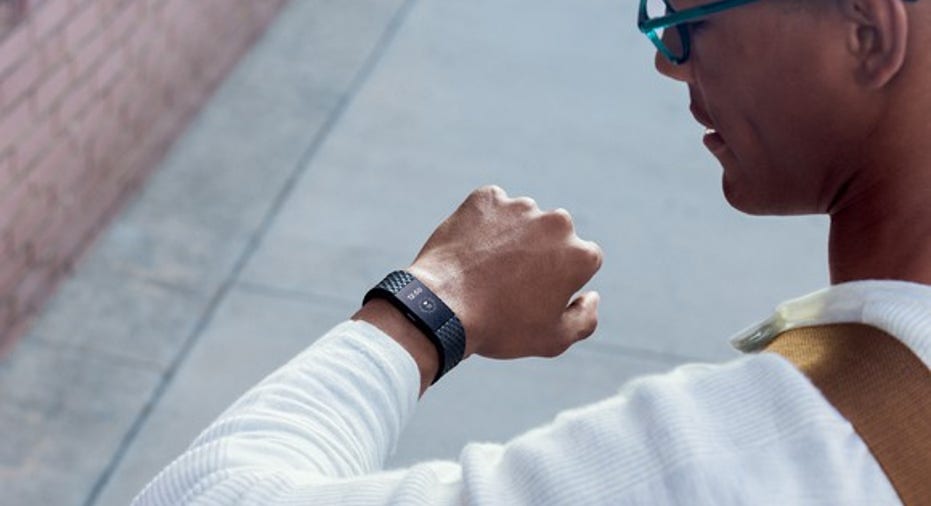 When Fitbit (NYSE: FIT) released fourth quarter 2016 results last week, shareholders were very interested in what the company was going to do to reverse the trend of slowing growth. Fitbit candidly discussed the revenue miss, provided a clear plan for how they will stabilize in 2017 and continue to invest for the future. Key priorities for the current year include moving the channel inventory, fixing the cost structure, and streamlining the roadmap for greater adoption. Fitbit continues to invest in innovation in software and services and spent time discussing a Fitbit smartwatch.
To help you understand what Fitbit is doing to stop the bleeding, while at the same time investing for the future, here are five important points from CEO, James Park, during this quarter's earnings call.
Image Source: Fitbit
1. Plan to deal with the excess channel -- quickly
As a result of the fourth quarter revenue being significantly impacted by a weaker than expected demand, Fitbit's retail channel partner stores are sitting on more inventory than expected. The company recognized this issue late last year and has taken a one-time charge of $42 million in the fourth quarter for rebates and seller allowances to help their channel partners move the excess inventory. This excess inventory reduces the company's 2017 sales, so it's important to get the inventory rebalanced quickly. This rebalancing is especially important to complete before it launches new products for 2017. The sooner this get fixed, the better off Fitbit and its retail partners will be.
2. Cost structure has been aligned to current revenue forecasts
Fitbit's 2017 revenue guidance is in the range of $1.5 billion to $1.7 billion, which is a reduction of 22% to 31% from 2016. Without quick and significant changes to Fitbit's cost structure, the company would burn through cash and post a sizable loss for the coming year. The company is reducing costs in two major areas: marketing spend and headcount reductions. James Park clarified that the savings are split about equally between these two actions. The headcount reductions were generally across the company, but reductions related to supporting the accessories business was hit harder as Fitbit moves this business to a partner/licensing model. Since the headcount reductions have already taken place and marketing expenses were resized to be aligned with the new revenue forecast, Fitbit is already benefiting from the a lower cost structure.
3. Streamlining product offerings to take more of the market
Fitbit recognizes that it needs to move beyond the early adopter segment of buyers that has built Fitbit's active community of users to over 23 million. Currently Fitbit is selling seven Fitness trackers ranging from $59 to $249, which can be confusing to the mass market user that just wants a product to help them be more active. Additionally, when Fitbit wants to add a smartwatch and "different form factors" to the company's product lineup, this will increase product lines. In order to make way for these new products, it make sense to streamline its current offerings. Additionally, reducing the number of products helps the company focus its internal resources on fewer priorities. If this product transition is executed well, Fitbit could welcome another 40 million to 80 million new customers.
4. Personalized guidance will expand the addressable market
Fitbit collects a massive amount of data for its users and about the user community, it is starting to turn this data into features and products that will make Fitbit a "must have" device. Fitbit is already realizing early success with its Fitstar Personal Trainer app and the partnership with United Healthcare. The Fitstar app is able to tailor workouts based on the users feedback and fitness progress. Early indications show that consumers like these features and the app has over 1.2 million downloads in the first two months of 2017.For the United Healthcare deal, Fitbit built an app which runs on the Charge 2 that lets users know how they are progressing toward the goals to get up to $1,500 into their health savings account. As Fitbit improves the software features of its ecosystem, these enhancements will create a sticky ecosystem for customers. Customers that enjoy using Fitbit's products will come back again and again to purchase Fitbit products, which will expand the company's addressable market as a result.
5. The smartwatch is coming, and it's going to be exciting
Fitbit has made three acquisitions that will help them get into the smartwatch form factor: defunct mobile payments start-up Coin, assets from smartwatch maker Pebble and high end smartwatch company Vector. Fitbit hasn't made any announcements that would indicate it has used any of these assets in the current product line up. As far as the upcoming smartwatch, James Park mentioned that the smartwatch would have a large emphasis on developer SDK, which allows independent software developers to create unique applications and put them in an app store. James Park goes on to mention that these tools are "world-class in terms of developer productivity." Despite Park exclaiming he is excited for the product, no hints were given as to when a Fitbit smartwatch would be released.
Final thoughts
Fitbit has a lot going on to stabilize the company losses and spur future growth. James Park summarized the current status of their growth initiatives in this quote from the earnings call.
Investors should be encouraged that he owns the fact that future success is dependent on the Fitbit team. Now they need to deliver.
10 stocks we like better than FitbitWhen investing geniuses David and Tom Gardner have a stock tip, it can pay to listen. After all, the newsletter they have run for over a decade, Motley Fool Stock Advisor, has tripled the market.*
David and Tom just revealed what they believe are the 10 best stocks for investors to buy right now... and Fitbit wasn't one of them! That's right -- they think these 10 stocks are even better buys.
Click here to learn about these picks!
*Stock Advisor returns as of February 6, 2017
Brian Withers owns shares of Fitbit. The Motley Fool owns shares of and recommends Fitbit. The Motley Fool has a disclosure policy.