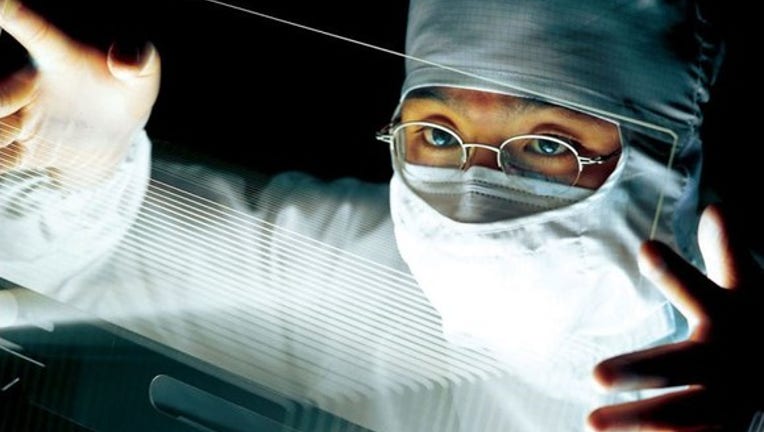 When Corning (NYSE: GLW) released fourth-quarter 2016 results last week, shares climbed 6% that day with good reason. Core sales for the quarter climbed 6.2%, to $2.551 billion, just above the $2.50 billion investors were anticipating. Core earnings grew an even better 24.5%, to $534 million, while core earnings per share climbed an even better 47.1%, to $0.50, well above consensus estimates that had called for core earnings of $0.44 per share.
Of course, there's more to Corning's business than just its headline numbers. And though I already offered my initial take on Corning's segment results and outlook in an earnings article last week, I still think investors can glean invaluable information about its the business by listening to management during each quarter's subsequent conference call.
To help get you started, here are five important points Corning management discussed during this quarter's call.
Image source: Corning.
1. Capital allocation framework goals are on track
For perspective, when Corning introduced its ambitious capital allocation framework in October 2015, it originally planned to return around $10 billion to shareholders through repurchases and dividends through 2019. But as Weeks reminded us above, the company has since increased that figure to $12.5 billion.Moreover, Weeks reminded investors last week that, in addition to those cash distributions, Corning maintained its goal of investing $10 billion in the business over the same period through research, development, and engineering "to sustain our leadership and deliver growth over the long term."
2. How and why Corning chooses to invest its resources
More specifically, those three core technologies are specialty glass, ceramics, and optical physics. Corning's four manufacturing and engineering platforms includeprecision forming, vapor deposition, fusion, and extrusion. And its five market access platforms areoptical communications, mobile consumer electronics, display, automotive, and life sciences vessels.In short, Corning recognizes that it enjoys market leadership positions in each of the above platforms and core technologies. And by making the most of its existing capabilities on a collective basis rather than allowing these business segments to function as separate entities, Corning is maximizing profitability while simultaneously planting the seeds for sustained, long-term growth.
3. Corning's strength was broad-based
Keeping in mind Corning's relative top- and bottom-line outperformance this quarter, Tripeny noted during the call the sources of the company's strength were threefold. In particular, Corning enjoyed admirable performances from its specialty materials segment (which includes Gorilla Glass and saw revenue jump 22% year over year, to $336 million), optical communications (where revenue rose 11%, to $819 million), and display technologies (which saw sales increase only slightly year over year, to $904 million, but also enjoyed robust demand and its 10th straight quarter of moderating LCD glass price declines).
4. Automotive Gorilla Glass is ready for prime time
At this year's Consumer Electronics show in Las Vegas, Corning raised plenty of eyebrows across the industry by unveiling a fully operational electric vehicle prototype featuring its most advanced automotive glass technologies. Those technologies included, but weren't limited to a lighter, stronger Gorilla Glass hybrid windshield, next-gen heads-up display and augmented reality capabilities, slim user-controlled tinting Gorrila Glass side and back windows and sunroof, and a seamless Gorilla Glass-covered dashboard and center console with touch and 4K video capabilities.
Corning's automotive initiatives are still in their early stages, so it could take a number of years before investors truly begin to see the financial fruits of this effort. But if anything, it's one more way Corning is striving to ensure its technology becomes indispensable in our daily lives.
5. Another promising incremental growth opportunity
Relatedly -- and underneath all the flashy consumer-facing automotive glass products Corning unveiled at CES -- gas particulate filters already fall under Corning's environmental technologies segment, which saw revenue decline 4% year over year last quarter, to $245 million. To be fair, that drop was in line with the expectations Corning laid out for the segment three months ago, and primarily caused by weakness in the heavy-duty diesel market in North America, where truck builds fell 30% year over year. Meanwhile, the light-duty automotive market increased in the mid-single digit percent range, as Corning continued to win new business.But, again, it's encouraging to know Corning has much bigger plans for capitalizing on this segment and returning it to sustained, profitable growth in the coming years.
10 stocks we like better than Corning When investing geniuses David and Tom Gardner have a stock tip, it can pay to listen. After all, the newsletter they have run for over a decade, Motley Fool Stock Advisor, has tripled the market.*
David and Tom just revealed what they believe are the 10 best stocks for investors to buy right now... and Corning wasn't one of them! That's right -- they think these 10 stocks are even better buys.
Click here to learn about these picks!
*Stock Advisor returns as of January 4, 2017
Steve Symington has no position in any stocks mentioned. The Motley Fool recommends Corning. The Motley Fool has a disclosure policy.