5 Things Brookfield Infrastructure Partners L.P.'s CEO Wants You to Know About How It Plans to Find Success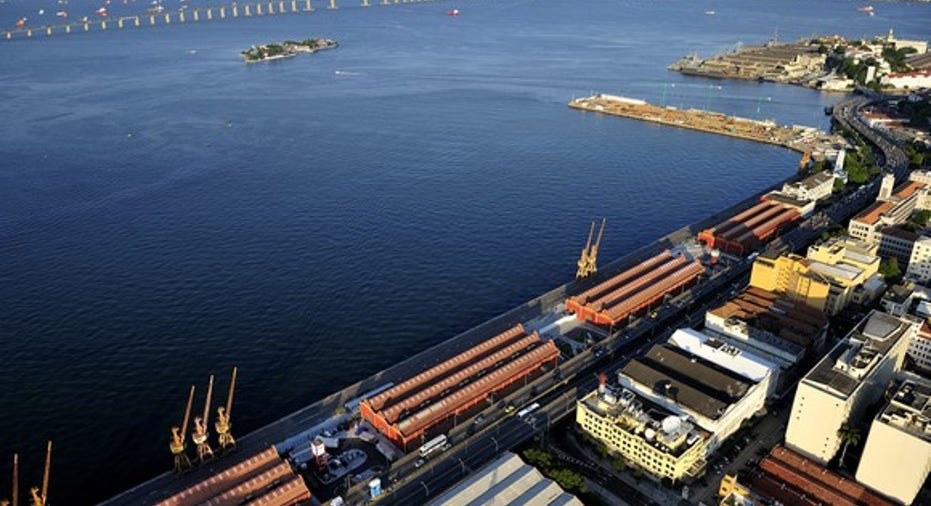 Brookfield Infrastructure Partners (NYSE: BIP) recently reported another quarter of healthy growth, driven by recent acquisitions. That trend isn't expected to abate in the near term because it recently closed a significant transaction and had another deal in the pipeline. That said, on its quarterly conference call, CEO Sam Pollock noted that the market for infrastructure assets continues to heat up because investors covet the high-quality, long-term cash flows these assets produce. However, despite this growing competition, the CEO wanted investors to know that Brookfield Infrastructure Partners has five key elements to its plan, which should allow it to remain successful in finding needle-moving deals.
Patience is a virtue
Pollock started off by saying:
While acquisitions are a major driver of the company's growth, it can't buy just for the sake of growing, because its returns will suffer. That's why, for example, the company hasn't yet made any acquisitions in Mexico, despite noting earlier this year that it was actively exploring deals in the country. The reason for this, according to Pollock, was that "there's probably a little bit of a disparity between views on valuations between buyers and sellers." However, he firmly believes that as buying activity slows down in Mexico, those views will narrow over time, and that "hopefully, we will find some good opportunities there in the coming quarters."
Image source: Getty Images.
Seeking out innovative solutions
One example of this was a transaction a few years ago with Brazilian mining giant Vale (NYSE: VALE) to buy a stake in its VLI rail-and-port business. At the time, Vale needed cash to finance the expansion of its core mining business. However, it got more than just cash because Brookfield Infrastructure Partners and its investors pledged to invest in upgrades and expansions to the system, which would benefit Vale and other customers that use the network.
Little deals can make a big impact down the road
Brookfield Infrastructure Partners has a knack for starting out small and then expanding its platform through tuck-in acquisitions and organic growth projects. One of the many examples is at its Brazilian toll road platform. The company initially acquired its stake in 2012 and then expanded that stake in 2013. Further, the company and its partner have invested capital in widening the road to increase traffic capacity. Meanwhile, it acquired another incremental stake in the business last year, and this year announced that it won a concession to build a new toll road that connects to its existing network.
Acting quickly
Here Pollock pointed to the company's recent deal to buy a stake in a natural gas transmission business from Brazilian oil giant Petrobras (NYSE: PBR) as an example of its decisiveness. Brazil's economy was in a tailspin thanks to sinking oil prices and a corruption scandal. However, Brookfield Infrastructure Partners pounced at the opportunity to purchase a high-quality asset from a distressed seller in Petrobras, which it allowed it to get an excellent deal because other investors were fleeing the Brazilian market.
Image source: Getty Images.
Sell high so it can buy low
While Brookfield Infrastructure Partners is a long-term investor, part of its strategy is to sell lower return assets when market prices for those assets are at a premium, which gives it capital to buy higher-yielding assets opportunistically. Over the past year, the company sold its European gas distribution business and Ontario Transmission business for healthy profits, giving it some of the capital it used to acquire the higher-returning gas distribution business from Petrobras.
Investor takeaway
Infrastructure investing is a hot topic globally these days, which has investors pouring money into the sector. However, just because competition is risingdoesn't mean Brookfield Infrastructure Partners' growth opportunities will dry up. The company has a five-fold formula for success that it expects will continue paying big dividends for shareholders in the years to come.
10 stocks we like better than Brookfield Infrastructure PartnersWhen investing geniuses David and Tom Gardner have a stock tip, it can pay to listen. After all, the newsletter they have run for over a decade, Motley Fool Stock Advisor, has tripled the market.*
David and Tom just revealed what they believe are the 10 best stocks for investors to buy right now...and Brookfield Infrastructure Partners wasn't one of them! That's right -- they think these 10 stocks are even better buys.
Click here to learn about these picks!
*Stock Advisor returns as of May 1, 2017.
Matt DiLallo owns shares of Brookfield Infrastructure Partners. The Motley Fool owns shares of Vale S.A. The Motley Fool recommends Brookfield Infrastructure Partners. The Motley Fool has a disclosure policy.