5 Things Biogen's CEO Just Said That You Don't Want to Miss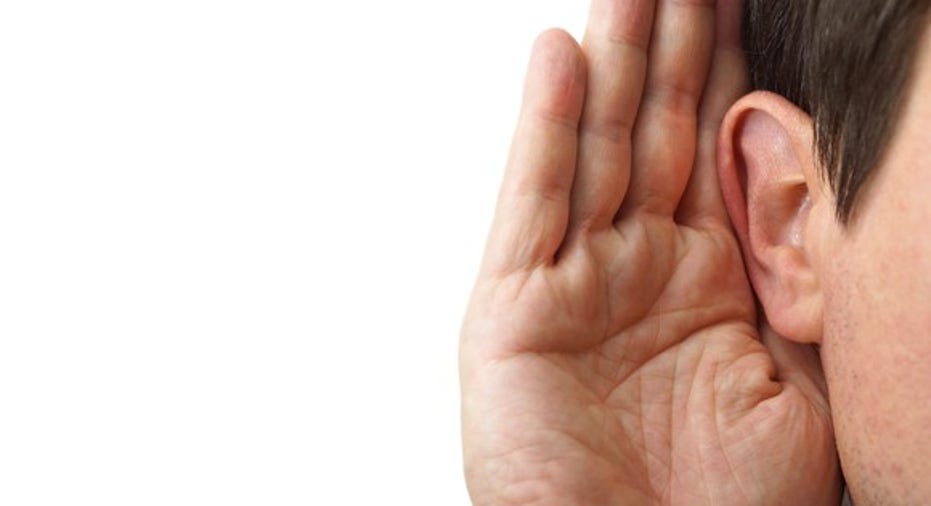 Despite headwinds for its multiple sclerosis (MS) franchise, Biogen (NASDAQ: BIIB) has been on a roll lately. The biotech won U.S. regulatory approval for spinal muscular atrophy (SMA) drug Spinraza in December. It also spun off its hemophilia business into a new company, Bioverativ, in February.
Biogen CEO Michel Vounatsos sat down at the Cowen & Company Annual Health Care Conference earlier this week to talk about his company's future. Here are five things Vounatsos said in response to questions at the conference that you won't want to miss.
Image source: Getty Images.
1. How is the Spinraza launch going?
Although the launch of new SMA drug Spinraza has only been underway for nine weeks, Vounatsos said that he is "pleased with the progress" so far. He added, though, that there are two limiting factors that could temporarily hold back sales.
The first is simply an infrastructure challenge. There is so much demand for Spinraza that it's hard to keep up with it. Biogen is working with 40 key SMA centers across the U.S. Those major centers also refer patients to other SMA centers. Vounatsos stated that it's still at a "very early stage" in the rollout for these centers.
Another limiting factor is obtaining payer reimbursement. Vounatsos said that more than 50 plans have adopted coverage for Spinraza either nationally or regionally. In addition, 20 Medicaid plans are covering the drug on a case-by-case basis. He said that good progress is being made to secure reimbursement for Spinraza, adding that Biogen won't allow any patient to forgo treatment in the meantime because of lack of insurance coverage.
2. What will happen in the multiple sclerosis market?
Vounatsos mentioned that the MS market experienced a contraction in 2016. Still, Biogen reported an overall sales increase in 2016 of just under 3% for its MS franchise, thanks primarily to higher sales for Tecfidera.
There is a potential issue for Biogen's MS franchise prospects in the near term. Roche expects to receive Food and Drug Administration approval for new MS drug Ocrevus by the end of March. Biogen will receive royalty payments on sales of the drug if it's approved. However, Vounatsos wouldn't say whether Ocrevus would be a net positive or a net negative for Biogen, stating only that it will depend on the label for the drug.
Generic competition could also present a problem relatively soon. Teva is waging a legal battle over patent exclusivity for its MS drug, Copaxone. Vounatsos didn't seem to think this would impact Biogen too much. However, the company faces its own set of potential patent issues for Tecfidera. Several key U.S. patents for the drug expire next year.
Vounatsos wouldn't comment on when he thought Tecfidera would actually face generic rivals. However, he stressed that Biogen would defend its intellectual property rights and that the biotech intended to "remain a market leader" in MS.
3. Will Biogen initiate a dividend?
The short answer from Vounatsos to this question was "no." He said that "capital allocation is critical" for the company and that Biogen looks to return capital to shareholders. However, he only mentioned share buybacks in this context. According to Vounatsos, "dividends are not at the top of the priorities" for the company.
4. Why are you so optimistic about aducanumab?
Biogen turned a lot of heads in December with results from an early-stage clinical study of experimental Alzheimer's disease drug aducanumab. When asked about why he's so optimistic about the drug, Vounatsos replied, "The data speaks for itself."
Indeed, the phase 1 data was encouraging. Patients taking aducanumab experienced slower cognitive function declines than patients on placebo. This could bode well for Biogen's late-stage study of the drug, which is currently in progress.
Of course, the inevitable question came up as to why should Biogen expect better results than Eli Lilly. In November, Lilly announced that its solanezumab failed in a late-stage study targeting Alzheimer's disease. Both solanezumab and aducanumab are monoclonal antibodies that target buildup of amyloid plaque.
Vounatsos responded that the two drugs and the two studies can't be compared. He said that the drugs are different and the patient populations in the studies are different. It will be a couple of years before Biogen's late-stage study results are available. If those results are positive, the impact for Biogen would be enormous.
5. Are acquisitions on the way?
Biogen has been pretty quiet on the business development front lately. However, Vounatsos hinted that more activity has gone on behind the scenes than meets the eye. He said that Biogen does want to bolster its pipeline with additional early-stage assets.
One specific company that could be in Biogen's crosshairs is AveXis (NASDAQ: AVXS). Judging from Vounatsos' comments, it sounds like Biogen is watching the smaller biotech very closely. AveXis is developing gene therapy for treating SMA.
Vounatsos wouldn't say whether Biogen needed to acquire or partner with AveXis to gain access to its gene therapy technology. However, he somewhat cryptically mentioned that the company would announce before the end of the second quarter what it intends to do. Stay tuned.
10 stocks we like better than BiogenWhen investing geniuses David and Tom Gardner have a stock tip, it can pay to listen. After all, the newsletter they have run for over a decade, Motley Fool Stock Advisor, has tripled the market.*
David and Tom just revealed what they believe are the 10 best stocks for investors to buy right now... and Biogen wasn't one of them! That's right -- they think these 10 stocks are even better buys.
Click here to learn about these picks!
*Stock Advisor returns as of February 6, 2017
Keith Speights has no position in any stocks mentioned. The Motley Fool owns shares of and recommends Biogen. The Motley Fool recommends Bioverativ and Teva Pharmaceutical Industries. The Motley Fool has a disclosure policy.