5 Takeaways From General Electric Company's Earnings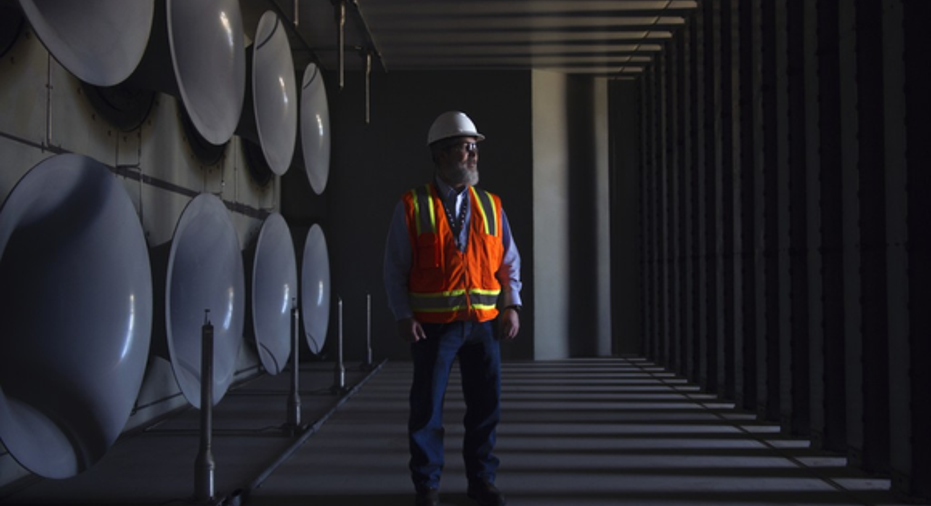 In an act of almost poetic symmetry, General Electric Company's (NYSE: GE) latest results left investors confused. Whereas in previous quarters the headline revenue guidance was down but management gave assurances that the underlying performance was fine, this time around it was the opposite. Simply put, the headline numbers were good, but the twist in the tale came from the magnitude of cash outflow in the quarter. There is a lot going on in the results, so let's take a look at the key takeaways from the earnings report.
Organic revenue growth guidance
General Electric disappointed with organic revenue growth in 2016 (starting the year with guidance for 2% to 4% growth, only to hit 1%), and in 2017 management was under pressure to maintain its guidance for 3% to 5%.
A GE gas-turbine testing facility. Image source: Chris New for GE Reports.
The good news from the first quarter: CEO Jeff Immelt affirmed the 3% to 5% target for organic revenue growth, and discussed his expectation that "strong orders" would "accelerate through the year" -- supporting the revenue expectations.
Equipment orders returned to growth
The company's industrial profits come from services and equipment sales -- services tend to come with a higher margin, and the split between services and equipment revenue was roughly 50-50 in the first quarter -- but future services revenue is largely dependent on initial equipment sales.
In this sense, the company's patchy performance on equipment orders in 2016 was a concern. However, here again, there was good news. Organic equipment orders were up 5% in the quarter, with organic services orders up 7%. On a reported basis, orders increased 11% for equipment and 8% for services.
Moreover, as you can see below, equipment orders in the four core businesses were positive in the first quarter:
Data source: General Electric Company presentations. Chart by author.
Oil and gas improving
Following a couple of difficult years in oil and gas capital spending -- largely responsible for the revenue shortfall in 2016 -- General Electric is expecting better underlying conditions in 2017. This is particularly relevant due to the investment being made in the merger with Baker Hughes Incorporated, and also due to the oil and gas acquisitions made by Immelt in recent years.
Here again, the news is positive. Oil and gas equipment orders of $0.9 billion in the quarter represented a 30% increase compared to the first quarter of 2016. Although the figure is still less than half that reported in the first quarter of 2015, it still shows year-over-year growth in a segment that's disappointed in recent history:
Data source: General Electric Company presentations. Chart by author. Orders growth is year over year.
Structural performance in Power
Going back to the disappointing fourth-quarter results, there was evidence that the power segment was also seeing some difficulties. Indeed, as Citigroup analyst Andrew Kaplowitz mentioned on the recent earnings call, there are issues which "people think [are] structural, especially in Power."
In that sense, it was important for GE to have a good quarter in the power segment, which is traditionally seen as its strength. All told, the power segment delivered a mixed quarter.
On the positive side, overall power orders were up 8%, and as you can see in the first chart above, power equipment orders were up 25% in the quarter, while services orders were flat.
On the other hand, gas-turbine orders, GE's traditional core power product, declined from 25 units in the first quarter of 2016 to just 12 units. The strength in power equipment orders came from a 25% rise in gas-power systems and a 100% rise in steam-power systems.
UBS analyst Shannon O'Callaghan asked about it on the earnings call, and here is part of Immelt's response:
Earlier, CFO Jeff Bornstein said about the power segment, "Our view for the year of mid-single-digit organic growth has not changed."
In a nutshell, GE appears to be relying on growth outside of its traditional strength in gas turbines in order to meet its power guidance. Is it sustainable?
Cash outflow
Investors were left disappointed by the $1.6 billion outflow in GE's industrial cash flow from operations (CFOA). As Bornstein outlined, it was "$1 billion below" internal expectations -- never a good thing. However, he stuck to previous guidance of $12 billion to $14 billion in industrial CFOA for the full year, and talked of a significantly better second quarter for CFOA leading to sequential improvement through the year.
One concern is with the $400 million shortfall in receivables (money that GE has a right to receive for products or services rendered), with Bornstein saying "In Power, we didn't collect on several delinquent accounts in top regions around the world, but we expect to collect these throughout the rest of the year, including in the second quarter."
Looking ahead
All told, it was a positive report from GE, but the greater-than-expected CFOA outflow is a concern, as is the underlying performance with gas-turbine orders. GE has steadied the ship with regard to revenue guidance and equipment orders, but it now needs to deliver on CFOA. In addition, GE needs to convince investors it isn't chasing revenue and orders in the power segment by collecting the $400 million receivables shortfall, in line with Bornstein's guidance.
10 stocks we like better than General ElectricWhen investing geniuses David and Tom Gardner have a stock tip, it can pay to listen. After all, the newsletter they have run for over a decade, Motley Fool Stock Advisor, has tripled the market.*
David and Tom just revealed what they believe are the 10 best stocks for investors to buy right now... and General Electric wasn't one of them! That's right -- they think these 10 stocks are even better buys.
Click here to learn about these picks!
*Stock Advisor returns as of April 3, 2017
Lee Samaha has no position in any stocks mentioned. The Motley Fool owns shares of General Electric. The Motley Fool has a disclosure policy.