5 Takeaways From Deere's Conference Call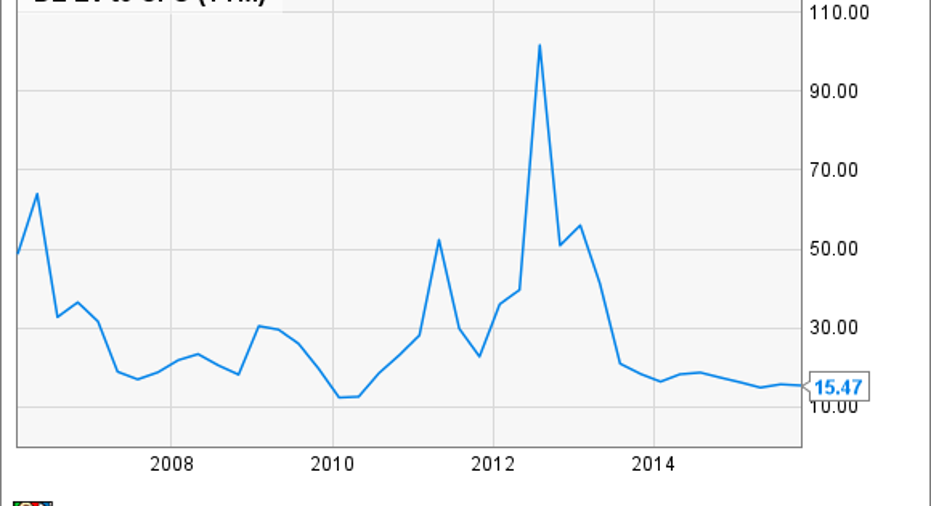 Deere & Company's recent results beat analyst expectations, and the initialuptick in the stock price served notice that despite forecasts for another year of falling sales, Deere still has upside potential. In this context, let's look at five things management wants you to know from its fourth-quarter results.
DEERE HAS BEEN STRUGGLING TO REDUCE INVENTORY OF LARGE AGRICULTURAL MACHINERY. IMAGE SOURCE: DEERE & COMPANY.
U.S. farm cash receiptsFarmers' income is the key determinant of Deere's agricultural machinery sales, and Manager of Investor Communications Susan Karlix outlined the following forecast on the earnings call: "Our 2015 forecast calls for cash receipts to be down about 8% from 2014's peak levels. Moving to 2016, we expect total cash receipts to be about $394 billion, roughly flat with this year."
Of course, this doesn't imply that sales will be flat in 2016 -- Deere's forecast is for a net sales decline of 7% in 2016 -- but it suggests that conditions are starting to bottom out.
Not encouraging leases?Deere has been increasing the amount of equipment it has in operating leases. This is potentially a problem, because it leads to a glut of used equipment that would then pressure used and new machinery prices. To quell market concerns, Karlix said:
In other words, the increase in leasing is more of a reaction to customer demands than a specific policy. No matter, as short-term leases are still increasing, whether by design or not.
Inventory situationThe other major concern is Deere's inventory. Inventory management is always a worry when companies experience falling sales, because a failure to sell inventory can lead to costly writedowns of equipment. Indeed, Credit Suisse analyst Jamie Cook asked about used inventory levels and the impact on pricing.
As part of his response, Director of Investor Relations Tony Huegel disclosed that sales of large agricultural inventory -- the hardest products for Deere to shift in the current environment -- were down 18% from the high point in 2014. In addition, Huegel said resale values were "holding on quite well," with used pricing remaining "very steady at these levels" and carrying a healthy premium to its competition.
Huegel's commentary is fine, but if competitors start to cut prices aggressively, Deere is unlikely to escape unscathed.
Price realization?One way to tell if Deere is having issues reducing inventory is to keep an eye out for any pricing pressure, and to that end, Longbow Research analyst Eli Lustgarten questioned Deere's assumption of a 2% pricing increase when the company struggled to achieve 1% in 2015.
Huegel's response was to point out that 2015's 1% was rounded down, while the 2016 forecast for 2% was rounded up. Nonetheless, it still implies an improvement on 2015's performance even as sales are set to fall again.
Better this time aroundOne of the key bullish arguments behind buying the stock is the idea that the trough in 2016 -- if that's what it turns out to be -- will be a lot higher than the previous trough during the last recession. For example, Deere's forecast for net income of $1.4 billion is significantly ahead of 2009's $874 million. In addition, the forecast for cash flow from operations, or CFFO, of $2.6 billion is 1.9 times the $1.4 billion achieved in 2009.
On valuation grounds, the 2016 forecast for CFFO of $2.6 billion would put Deere on an enterprise value (that's market cap plus net debt) to CFFO multipleof around 22. That figure compares favorably with the previous trough in 2009.
DE EV to CFFO (TTM) data by YCharts.
Where next for Deere & Company?All told, Deere is set for another difficult year, but it's far from being like 2008-2009. Moreover, given that U.S. farm receipts are forecast to be flat in the calendar year 2016, it's possible that Deere could see growing earnings again in 2017, and management appears confident in its pricing assumptions.
On the other hand, the company remains under pressure to reduce inventory, and the increases in leased equipment could hurt pricing in the future. In short, Deere is an attractive long-term stock, but not one to be bought by those worried about near-term risk.
The article 5 Takeaways From Deere's Conference Call originally appeared on Fool.com.
Lee Samaha has no position in any stocks mentioned. The Motley Fool has no position in any of the stocks mentioned. Try any of our Foolish newsletter services free for 30 days. We Fools may not all hold the same opinions, but we all believe that considering a diverse range of insights makes us better investors. The Motley Fool has a disclosure policy.
Copyright 1995 - 2015 The Motley Fool, LLC. All rights reserved. The Motley Fool has a disclosure policy.