5 Slides Every Ionis Pharmaceuticals Inc Investor Needs to See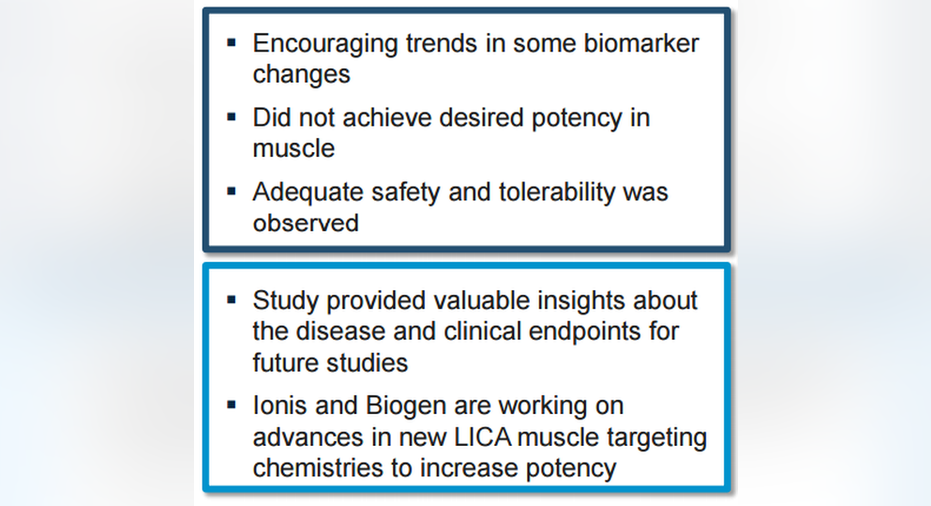 Ionis Pharmaceuticals (NASDAQ: IONS) gave investors an update on its pipeline today with a slide deck that contained a whopping 65 entries. The whole presentation is worth a listen, but here are the five slides investors absolutely must see.
1. Now that's what I call a pipeline
Image source: Ionis Pharmaceuticals.
Ionis has two drugs on the market, two more in late-stage development, and a large number of phase 2 drugs that could have proof of concept data shortly. To pay for those clinical trials, Ionis Phamraceuitcals has partnered many of its drugs while keeping some of the ones for smaller orphan indications where smaller clinical trials can be run relatively cheaply.
Even with the inevitable failures, Ionis has plenty of additional drug candidates to take their place. Check out the chart in the lower right; that's a list of drugs expected to enter the clinic in the next 18 months. It's hard to read the details, but it's the volume of drug candidates, not necessarily what diseases the new crop of drugs will treat, that investors should be excited about.
2. Thrombocytopenia under control
Image source: Ionis Pharmaceuticals.
Last May, Ionis announced that it had discovered cases of thrombocytopenia -- low blood platelet levels -- in patients taking two of its drugs. The clinical trial protocols were amended to increase testing of platelet levels, which has eliminated the occurrence of "serious platelet events."
While that's good news, and Ionis has next-generation technologies that are even more potent -- Generation 2-plus -- where it thinks the lower doses aren't causing thrombocytopenia side effects, the lack of serious events doesn't mean the current late-stage drugs aren't reducing platelet levels; it's just that patients with low-but-not-serious platelet levels can be taken off the drug, avoiding major problems.
While that's fine for clinical trials, it may make it difficult for Ionis' drugs to compete with drugs that work as well but don't have side effects that need to be monitored. Of course, for Spinraza, which Biogen (NASDAQ: BIIB) and Ionis recently got approved for spinal muscular atrophy, side effects aren't an issue because there aren't any other treatment options at the moment.
3. Check out that p-value
Image source: Ionis Pharmaceuticals.
These data come from the recently released results for the phase 3 COMAPSS trial testing volanesorsen in patients with high triglycerides. A p-value is a measure of how likely the difference is real, with 0.05 usually set as the threshold for a statistically significant difference, and anything under that being less likely that the observed difference happened by chance alone.
Even with a relatively small number of patients, Ionis was able to show beyond any doubt that volanesorsen could reduce triglyceride levels better than the placebo. Sure, management is gloating a little, listing all of those zeros after the decimal point, but it has a right to be excited about the data -- and volanesorsen's potential.
4. A bit of bad news
Image source: Ionis Pharmaceuticals.
IONIS-DMPK-2.5Rx was being tested in myotonic dystrophy type 1, which is caused by the toxic DMPK RNA. Like most of Ionis' drugs, IONIS-DMPK-2.5Rx was designed to bind to the RNA and degrade it. While Ionis and its partner Biogen saw some signs that the drug was working, it wasn't enough to justify taking IONIS-DMPK-2.5Rx further into development.
Since we know the antisense technology works, it's likely that the issue is that IONIS-DMPK-2.5Rx isn't getting into the muscles, where the toxic RNA lies. As noted on the slide, Ionis and Biogen are exploring a LigandConjugated Antisense (LICA) strategy to target a drug directly to the muscle, which should increase the potency.
5. Looking forward
Image source: Ionis Pharmaceuticals.
While Ionis' approved drugs and those in phase 3 development will dictate the biotech's near-term future, long-term results will come from the success of its next-generation technologies. Adding LICA to the molecules as well as chemistry changes in the structure between generation 2-plus and generation 2.5 lower the effective dose required to treat 50% of the population (ED50). With increased potency will hopefully come decreased side effects and the ability to target new diseases in different parts of the body.
10 stocks we like better than Ionis Pharmaceuticals When investing geniuses David and Tom Gardner have a stock tip, it can pay to listen. After all, the newsletter they have run for over a decade, Motley Fool Stock Advisor, has tripled the market.*
David and Tom just revealed what they believe are the 10 best stocks for investors to buy right now...and Ionis Pharmaceuticals wasn't one of them! That's right -- they think these 10 stocks are even better buys.
Click here to learn about these picks!
*Stock Advisor returns as of January 4, 2017.
Brian Orelli has no position in any stocks mentioned. The Motley Fool owns shares of and recommends Biogen and Ionis Pharmaceuticals. The Motley Fool has a disclosure policy.