5 Reasons Why SeaWorld Entertainment Will Bounce Back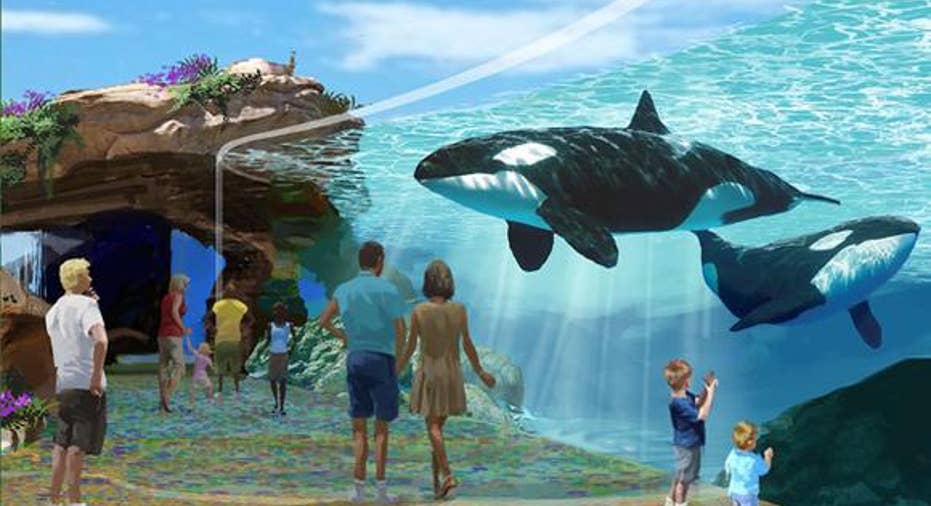 Image source: SeaWorld Entertainment.
Like most of its sea life, SeaWorld Entertainment stock went underwater yesterday. Shares of the theme park operator surrendered 5% of their value after a poorly received quarterly report.
Revenue inched 3% higher to $220.6 million for the first quarter, but SeaWorld's adjusted net loss widened in the process. The financial results exceeded analyst expectations on both ends of the income statement, but the market didn't appreciate SeaWorld's cautious tone as it heads into the telltale summer tourist season.
The cautious outlook was enough to splash down the shares. SeaWorld stock is trading lower year-to-date as a result of Thursday's dip. Let's go over some of the reasons why the shares should bounce back.
1. The turnstile clicks are turning in the right directionAttendance inched higher, growing from 3.21 million guests a year earlier to 3.3 million this time around. It's important to remember that this is a seasonal business. The first quarter accounted for just 14% of SeaWorld's attendance in 2015. However, growth is still growth.
Folks are starting to come back to the parks. SeaWorld pointed out that attendance grew at its California, Texas, and Virginia parks, partly offset by weakness in Florida. Central Florida is a pretty big deal here. It's home to two of its three most visited theme parks and two of its three most visited water parks. However, after back-to-back years of 4% attendance declines were followed by a 0.3% uptick in 2015 we're seeing the first signs of material growth in visitors.
2. The top line is starting to move in the right directionPosting a 2.6% uptick in year-over-year revenue growth may not seem like much, but it's been a long time since SeaWorld has delivered this kind of growth. You actually have to go all the way back to the holiday quarter of 2013 to find the last time that SeaWorld has posted headier growth,accordingtoS&P Global Market Intelligencedata.
3. SeaWorld's radical decision is pleasing some activistsThe theme park operator stunned the industry by announcing an endto its active orca breeding program. It's also in the process of winding down its iconic killer whale performances. It was enough to turn the Humane Society of the United States into a partner and ended its legal tussle with the California Coastal Commission.
It didn't please everyone. PETA is still calling for the remaining whales to be moved to sanctuary pens to live out their lives. However, the end of the breeding program and eventual end of orca performances eliminates most of the activist ammo. SeaWorld may not be checking off all of the items on the wish list of Blackfish viewers, but it will make it less likely that folks visiting the parks will be greeted by picketers or a social media backlash.
4. The stock is cheaper than its peersSeaWorld has traded at a cheaper valuation than its theme park peers, but it's also a bargain when pitted against smaller regional operators. The stock trades at lower revenue and EBITDA multiples than Cedar Fair and Six Flags , and that was true even before Thursday's decline that made it even cheaper. Cedar Fair, Six Flags, and SeaWorld also shell out generous dividends, and yesterday's stock drop pumps up SeaWorld's yield to 4.5%.
None of this would matter if fundamentals were going the wrong way, but we're seeing revenue and attendance move higher. Profitability has been held back, but things would be challenging for anyone trying to combat a deluge of negative perceptions and ramp up the development of new park attractions.
5. SeaWorld's outlook may not be as gloomy as you might thinkThe real dagger behind Thursday's drop was the meandering park operator's guidance. It initiated guidance for 2016, calling for adjusted EBITDA of $335 million to $365 million. The midpoint of that range is lower than last year's $361.1 million in adjusted EBITDA and even the high end falls short of 2014's haul of $370.1 million.
SeaWorld also struck a cautionary tone about attendance at its Florida parks being affected by a slowdown in Latin American tourists into Central Florida. It was also glum about the timing of the Memorial Day holiday weekend later this month shortening the peak summer travel season.
Orlando welcomed a record 66 million guests last year, and there's little reason to expect the trend to end with its larger theme park rivals adding so many new attractions this year. SeaWorld Orlando is also getting its first new thrill ride in seven years in a few weeks.
The late arrival of Memorial Day this time around may seem troublesome. Cedar Fair reported financial results a day earlier, and its earnings release didn't lean on the holiday as a scapegoat. However, everything seems to be falling into place for a strong summer in Central Florida. SeaWorld seems to be giving itself a way out if it falls short this summer, but everything from low gas prices to the end of the social stigma of millennials visiting SeaWorld parks suggest that this summer will play out considerably better than that.
The article 5 Reasons Why SeaWorld Entertainment Will Bounce Back originally appeared on Fool.com.
Rick Munarriz owns shares of SeaWorld Entertainment. The Motley Fool has no position in any of the stocks mentioned. Try any of our Foolish newsletter services free for 30 days. We Fools may not all hold the same opinions, but we all believe that considering a diverse range of insights makes us better investors. The Motley Fool has a disclosure policy.
Copyright 1995 - 2016 The Motley Fool, LLC. All rights reserved. The Motley Fool has a disclosure policy.