5 Reasons Ionis Pharmaceuticals Is a Top Stock to Buy Now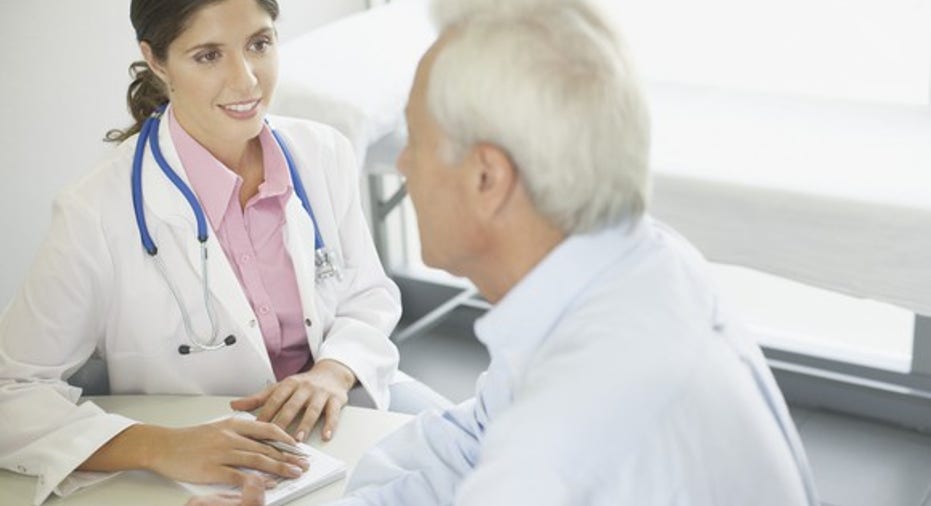 Image source: Getty Images.
Given a huge pipeline of drugs in various stages of development, it isn't easy to pin a number on Ionis Pharmaceuticals, Inc. (NASDAQ: IONS). Any way you slice it, though, the sum of this drugmaker's parts seems much larger than its $3.1 billion market cap.
Here are five easy-to-understand reasons why this biotech stock is a buy right now.
1. Spinal muscular atrophy
Although spinal muscular atrophy (SMA) is the most common genetic cause of infant mortality, thousands of people affected by the devastating disease are still waiting for an effective treatment. Their wait is widely expected to end in the months ahead. The FDA is currently reviewing an application for nusinersen, a drug discovered by Ionis Pharmaceuticals and developed with help from Biogen (NASDAQ: BIIB), which showed a significant benefit in infants with the most severe form of the disease.
Nusinersen helps SMA patients produce a specific protein that they can't produce in sufficient quantities themselves. The most severely affected hardly produce any, but even the larger population that produces some of the protein eventually requires assistance breathing.
Image source: Getty Images.
More recently presented data suggests nusinersen can significantly benefit the wider SMA population, pushing up peak annual sales estimates for the drug from around $1 billion to the neighborhood of $2.5 billion. New drug launches can be more unpredictable than clinical-trial results, but that's Biogen's concern now. Ionis gets to focus on other drugs, while collecting milestone revenue and tiered royalties up to the mid-teens.
2. Lipid disorders
There's a good chance nusinersen revenue from Biogen can drive Ionis to sustainable profitability while it carries a group of wholly-owned candidates aimed at rare lipid disorders to the finish line. In the lead is volanesorsen for treatment of two rare inherited lipid disorders, and for a larger population of patients who have diseases without a genetic basis.
Ionis is conducting three late-stage trials of volanesorsen, two of which have already completed enrolling patients. The drug performed well in smaller mid-stage trials. If late-stage data remains consistent when it begins rolling in during the first half of next year, it could send the stock soaring.
3. Transthyretin amyloidosis
Ionis-TTRRx is another partnered drug candidate in late-stage development for related disorders with a genetic component. For this program, GlaxoSmithKline is playing backseat driver while the world waits for more data.
The partnered candidate is designed to limit production of the transthyretin protein, which misfolds and aggregates in various tissues of around 250,000 patients worldwide. Ionis-TTRRx effectively reduces transthyretin production, reducing the damage caused by plaques of the misfolded protein.
Image source: Getty Images.
Unfortunately, transthyretin also plays a vital role carting vitamin A and a thyroid hormone around the body. Earlier this year the FDA paused a late-stage trial with patients suffering heart damage due to the disease. GlaxoSmithKline has since decided to wait for results from a late-stage trial in patients at risk of nerve damage, which represents a small percentage of the total population with transthyretin amyloidosis.
Investors will want to keep a close eye on the safety data. If Ionis-TTRRx can strike the right balance of efficacy and safety, it could be another huge catalyst for the stock. If it's too dangerous, though, Glaxo could walk away.
4. Overflowing pipeline
While Ionis Pharmaceuticals' late-stage lineup alone justifies its recent market cap, there's plenty more coming through the pipe. The company boasts over a dozen drugs in mid-stage development, and intends to add three to five new drugs to its pipeline every year.
Roughly two-thirds of drugs commercialized by big pharma companies in recent years were discovered outside of their own laboratories. In years past, Ionis has been a virtual shopping center for deep-pocketed drugmakers looking to bulk up their own pipelines. The company has masterfully reinvested upfront, and used milestone payments from its partners, to build a clinical-stage pipeline larger than those of all but a handful of other drugmakers.
5. A long cash runway
While Ionis Pharmaceuticals' pipeline is enormous, its operating expenses are relatively modest. Over the last four reported quarters, the company's operations burned through just $215 million. With $587 million in working capital at the end of June, and nusinersen-related payments from Biogen probably around the corner, Ionis has a solid chance of reaching profitability without diluting shareholders or taking on more debt.
Image source: Getty Images.
Since 2007, Ionis has pocketed around $1.8 billion in cash from its partners, and potential payments from existing deals total roughly $11.5 billion. While many of those potential payments are unlikely to be realized, you'd be hard-pressed to find another biotech with half as many paths to profitability. It's not entirely risk-free, but at recent prices, this biotech stock is a bargain.
10 stocks we like better than Ionis Pharmaceuticals When investing geniuses David and Tom Gardner have a stock tip, it can pay to listen. After all, the newsletter they have run for over a decade, Motley Fool Stock Advisor, has tripled the market.*
David and Tom just revealed what they believe are the ten best stocks for investors to buy right now and Ionis Pharmaceuticals wasn't one of them! That's right -- they think these 10 stocks are even better buys.
Click here to learn about these picks!
*Stock Advisor returns as of October 3, 2016
Cory Renauer has no position in any stocks mentioned. You can follow Cory on Twitter @TMFang4apples orLinkedIn for more healthcare industry insight.
The Motley Fool owns shares of and recommends Biogen and Ionis Pharmaceuticals. Try any of our Foolish newsletter services free for 30 days. We Fools may not all hold the same opinions, but we all believe that considering a diverse range of insights makes us better investors. The Motley Fool has a disclosure policy.