5 Reasons Disney World Will Win in 2016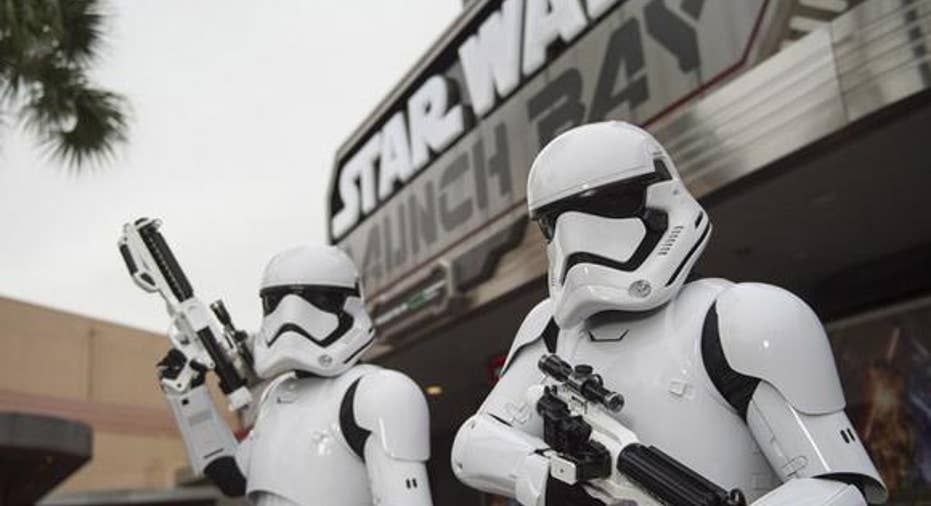 Source: Disney.
There's a disturbance in the force. Disney has been adding a lot of Star Wars-themed experiences to its theme parks ahead of this week's debut ofStar Wars: The Force Awakens. It's just getting started.
Disney's hard at work on new additions to its massive Disney World resort in Florida. Folks will have to wait a few years for Toy Story Land, Avatar's Pandora, and the highly anticipatedStar Wars Landto debut. However, there will be plenty of neat things going up in 2016.
Let's go over a few of the planned enhancements to Disney World that should deliver yet another year of record attendance.
Frozen ever after: EpcotMaelstrom, one of the two rides in Epcot's World Showcase, closed in 2014. It will reopen early next year as a Frozen-themed ride, incorporating the same Viking ships and water flume that was part of the classic water ride in Epcot's Norway pavilion.
There has been some controversy with the addition. The movie takes place in the fictional Arendelle, and it's easy to see why Norwegians aren't tickled by the addition. It will still be a crowd favorite, featuring all of the characters of the sleeper hit movie and many of its once irresistible tunes.
45th anniversary celebrationDisney's Magic Kingdom will have opened 45 years ago come October, and the world's largest theme park operator has a habit of playing up round milestones. Disney will have to do something come late 2016, especially since the discontinuation of the Osborne Spectacle of Dancing Lights at Disney's Hollywood Studios after this year's holiday season will create a void.
Rivers of Light: Animal KingdomThe oft-delayed Pandora: The World of Avatar should open by 2017 with a thrilling flying banshee ride and a gentler boat ride, but it's not the next thing to open at Animal Kingdom. Rivers of Light will be a waterfront nightly show with music, lights, and projections on water screens that celebrate the animal realm. Along with nighttime safari rides that will be available on Kilimanjaro Safari
Soarin' Around the World: EpcotAnother Epcot attraction that will be receiving an update is Soarin', the popular flight simulator that takes guests over the sights, sounds, and even scents of California. It will close in early 2016, paving the way for a summer reopen with global vistas replacing California's wonders.
Disney is expecting an uptick in interest, and it's in the process of adding an additional theater -- going from two simulators to three -- to help provide some relief for the long lines.
Disney SpringsDowntown Disney has been the resort's massive shopping and entertainment district for years, but it was renamed and refashioned earlier this year as Disney Springs. We've already seen some celebrity chef eateries and even an Indiana Jones-themed bar open in recent weeks. The renovation will continue into 2016 with new restaurants, shops, and a massive The NBA Experience themed restaurant in the works.
Getting folks to head out to its shopping, dining, and entertainment district after a day at the park should be a big driver for its theme parks division's results. Disney will get it right. It usually does.
The article 5 Reasons Disney World Will Win in 2016 originally appeared on Fool.com.
Rick Munarriz owns shares of Walt Disney. The Motley Fool owns shares of and recommends Walt Disney. Try any of our Foolish newsletter services free for 30 days. We Fools may not all hold the same opinions, but we all believe that considering a diverse range of insights makes us better investors. The Motley Fool has a disclosure policy.
Copyright 1995 - 2015 The Motley Fool, LLC. All rights reserved. The Motley Fool has a disclosure policy.