5 Reasons American Water Works Is a Buy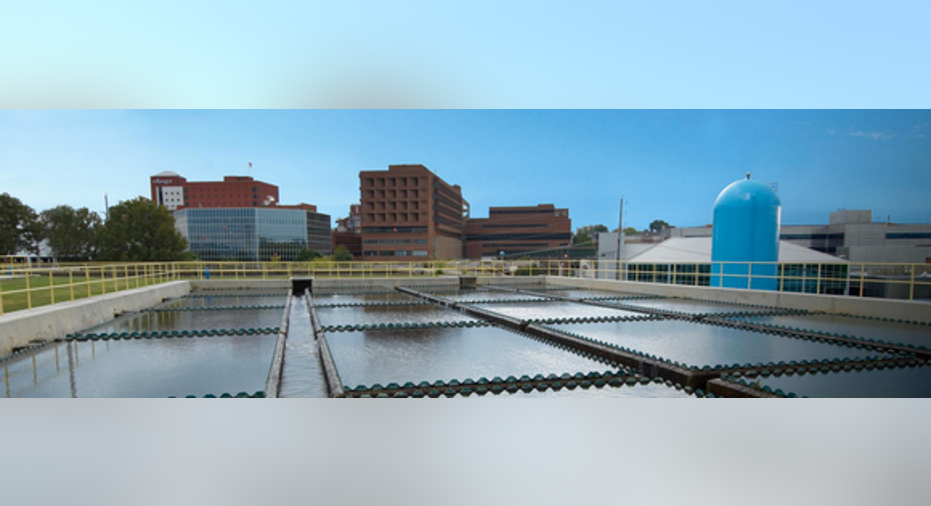 Image source: American Water Works.
Scared to dive in because a stock is at an all-time high? You'd be better off reconsidering. You may not need to be not so dismissive. After all, this may be a harbinger of greater highs to come. Currently trading at an all-time high, American Water Works is up more than 32% over the past 52 weeks while the S&P 500 is up only 1% over the same period. Think you missed the boat? Think again. Now is as good a time as any to pick up shares.Dripping with valueAlthough American Water Works may seem expensive, this is an overly simplistic perspective. It currently trades at about 27 times earnings -- fairly high, since its five-year average P/E is a little over 20, according to Morningstar; however, it's lower than the 28.4 multiple that Morningstar identifies as the industry average.
AWK P/E Ratio (TTM) data by YCharts
Directly comparing American Water with its peers presents the company as even more of a bargain. Shares of its largest competitor,Aqua America, for example, appear much more expensive, trading a little less than 7 times sales. American Water trades a little over 4 times sales. Again, compared to itself, American Water appears expensive, since its five-year average P/S is 2.6, but, in context of the industry average -- trading at 4.1 times sales -- the company seems more reasonably priced.
Smooth sailing aheadRarely making headlines, the water industry isn't the sexiest of businesses.
Source: American Water.
However, as a regulated business, it affords the ability to forecast with a fair degree of certainty. American Water's management, for example, has high hopes for the next five years. Improving its O&M efficiency ratio (a non-GAAP metric similar to operating margin) by 830 basis points since 2010, management has successfully reined in expenses and squeezed increasing drops of profit from its revenue. It sees further room for improvement -- about 190 basis point of improvement -- dropping the ratio to 34% by 2020.Speaking of profit, the company has reported consistent growth. From diluted EPS of $1.46 infiscal 2010 to fiscal 2015 when it reported diluted EPS of $2.64, the company has achieved a compound annual growth rate (CAGR) of 10.4%. For fiscal 2016, management forecasts earnings in the range of $2.75 to $2.85. And looking further out to 2020, management forecasts EPS growth of 7% to 10%.Still waters run deepProfits are important, but investors also want to see that the profits result from management's effective use of both shareholders' money and money that the company invested in itself. By both metrics, American Water seems mediocre compared with its peers -- Aqua America and American States Water Company are the standouts.
AWK Return on Equity (TTM) data by YCharts
But look again. In comparing American Water both to itself and its peers -- Aqua America, American States Water, Companhia de Saneamento Basico do Estado de Sao Paulo , and California Water Service Group --the company rises to the top.
AWK Return on Equity (TTM) data by YCharts
American Water's superior performance and the declining performance of its peers suggest that in the near future, the company will be on top. And for long-term investors, that suits us just fine.More than drops in the bucketOne of the most appealing aspects of investing in a utility is the dividend. From fiscal 2010, when it paid dividends of $0.86 per share to fiscal 2015, when it paid $1.33 per share, the company achieved a CAGR of 9%. More recently, the company raised its quarterly dividend to $0.34 per share, which marks roughly a 10% increase over the $0.31 it distributed in May 2015. Management states that it intends to keep future dividend increases aligned with EPS growth, and, with a current payout ratio of about 50% -- the lower end of its intended range of 50% to 60% -- the company seems to be safe.An ocean of advantageAlthough bigger doesn't necessarily mean better, in American Water's case, it does provide a competitive advantage to its competitors. The company provides water services to about 15 million customers in 47 states, plus Washington, D.C., and Ontario. Aqua America, on the other hand, provides service to 3 million people in seven states. The geographical diversity of the company's operations mitigates the risk associated with adverse regional weather conditions -- unlike American States Water Company and California Water Service Group concentrated in California, currently suffering from a historic drought.Additionally, the geographic diversity affords the company substantial opportunity to make acquisitions -- a key component of its growth strategy -- for it seeks businesses in proximity to areas where it already has operations.In 2015, the company went on a $64 million shopping spree of 14 transactions for its regulated business. It also expanded its market-based business segment with its $133 million acquisition of Keystone -- a water management solution company providing service to natural gas exploration and production companies in the Appalachian Basin.The takeawayAmerican Water, at first glance, may not seem attractively priced, but first impressions can be deceiving. Compared with its peers and itself, the company's shares appear more attractively priced, and its commitment to improvement over the next five years should be reassuring to investors with a longterm horizon. Although this is a comprehensive look at the company and the thesis for investment is compelling,digging deeper is always advised.
The article 5 Reasons American Water Works Is a Buy originally appeared on Fool.com.
Scott Levineenjoys water and has no position in any stocks mentioned. The Motley Fool recommends Companhia de Saneamento Basico (ADR). Try any of our Foolish newsletter services free for 30 days. We Fools may not all hold the same opinions, but we all believe that considering a diverse range of insights makes us better investors. The Motley Fool has a disclosure policy.
Copyright 1995 - 2016 The Motley Fool, LLC. All rights reserved. The Motley Fool has a disclosure policy.