5-Point Checklist for Investing in the Internet of Things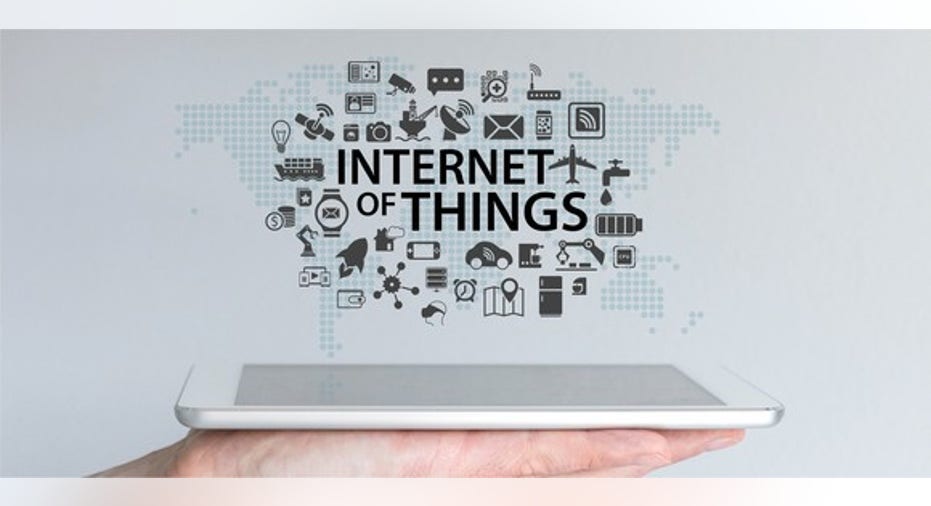 Image source: Getty Images.
You've likely heard about the Internet of Things (IoT) at some point, but pinning down exactly what it is and how you might be able to benefit is another story. First and foremost, the IoT is simply the connection of formerly unconnected things (like a watch) to the internet (which makes it smartwatch!).The IoT also includes adding sensors to things like manufacturing processes so that factories can be more automated.
Essentially, anything that can be automated or have data extracted can be added to the IoT.But getting started in this massive technology sector can be understandably overwhelming. Let's break it down into five easy-to-digest steps for getting started.
1. Know what it's worth
Let's begin with the kicker: The IoT is projected to be worth $7.1 trillion by 2020. Yes, trillion. And that's just a conservative estimate. Cisco Systemsthinks that number could climb as high as $19 trillion by 2025.
The sheer amount of devices that will eventually be connected to the internet is staggering as well, with Cisco predicting that there will be 50 billion IoT devices by 2020. This includes things like self-driving vehicles (of which there will be likely 10 million by 2020)that connect to the cloud for maps services and vehicle-to-vehicle (V2V) communications.
Worldwide conglomerate General Electric (NYSE: GE)is focusing its attention on the IoT by developing software for industrial machinery. The company says the Industrial Internet (a subset of the larger IoT) will add $15 trillion to global growth by 2030.No matter which estimate you prefer, it's clear the Internet of Things will be a huge market.
2. Understand the risks
The first IoT risk is simply that the predictions for the IoT could be too lofty and the market could fail to reach its full potential. But there are also practical risks to the IoT, including privacy and security.
Most recently, the Mirai botnet attack that caused major website outages last month for The New York Times, PayPal, Twitter, Netflix, and others was caused by hackers tapping into hundreds of thousands of internet-enabled devices with poor security. Many IoT devices are inexpensive, so the focus on security and privacy aren't typically a company's first priority.
And even large companies that have global brands and millions of customers have gotten internet-enabled devices wrong. Think of FiatChrysler's Jeeps that were hacked by Wiredlast year so that they could be completely controlled remotely. That resulted in 1.4 million vehicles getting recalled so that they could be fixed.
Problems like this could end up stifling IoT developments or hurt company profits if customers find IoT devices unsafe, or think they fail to adequately protect privacy.
3. Pick a subsector
Many tech companies are tapping into the Internet of Things, including semiconductor companies, sensor makers, software analytics companies, and even conglomerates like GE.
Narrowing down a to a specific sector will depend on what level of exposure you want your investment to have to the IoT. For example, GE is investing heavily in the IoT and has already earned about $6 billion from its analytics software, but that still only represents about 4.5% of the company's total revenue. Meanwhile, small sensor makers will likely have much more exposure to the IoT -- which comes with both more risks and the potential for more rewards.
4. Narrow it down to a few key players
The IoT encompasses a lot of different companies, so it could be difficult narrowing down which company may be best to invest in. To help you get started, let's talk briefly about two very different companies in the IoT space: Amazon.com (NASDAQ: AMZN) and GE.
Amazon might not be your first guess for a top IoT investment, but the company is making huge strides in the space. Last year, Amazon launched its Dash Replenishment Service (DRS) which allows home electronics to automatically order household goods (like washing machine detergent) directly from Amazon.
The company also has its Echo speaker that acts as a home automation hub through its Alexa virtual assistant. With third-party integration, Alexa can dim the lights, play music, turn on sprinklers, and control many parts of a smart home.
But one of Amazon's biggest pushes into the IoT its through its Amazon Web Services (AWS) for IoT. The AWS IoT platform allows devices to easily and securely interact with cloud-based applications and other devices. AWS is already a popular service for companies looking for web hosting, and Amazon could tap into this further with AWS IoT.
But if there's one solid bet on the IoT it's probably GE. I've mentioned the company several times already, but that's because GE has already wisely invested in building out a strong IoT business. Its software analytics business already brings in $6 billion in revenue, and CEOJeff Immelt said last year, "On our current trajectory,GE is on track to be atop 10 software company."
Research from BI Intelligence shows that the industrial sector is currently where most of the benefits of IoT are being realized, which means that GE is in a perfect position to continue to benefit.
5. Remember this is a long-term approach
The Internet of Things will likely transform everything around us, from how we drive our cars to how our food is grown, but those transformations will take some time. That's why it's good for investors to remember to take the long-term approach with the IoT. Many companies are just now implementing their IoT strategies for the coming years, and that means that it could take a while before they see significant gains from their investments.
10 stocks we like better than Amazon.com When investing geniuses David and Tom Gardner have a stock tip, it can pay to listen. After all, the newsletter they have run for over a decade, Motley Fool Stock Advisor, has tripled the market.*
David and Tom just revealed what they believe are the 10 best stocks for investors to buy right now... and Amazon.com wasn't one of them! That's right -- they think these 10 stocks are even better buys.
Click here to learn about these picks!
*Stock Advisor returns as of November 7, 2016
Chris Neiger has no position in any stocks mentioned. The Motley Fool owns shares of and recommends Amazon.com, Netflix, PayPal Holdings, and Twitter. The Motley Fool owns shares of General Electric. The Motley Fool recommends Cisco Systems. Try any of our Foolish newsletter services free for 30 days. We Fools may not all hold the same opinions, but we all believe that considering a diverse range of insights makes us better investors. The Motley Fool has a disclosure policy.