5 Must-Read Comments From CVS Health's Executive Team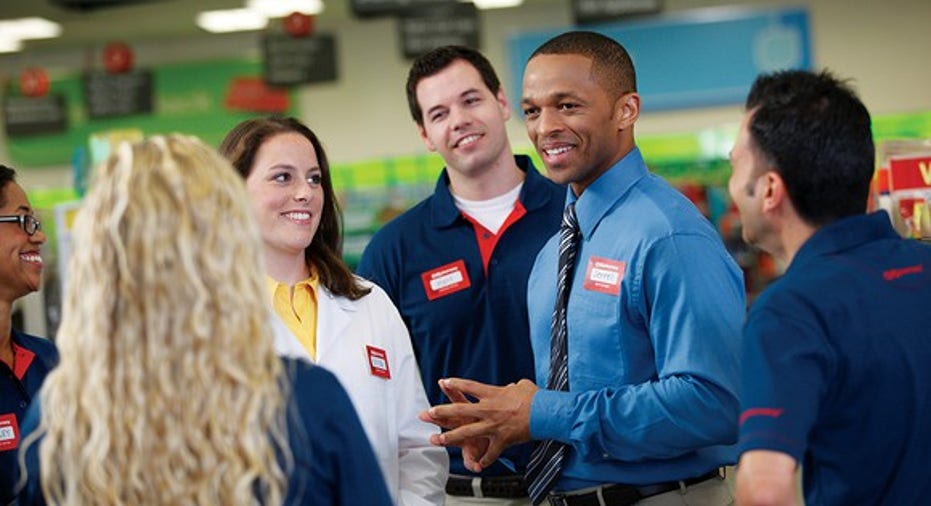 Image source: CVS Health.
CVS Healthrecentlyreportedits first-quarter 2016 financial results, and the headline numbers looked solid. Revenue jumped more than 18% year-over-year to $43.2 billion, and adjusted earnings per share came in at $1.18, topping management's guidance range by a penny.
While a quick glance at the results looked good, it's still important for shareholders to hear the company's investor call so they can get a more detailed look at how the business is performing. With that in mind, here are five key takeaways from the investor call that all CVS Health shareholders should know.
1. Our pharmacy benefits management business is on fire...
Although most consumers are more familiar with CVS Health's retail pharmacy stores, the lion's share of its revenue actually comes from its pharmacy benefit management business. This division helps governments, employers, unions, and other institutions lower their pharmacy costs, and the business is performing wonderfully.
Revenue from the PBM division came in at $28.8 billion for the quarter, 20.5% higher than in the same quarter in 2015. While the growth was primarily driven by last year's $12.7 billion Omnicare acquisition, the company also saw healthy market share gains from its specialty pharmaceuticalbusiness and an overall increase in volume.
Here's CVS Health CEO Larry Merlo giving investors more color on how the company's PBM business is performing:
He also went on to say that the company is seeing more requests for proposals, or RFPs, than it did in the year-ago period, which bodes well for this division's continued growth.
2. ...and our retail stores areperforming well, too
Sales from CVS Health's retail empire grew a strong 18.6% in the quarter and came in at more than $20 billion. Once again, acquisitions played a major role in the growth: CVS' $1.9 billion purchase of Target's pharmacy and clinic business last year expanded its footprint count by more than 20%. However, acquisitions weren't the only growth driver, as same-store sales ticked up by 4.2% during the quarter.
The main growth driver of CVS's same-store sales growth appears to be prescription volume growth as the company continues to peel away market share from competitors like Rite Aid .
Here's CEO Merlo again giving more details on the company's retail store performance:
For comparison, same-store sales at Rite Aid decreased by 0.6% last quarter, driven by a 0.8% decline in pharmacy sales. That could be caused by the company's management team being distracted by its pending merger with Walgreens Boots Alliance;Rite Aid is still expecting the deal to close later this year.
3. Declining margins are holding back our profitability growth
With revenue growth from its two main business segments up so much, you might assume that earnings would also take a significant jump forward. That didn't happen, as the adjusted earnings per share of $1.18 was only up about 4% compared to the year-ago period.
Image source: CVS Health.
Management stated that the company's profitability is being held back by a combination of lower gross margins and acquisition-related costs.
Here's CFODave Denton giving investors more details about the declining margins in its PBM business:
CFO Denton also provided more color on its retail division margin performance:
4. Our acquisition integrations remain on track
Management previously commentedthat although converting all of the Target stores to CVS Health's branding was consuming a lot of the company's internal resources, the conversion should be completed by the middle of 2016.
Here's CEO Merlo's most recent update on how the conversions are progressing:
5. We are poised for a year of strong growth
With the company executing on its growth plans, management reaffirmed its adjusted earnings per share guidance range of $5.73 to $5.88 for the full year. That represents a growth rate of 11% to 14% over 2015 results and implies that profitability will pick up strongly in the back half of the year.
CFO Denton also gave some details about how CVS took advantage of its weak first-quarter share price performance:
In total, CVS Health had a great quarter and has a solid plan in place to continue to grow from here. For that reason, I continue to think this company's stock is a great choice for any investor looking to increase their exposure to the healthcare sector.
The article 5 Must-Read Comments From CVS Health's Executive Team originally appeared on Fool.com.
Brian Feroldihas no position in any stocks mentioned.Like this article? Follow him onTwitter where he goes by the handle@Longtermmind-setor connect with him onLinkedInto see more articles like this.The Motley Fool recommends CVS Health. Try any of our Foolish newsletter services free for 30 days. We Fools may not all hold the same opinions, but we all believe that considering a diverse range of insights makes us better investors. The Motley Fool has a disclosure policy.
Copyright 1995 - 2016 The Motley Fool, LLC. All rights reserved. The Motley Fool has a disclosure policy.