5 Key Things Investors Should Know From Disney's Q1 Earnings Call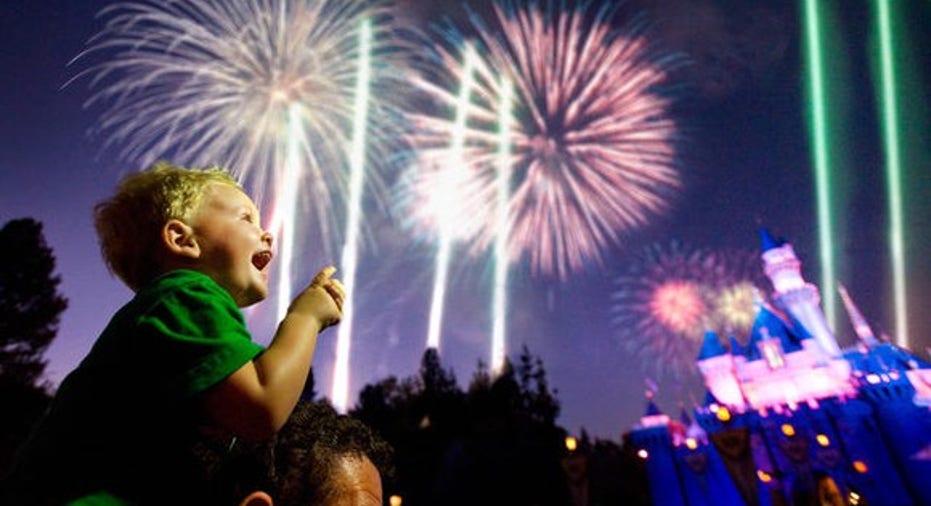 Last week,Walt Disney (NYSE: DIS) reported fiscal first-quarter results that were respectable, given the tough comparables it faced, due primarily toStar Wars: The Force Awakens, and the shifting of bowl games and New Year's Day into different fiscal quarters.
This article's purpose isn't to rehash the results -- you can read my take on themhere -- but to share key information discussed on the company's analyst conference call.Here are five things investors should know.
Image source: Disney.
1. CEO Bob Iger open to extending his tenure beyond 2018
From Iger's remarks:
Iger is scheduled to retire as chairman and CEO at the end of June 2018. His statement above that he's open to postponing his retirement again should go a long way in helping to ease any market concerns about Disney's succession plan.
2. Shanghai Disney on track to breakeven in fiscal 2017
Iger shared great news about Disney's massive new Chinese theme park that opened last June:
If we take Iger's words at face value, it seems the financial performance of Shanghai Disney was even stronger in the first quarter than the company was projecting at the time of the previous quarterly earnings call. At that time, CFO Christine McCarthy said the company expected the new park to be "very close to breakeven" for fiscal 2017. It now appears that it's on track to actually breaking even, though, of course, it's early in the fiscal year.
Regardless of whether Shanghai Disney breaks even or comes very close to doing so this fiscal year, it will be a tremendous achievement. Certainly it bodes extremely well for fiscal 2018, when the park should be contributing nicely to Disney's profits.
3. Expect aggressive moves in direct-to-consumer streaming space
From Iger's remarks to an analyst's question asking about how the company was thinking strategically about the distribution side of its media business:
Disney's cable business has been a hot topic for about a year and a half due to concerns about declining subscriber counts, particularly for lucrative ESPN. The availability of subscription video streaming services has resulted in someconsumers cutting the cable cord or slimming their large cable bundles. Iger's comment above leaves little doubt that we can expect Disney to aggressively enter the direct-to-consumer streaming space.
First on its streaming docket is using technology from its 33% stake acquired last fall in BAMTech to launch a direct-to-consumer ESPN-brandedmultisport subscription streaming service. Iger said on the call that the target date remains 2017.
Image source: Getty Images.
4. More licensing of original TV programming is possible
From Iger's remarks about a potentially significant future revenue source that seems to fly under the radar of many investors:
Iger's comments were made in the contextof a discussion about kids TV programming. He said thefuture of Disney's kids programming will probably be a blend of traditional linear cable channels; third-party licensing arrangements, including with video streaming services such as Netflix and Amazon's Prime; and some direct-to-consumer streaming offerings. (We can probably assume this future blend holds true for the company's programming in general.) His comment quoted above was reminding investors that in addition to licensing the company's existing content, Disney can also develop original programming for licensing.
The Netflix-Marvel deal he referenced is a multiyear agreement inked in 2013 for Disney to provide Netflix with four new live-action series, each with 13 episodes, based on Marvel charactersfollowed by a miniseries based on Marvel's The Defenders franchise. The shows started becoming available on Netflix in 2015.
5. Room for domestic park price increases (which happened on Sunday)
Iger responded affirmatively to an analyst who asked if there was a near-term opportunity to further increase single- or multi-day ticket prices:
The news of what appeared to be imminent ticket price hikes was surely welcome news to investors, as recent financial results in the parks and resorts business appear to back up management's view that consumers weren't tapped out on this front.
Indeed, Disney just announced on Sunday that Disney World and Disneyland are increasing single-day tickets by $2 to $5 at certain times of the year and setting expiration dates with the goal of preventing overcrowding during the parks' busiest times.
10 stocks we like better than Walt DisneyWhen investing geniuses David and Tom Gardner have a stock tip, it can pay to listen. After all, the newsletter they have run for over a decade, Motley Fool Stock Advisor, has tripled the market.*
David and Tom just revealed what they believe are the 10 best stocks for investors to buy right now... and Walt Disney wasn't one of them! That's right -- they think these 10 stocks are even better buys.
Click here to learn about these picks!
*Stock Advisor returns as of February 6, 2017
Beth McKenna has no position in any stocks mentioned. The Motley Fool owns shares of and recommends Amazon, Netflix, and Walt Disney. The Motley Fool has a disclosure policy.