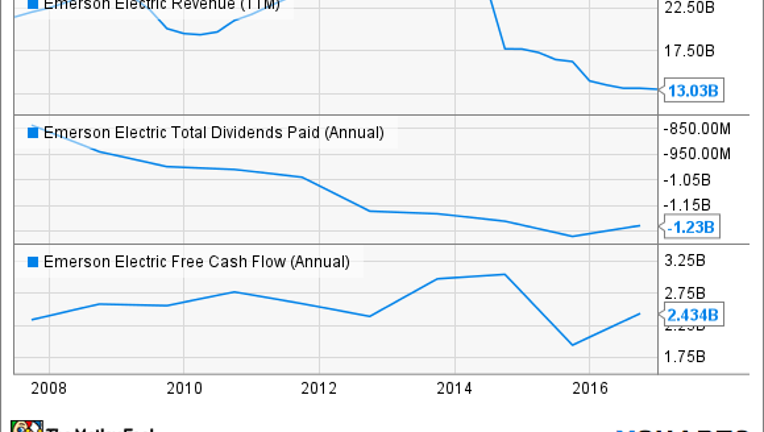 Emerson Electric Co.'s(NYSE: EMR) 3.2% dividend yield and 60-year history of increasing dividend payments makes it an income investor's favorite. However, following the divestitures of the network power segment and two industrial automation businesses, and a tough 2016 in which underlying sales fell 7%, investors might be concerned about its dividend growth prospects. Simply put, Emerson needs to get back to growth. With this in mind, here are some key takeaways from management's recent presentation.
Orders are coming back
In common with other industrial companies like Rockwell Automation (NYSE: ROK)andGeneral Electric Company (NYSE: GE), Emerson has significant exposure to the oil and gas industry -- something that hurt all three companies in 2016. However, there is a growing consensus that energy capital spending is in recovery mode following deep cuts in the last two years. As a consequence,Rockwell raised its 2017 organic growth forecast, while GE's organic oil and gas orders grew for the first time in two years in its fourth quarter.
Meanwhile, the latest trailing-three-month order data from Emerson supports the idea that the company, and oil and gas spending, is in recovery mode.
Data source: Emerson Electric presentations.
Sales trends are favorable
While management's forecast for underlying sales growth in 2017 is superficially disappointing -- in the range of a 2% decline to flat -- the underlying trend is good. In fact, on the investor day presentation in February, management estimated that underlying sales growth would turn positive in the third quarter -- something to look out for when Emerson Electric reports earnings.
Data source: Emerson Electric presentations. Chart by author.
Margins are growing
Back on the fourth-quarter earnings call, CEO David Farr referred to rising cost pressure in 2017, sparking concern that margins would come under pressure.
However, in the investor day presentation in February, Farr estimated that both gross margin and earnings before interest and tax (EBIT) margin would rise in 2017. Full-year gross margin is expected to increase to around 43.4% from 43.1% in 2016, and EBIT margin from 17.2% to 17.9%. It's a good sign in a year in which overall sales are expected to decline 3% to 1%, and also an indication that when sales eventually start to grow again, Emerson might be able to leverage revenue growth into strong earnings growth.
Dividends are stable...
The effects on revenue and free cash flow (FCF) from Emerson's end-market slowdown and the divestitures can be seen below, and given the importance of dividends to income investors, it's important to look at management's projections.
EMR Revenue (TTM) data by YCharts.
As you can see above, dividends paid to shareholders were around $1.23 billion in 2016. Based on management's projections for $2.5 billion in operating cash flow and $475 million in capital expenditures in 2017, FCF is likely to be around $2.025 billion in 2017. This would mean the 2016 dividend alone would represent slightly more than 60% of FCF -- management has previously stated an intent for a ratio of 40% to 50%. In other words, while the dividend is well covered, don't expect much dividend growth in the next five years.
...but don't expect much dividend growth
Management's projection of $2.7 billion in FCF in 2021 means that, based on a dividends paid/FCF ratio of 50%, dividends paid would be $1.35 billion in 2021 -- a figure only 9.7% ahead of what was paid in 2016.
Furthermore, when a company is paying out a high amount of its FCF in dividends, it reduces the company's financial firepower to make earnings- and cash-flow-enhancing acquisitions. In a nutshell, dividend growth is likely to be very moderate for the next five years.
Emerson Electirc Co needs oil and gas capital spending to come back. Image source: Getty Images.
What income investors can expect from Emerson Electric
All told, if you want a steady, 3% dividend yield, the current stock price is attractive, but don't expect too much in terms of growth going forward. Moreover, while Emerson Electric's end markets are on an uptrend, much of it is contingent on oil prices stabilizing and energy capital spending increasing. If you're confident of the latter, and you like an income stream from an investment, then Emerson Electric is worth consideration, but it won't shoot the lights out.
10 stocks we like better than Emerson ElectricWhen investing geniuses David and Tom Gardner have a stock tip, it can pay to listen. After all, the newsletter they have run for over a decade, Motley Fool Stock Advisor, has tripled the market.*
David and Tom just revealed what they believe are the 10 best stocks for investors to buy right now...and Emerson Electric wasn't one of them! That's right -- they think these 10 stocks are even better buys.
Click here to learn about these picks!
*Stock Advisor returns as of April 3, 2017.
Lee Samaha has no position in any stocks mentioned. The Motley Fool owns shares of General Electric. The Motley Fool recommends Emerson Electric. The Motley Fool has a disclosure policy.