5 Key Takeaways From BlackBerry's Annual Meeting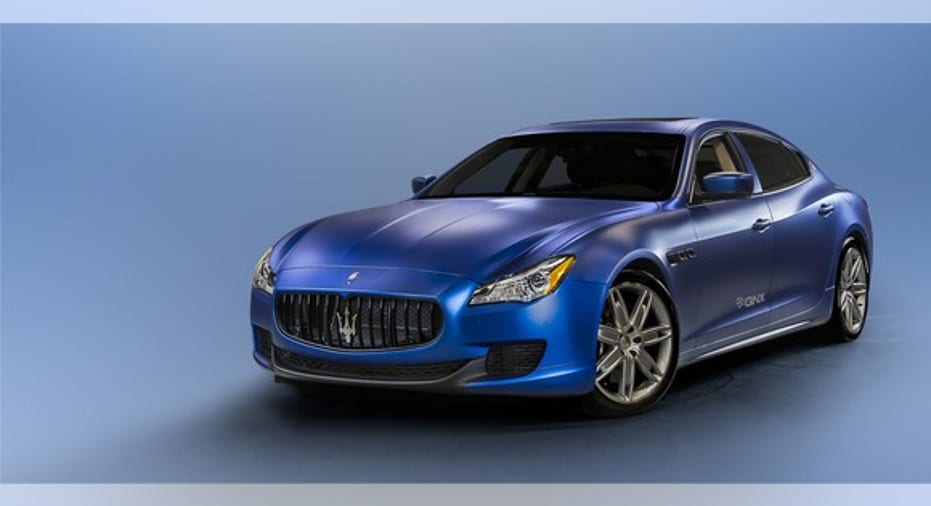 BlackBerry reported mixed earnings for its first quarter on June 23. Non-GAAP revenue plunged 36% annually to $424 million, missing expectations by nearly $47 million. Non-GAAP earnings rose from a loss of $0.05 a year earlier to $0.00 per share, which beat expectations by eight cents.
The story was a familiar one for BlackBerry investors. Hardware sales plummeted despite the arrival of new Android devices. Software and services revenue rose21% annually and accounted for 39% of BlackBerry's top line, but that growth couldn't offset lower hardware sales. A gradual shift toward higher-margin software and cost-cutting measures boosted BlackBerry's adjusted EBITDA into positive territory for its tenth consecutive quarter.
Image source: BlackBerry.
The earnings numbers grab a lot of attention, but prior to the earnings release, BlackBerry held itsannual meeting. Let's discuss five key takeaways from that meeting, and what they mean for BlackBerry's investors.
1. 30% annual growth in software
BlackBerry's core software business includes BES (BlackBerry Enterprise Service), which helps businesses monitor mobile devices; BBM (BlackBerry Messenger), a messaging app for business users; QNX, an embedded OS that powers most connected cars worldwide; and mobile device management (MDM) vendor Good Technology.
In fiscal 2016, BlackBerry's software and services revenue hit $527 million, accounting for 24% of its top line and exceeding its own prior target of $500 million. During the annual meeting, Chen reiterated his target for 30% software and services sales growth in fiscal 2017, which would "be double" an estimated average growth rate of 15% for other software vendors. If BlackBerry hits that target, and its annual sales decline 25% as expected, software could account for over 40% of its top line by the end of the year.
2. Dominating the enterprise mobility market
Instead of trying to recapture the glory days of BlackBerry devices as his predecessors did, Chen has focused on deploying enterprise mobility solutions to help companies manage iOS, Android, Windows Phones, and BlackBerry devices from the top.
That strategic shift is paying off. Chen claimed that in the enterprise mobility management (EMM) market, BlackBerry was the top player and controlled up to "20% of the market." He also noted that about "10,000 enterprises" now use its software services.
3. Viewing Microsoft as a rival and a partner
However, Microsoft has become a rival to BlackBerry in the EMM market with its EMS (Enterprise Mobility Suite) for large enterprises; Intune, a subset of EMS for smaller businesses; and mobile device management solutions for Office 365 users. Like BlackBerry, Microsoft was marginalized in the mobile market by iOS and Android, but it also plans to stay relevant in the enterprise mobility market by leveraging its dominance of enterprise PCs with Windows.
Chen downplayed those concerns, highlighting thepartnership between BES 12 and Microsoft's Azure cloud platform earlier this year. Chen admitted that Microsoft competes against Blackberry on a "certain level," but the two companies still "partner in certain levels." Chen noted that by putting BlackBerry's software in Microsoft's cloud, "customers could enjoy both" platforms.
4. Internet of Things growth
Chen also highlighted the company's growth opportunities in the Internet of Things with a new advanced driver assistance system (ADAS) platform to complement QNX. That move could pave the way for new partnerships with ADAS players like Mobileye while increasing BlackBerry's visible presence in the connected-car market.
A QNX-powered connected Maserati. Image source: BlackBerry.
Chen also discussed potential enterprise applications for its IoT platform. He discussed the upcoming release of a "transportation device to track and secure containers" for the logistics market in July, and a voice encryption platform that government employees can use for "anti-eavesdropping" purposes.
5. A massive patent portfolio
Many investors often forget that BlackBerry still owns a massive portfolio of nearly 40,000 tradable patents. Chen stated that he "was always impressed by the breadth and depth" of that portfolio.
These patents could widen BlackBerry's moat against potential rivals or lead to interesting patent licensing deals. BlackBerry could also follow Nokia's lead and give the patent licensing unit a dedicated business unit for licensing fees.
Can Chen turn BlackBerry around?
Chen has arguably done more to fix BlackBerry's problems than his predecessors, but the company still faces some big unresolved issues. Chen isn't abandoning BlackBerry's hardware or its eleventh hour entrance into the Android market, which could lead to more disappointments over the next few quarters.
The MDM/EMM market that BlackBerry claims to dominate also isn't that big -- Markets and Markets estimates that it will grow fromabout $1 billion in 2013 to $3.9 billion in 2019. If Microsoft pushes Azure customers to use more of its first-party MDM/EMM services, BlackBerry could lose its control over this niche market. Therefore, BlackBerry's progress is encouraging, but investors should still take its turnaround plans with a grain of salt.
The article 5 Key Takeaways From BlackBerry's Annual Meeting originally appeared on Fool.com.
Leo Sun has no position in any stocks mentioned. The Motley Fool owns shares of Microsoft. Try any of our Foolish newsletter services free for 30 days. We Fools may not all hold the same opinions, but we all believe that considering a diverse range of insights makes us better investors. The Motley Fool has a disclosure policy.
Copyright 1995 - 2016 The Motley Fool, LLC. All rights reserved. The Motley Fool has a disclosure policy.